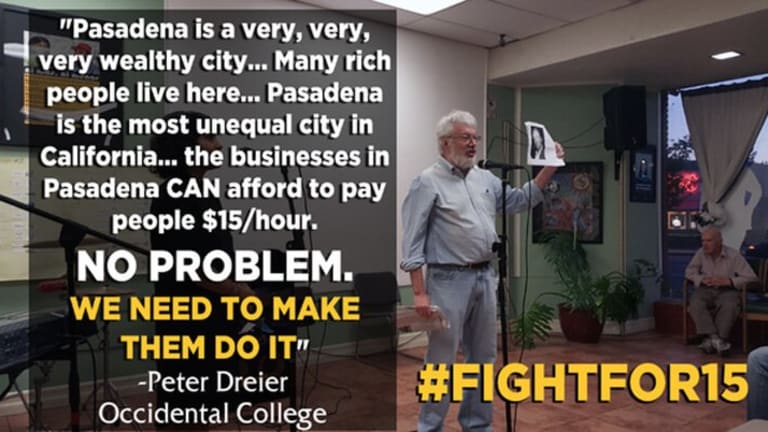 Let's Get Pasadena Onboard the $15/Hour Minimum Wage Bandwagon
Peter Dreier: Despite overwhelming support, some City Council members are still on the fence, feeling pressure from the Chamber of Commerce.
We are writing to ask your help in getting the City of Pasadena to adopt a minimum wage by contacting Mayor Tornek and your City Council member. There are only a few things that local governments can do to improve the lives of low-income families while simultaneously improving the local economy. Adopting a $15/hour-by-2020 minimum wage is one of them.
A recent public opinion poll found that 74% of Pasadena voters support the $15-by-2020 minimum wage plan with strong enforcement, an annual cost of living increase, and paid family leave. Large majorities in every City Council district embraced the proposal, including 77% in Tyron Hampton's district, 75% in Margaret McAustin's district, 71% in John Kennedy's district, 78% in Gene Masuda's district, 76% in Victor Gordo's district, 80% in Steve Madison's district, and 63% in Andy Wilson's district.
Despite overwhelming support, some Council members are still on the fence, feeling pressure from the Chamber of Commerce.
Despite this overwhelming support, some Council members are still on the fence, feeling pressure from the Chamber of Commerce. We can make this minimum wage plan happen, but Mayor Terry Tornek and the City Council need to hear from you soon. The City Council is holding a hearing on this issue on December 10 and is likely to vote on it in January.
We have listed below the email addresses for Mayor Tornek and all seven City Council members. We encourage you to contact them as soon as possible and let them know that you support the plan proposed by Pasadenans for a Livable Wage. You can say something like: "I urge you to vote for the plan to adopt a $15/hour-by-2020 minimum wage with an annual adjustment for inflation and with no exemptions for restaurants or nonprofit organizations."
As you know, a broad coalition of low-income workers, middle class professionals, clergy, nonprofit leaders, educators, unions, community and civic groups, and enlightened businesses—including the ACLU's Pasadena/Foothills Chapter, which has endorsed this campaign—has come together to transform Pasadena into the City of Raises.
These efforts are part of a growing national movement to improve wages and working conditions for low-wage Walmart and fast-food workers, janitors, hospital employees and others. They've been pushing cities to adopt minimum wage laws and pressuring big corporations to increase pay for its low-wage employees. In the past year, they've won significant victories. The City of Los Angeles and Los Angeles County adopted a $15/hour-by-2020 law last summer, and other area cities (Long Beach, Santa Monica, West Hollywood, and Glendale, among them) are considering doing the same. We hope Pasadena will be the next city to do so.
Pasadena is a city plagued with enormous disparities. According to the report, Pasadena's Tale of Two Cities, Pasadena is one of California's most unequal cities. Only San Francisco has a wider income gap between the wealthiest and the poorest residents.
Last month nine prominent leaders of Pasadena's most effective nonprofit organizations that serve low-income families called on the City Council to adopt the minimum wage proposal with no exemptions for nonprofits. They were joined by 20 local clergy who signed a similar statement of their own. In addition to the ACLU-SoCal Pasadena/Foothills Chapter, others who have endorsed the plan include the Foothill Democrats, Amalgamated Bank, the NAACP, ACT, League of Women Voters, California Nurses Association, UNITE HERE, Democrats of the Pasadena Foothills, the Coalition for Humane Immigrant Rights of Los Angeles, United Teachers of Pasadena, the Day Labor Organizing Network, Rick Brandley (owner of George's Plumbing), newly-elected PCC board member Hoyt Hillsman, and PUSD school board members Elizabeth Pomeroy, Patrick Cahalan, and Larry Torres.
Why do we need a minimum wage increase in Pasadena?
Many Pasadenans earn low wages. Nearly one third of working Pasadena residents earn less than $15 per hour. About 15% of those employed in Pasadena earn less than $15 per hour.
Families aren't making enough to get by. More than 17% of households in Pasadena live on less than $25,000 per year.
Low wages are bad for the economy. When workers struggle to pay for the basics, like food and rent, they have very little to spend at other local businesses.
Low-income children face many obstacles to doing well in school. About two-thirds of Pasadena Unified School District students live in low-income families. As PUSD school board president Elizabeth Pomeroy explained in a recent column: "Lifting families out of poverty by raising the minimum wage is a step toward putting a more stable floor under these young lives, so they can succeed in the education that PUSD is committed to giving them. And having these steadier, better-prepared students at school also benefits their classmates, so there is better progress for all."
A higher minimum wage would create economy-boosting jobs. A $15 per hour Pasadena minimum wage would inject over $230 million per year into the economy, generate many new jobs, increase tax revenue, and reduce spending on the social safety net. Contrary to misleading Chamber of Commerce propaganda, many other cities have already adopted similar laws with no negative consequences. A cover story in the October 23 Puget Sound Business Journal (Seattle's business newspaper) was headlined "Apocalypse Not: $15 and the Cuts That Never Came." Its subheading: "This is a story of the minimum wage meltdown that never happened." It reported that since Seattle adopted its minimum wage law, the number of restaurants is growing. 
Raising the minimum wage is both an economic and a moral issue. The economics are clear: Gradually raising the minimum wage to $15 over five years will lift families out of poverty, improve the local economy, and help students overcome obstacles to success in school. The morality of this issue is clear, too. At the ACLU, we believe that we judge a society by how it treats our most vulnerable members.
Here is the contact information for Mayor Tornek and the City Council members:
Mayor Terry Tornek: ttornek@cityofpasadena.net
District 1—Tyron Hampton: cbell@cityofpasadena.net
District 2—Margaret McAustin: mmcaustin@cityofpasadena.net
District 3—John Kennedy: ChristianCruz@cityofpasadena.net
District 4—Gene Masuda: nsullivan@cityofpasadena.net
District 5—Victor Gordo: vdelacuba@cityofpasadena.net
District 6—Steve Madison: smadison@cityofpasadena.net
District 7—Andy Wilson: awilson@cityofpasadena.net