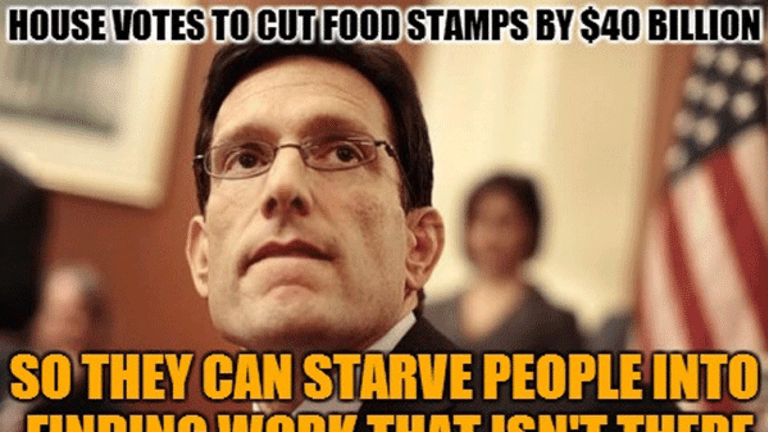 Preventing Dependency in the 2013 Farm Bill
Antonina Entler: Unfortunately, our representatives are still so busy arguing about the possibility of dependency on food stamps that they don't see real dependency right in front of their faces.
As Congress continues negotiations on the 2013 Farm Bill this week, the original purpose of the Farm Bill seems to be slipping further and further away. Agricultural subsidies and food stamps, the bill's main components, were initially created as safety net programs to prevent hunger and poverty among farmers and low-income Americans.
The House has proposed a $39 billion cut to the food stamps program with the appeal of trying to limit dependency. However, this is a program that has paid diligent attention to preventing dependency through strict eligibility requirements and time limits, and importantly serves the most vulnerable Americans.
Meanwhile, many representatives are arguing fiercely against proposed restrictions to agricultural subsidies. Lacking the same attention to dependency, these subsidies have ballooned into a program that hands out large amounts of taxpayer dollars, with minimal restrictions, to the largest and most profitable agricultural corporations.
At the center of this immoral and inequitable contradiction is the way in which the idea of "dependency" is tossed around in American political debates. Representative Paul Ryan's recent comment, "We don't want to turn the safety net into a hammock that lulls able-bodied people into lives of complacency and dependency," represents a recurring disingenuous attitude. Most Americans can agree with Ryan on the basic level of not wanting their tax dollars used to fund complacency.
Unfortunately, this concern has been employed for years to justify cuts to effective, indeed invaluable, safety nets while ignoring programs that hand out money with virtually no restrictions.
According to the USDA's 2011 report on the characteristics of food stamp households, two-thirds of food stamp beneficiaries are children, the elderly, or the disabled, and the remaining are mostly adults with children. Able-bodied adults without children who are unemployed can only receive benefits for 3 months every 3 years.
In 2011, 83 percent of households receiving food stamps were living in poverty. During the Great Recession, food stamps served as an important safety net, softening the blow of deep economic hardship for millions of Americans. In fact, the Center on Budget and Policy Prioritiesfound that in 2012 alone, food stamps served to keep 4 million families out of poverty. This is not a long-term program that millions of Americans will stay on for years to come, this is a short-term safety net designed to keep the most vulnerable Americans out of poverty and hunger while preventing dependency.
Unfortunately, our representatives are still so busy arguing about the possibility of dependency on food stamps that they don't see real dependency right in front of their faces.
Think tanks across the political spectrum, from the Environmental Working Groupto the Heritage Foundation, have extensively pointed out that farm subsidies—originally designed to keep farmers out of poverty—are increasingly funding commercial farms.
For example, a researcher for the UC Davis School of Lawfound that in 2000, 154 farms received checks for over $1 million (15 of which were owned by Fortune 500 companies including Chevron, Dupont, and Westvaco) and the top recipient, Riceland Farms, received over $500 million dollars. The researcher also found that 60% of American farmers, including most fruit, vegetable, and organic farmers, receive no subsidies at all.
The current design of farm subsidy programs ensures that those who benefit from them are not small, struggling farmers. A lack of payment limits has created an unequal system where 1 percent of recipients receive about $227,000 per year while 80 percent receive about $5,000. A lack of income caps means that even though farm income is higher than it has ever been, the most profitable can continue to receive government benefits.
Meanwhile, we don't even ask the recipients of these subsidies to maintain minimum environmental standards. Agricultural subsidies are not a safety net for poor farmers struggling to make ends meet while toiling to feed Americans. Rather, large agricultural companies have created a business model around the profits that massive agricultural subsidies ensure. If that is not dependency, what is?
A good Farm Bill should provide a safety net for low-income families and struggling farmers, without perpetuating dependence on government handouts. Congress has a duty to provide funding for safety nets while structuring them in such a way as to prevent dependency.
In the 2013 Farm Bill our representatives have the opportunity to do so by voting against the proposed $39 billion cut to food stamps and voting for proposed restrictions on agricultural subsidies such as payment limits, income caps, and minimum environmental protections. As citizens, we have the duty to remind Congress to look at the broader picture and stop unfairly blaming well-structured safety nets like food stamps that protect millions of Americans.
Antonina Entler
The Berkeley Blog
Sunday, 24 November 2013