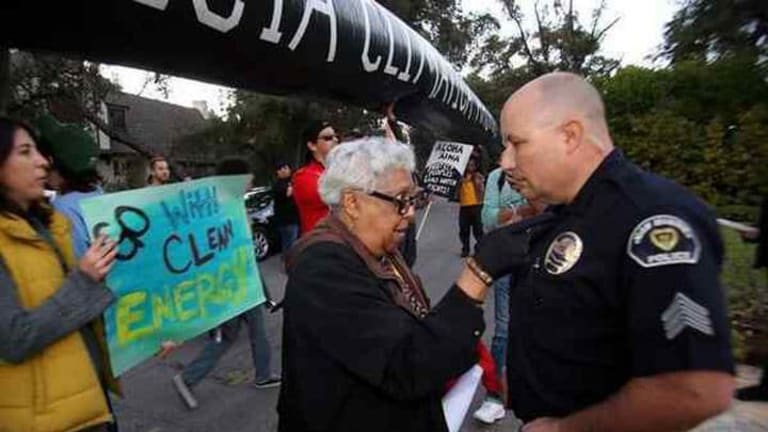 Protesters Make Citizens' Arrest on Wells Fargo CEO
Peter Dreier: The demonstrators demanded that the bank cease foreclosing on innocent victims and instead agree to modify mortgages and reduce loan principals to help struggling homeowners remain in their homes.
Protesters Tell Wells Fargo CEO: Divest from Pipelines and Prisons, Invest in Employees and Working Class Communities
There are many reasons to oppose Wells Fargo, the nation's largest bank, and the roughly 150 people who showed up Sunday night at CEO Tim Sloan's house in a tony Los Angeles suburb expressed most of them. Sloan hadn't invited them to his $5 million mansion to ask them how he can do a better job. They marched to his San Marino house and congregated on the street to make a "citizens' arrest" to protest the bank's irresponsible practices against the environment, consumers, communities, employees, and native Americans.
Wells Fargo is one of the largest funders of the Dakota Access Pipeline, which, if built, will accelerate climate change and threaten Native Americans' water and sacred sites. Protestors demanded Wells Fargo immediately cease funding the pipeline project, located in North Dakota, which President Donald Trump has pledged to approve. Wells Fargo is also a major funder of private prison corporations, which profit from mass incarceration.
In addition, Wells Fargo has a long history of discrimination against low-income consumers and communities of color in its lending practices and has a terrible track record of aggressive foreclosures and high-risk predatory loans. The demonstrators demanded that the bank cease foreclosing on innocent victims and instead agree to modify mortgages and reduce loan principals to help struggling homeowners remain in their homes.
Last fall Wells Fargo was crucified in the media when its abuses against its employees and customers came to light. To boost its own stock price, bank's top managers pressured low-level employees to secretly create more than two million unauthorized checking and credit-card accounts. Once the scandal came to light, Wells Fargo fired thousands of front-line employees rather than blame top executives who put profits over principles. On Sunday, the peaceful protesters called on Sloan, who was promoted to CEO in October in the wake of the scandal, to "root out Wells Fargo's lingering sales goal culture and improve protections for consumers and working conditions/compensation for workers," according to Peter Kuhns, an organizer with the Alliance of Californians for Community Empowerment (ACCE), a statewide community organizing group that has been a key player in the movement to challenge Wall Street's predatory lending practices.
The protest is part of an accelerating movement against Donald Trump's right-wing policy agenda. Most of the people at Sloan's house were among the over 4 million Americans — 750,000 in Los Angeles alone – who took to the streets a week earlier in marches that focused on women's rights (especially Trump's attack on reproductive freedom) but also highlighted his assault on immigrants, Muslims, workers' wages, and the environment. Many of them were also at Los Angeles International Airport the day before protesting against Trump's executive order banning refugees from Muslim countries (except those where Trump has business dealings) from entering the United States — one of many similar demonstrations at airports across the country.
Sunday's protest included people from ACCE, the Committee for Better Banks (an advocacy group of bank employees), Harmony Keepers (a native American group), and several other social justice and environmental groups. As the protesters walked through the winding streets of San Marino, one of California's wealthiest suburbs, on their way to Sloan's eight-bedroom Spanish-style mansion at 1320 Woodstock Road on a swanky cul-de-sac, about 10 people carried a 50-foot long plastic balloon meant to symbolize the Dakota Access Pipeline. As the marched and stood in front of Sloan's house, they chanted, "Pipelines leak," "Water is life," "Banks got bailed out, we got sold out," and "Wells Fargo, you can't hide. We can see your greedy side."
As San Marino's interim city manager Cindy Collins and about seven San Marino police officers (out of 28 on the force) looked on, speakers cataloged a long list of grievances against the San Francisco-based bank.
One of the speakers was 82-year old Ruby Smith, who has been fighting Wells Fargo from taking her South Los Angeles home through foreclosure. According to Smith, someone forged her and her husband's name on documents that signed over the deed to her home to "someone I've never met in my life."
"Before all this happened, my home was completely paid off," Smith explained, fighting back tears. "But for the past ten years, I have been fighting with the bank to get my home back in my name. Every single day I am fighting to keep my home."
Mona Bly, a former bank teller at a Wells Fargo branch in Los Angeles, told the crowd that "I have witnessed the targeting of the most vulnerable in our community by bank managers as a strategy to sell more products without fully informing their customers about those financial products. I watched thousands of dollars leave my customers' accounts daily in the form of bank fees. Fees that the bank refuses to reverse even when it is clearly the bank's fault."
Bly, who now volunteers with the Committee for Better Banks, said that Wells Fargo has used the money it ripped-off from low-income communities in Los Angeles and other cities and invested its ill-gotten gains in projects like the Dakota Pipeline and inflated executive compensation. The nation's largest home mortgage lender, Wells Fargo made $20 billion in profits in 2015. It has paid over two billion dollars in fines for its violations of federal consumer protection and anti-discrimination laws.
"We demand that Wells Fargo stop funding the pipeline, and eliminate predatory lending in communities of color," Bly said.
Hector Perez-Pacheco of the Harmony Keepers explained that he opposed the Dakota Pipeline as both an environmentalist and a Native American. After leading the protesters in a Native American prayer chant, he said:
"As indigenous people, we feel an obligation to protect the sacred land. But as a human being, we feel an obligation to make sure the land is always there for the next generation. And this pipeline is going to destroy land, has destroyed land and will continue to destroy land."
Last week, in one of his first acts as president, Trump signed executive orders to revive the controversial Dakota Access and Keystone XL oil pipelines, seeking to dismantle former president Barack Obama's environmental legacy. Over several months, the Standing Rock Sioux tribe, other Native American groups, and environmental activists organized protests and vigils in North Dakota against the Dakota Access pipeline, which they said would harm water supplies and disturb sacred burial and archaeological sites. Over the objections of the oil industry and Energy Transfer Partners, the company that was slated to complete the 1,172 mile pipeline that would have carried oil from shale oil reserves in North Dakota to refineries in Illinois, Obama halted the project. Reversing Obama's decision, Trump's executive order directs the Army Corps of Engineers to "review and approve" the pipeline "in an expedited manner."
Wells Fargo along with 16 other banks is a lender to the Dakota Access Pipeline project. Wells Fargo has $120 million in a $2.5 billion credit agreement funding the pipeline project.
In May 2015, according to campaign disclosure reports, Trump owned between $500,000 and $1 million worth of shares of Energy Transfer Partners, but had less than $50,000 invested when he sold off the remainder of his shares last summer, according to The Washington Post. He claims he dumped his stock in the company. But Energy Transfer Partners CEO Kelcy Warren donated $100,000 to a committee supporting Trump's election. As of last May, Trump had at least $100,000 invested in Phillips 66, which owns a quarter of the oil line, according to the AP. Trump claims he's going to rid himself of his business conflicts-of-interests, but so far he's done nothing to assuage critics that he's serious.
Sloan, meanwhile, is trying to clean up the bank's image, particularly after a number of cities, states, and pension funds stopped doing business with the bank in the wake of several highly-publicized scandals. Sloan, who has worked for Wells Fargo for 29 years and was most recently its chief operating officer, was promoted to CEO last October in a major shake-up, brought about by the scandal over the phony credit cards and customer accounts. After Senator Elizabeth Warren (D-MA) embarrassed previous CEO John Stumpf at a Senate hearing in October, where he sought to justify the bank's fraudulent practices and then blamed it on low-level employees, Wells Fargo's board named Sloan to replace him.
In 2015, Sloan, 56, earned $10 million in compensation, a figure which was likely increased after he ascended to the bank's highest position.
Sloan's appointment did little to mollify critics, given his role as a member of the bank's inner circle at a time when Wells Fargo stood accused of reckless and discriminatory practices.
"I remain concerned that incoming CEO Tim Sloan is also culpable in the recent scandal, serving in a central role in the chain of command that ought to have stopped this misconduct from happening," said House Democrat Maxine Waters of California at the time. Waters is the ranking Democratic on the House Financial Service Committee.
Paulina Gonzalez, executive director of the California Reinvestment Coalition, a consumer watchdog group, also singled Sloan out for special criticism. There are "a lot of unanswered questions as to when and what Tim Sloan knew about these fraudulent consumer accounts," said Gonzalez.
Sloan is the ultimate insider, not only at Wells Fargo, but as part of the nation's corporate ruling class, which also exercises influence through its overlapping ties with business, foundation, and charitable organizations. Sloan serves on the board of directors of the California Resources Corporation, an oil and natural gas company. He is also on the Board of Overseers of the Huntington Library in San Marino, the University of Michigan's Ross School of Business Advisory Board, and the board of trustees of Ohio Wesleyan University, the California Institute of Technology, and City of Hope, a cancer research hospital.
A major political donor, Sloan has made more than $241,000 in political contributions since 2008, most of it to Republican candidates and committees. In the most recent presidential election, he made significant donations to Marco Rubio, Jeb Bush, and Carly Fiorina, but not Donald Trump.
Peter Dreier
Reposted from Huffington Post with the author's permission.