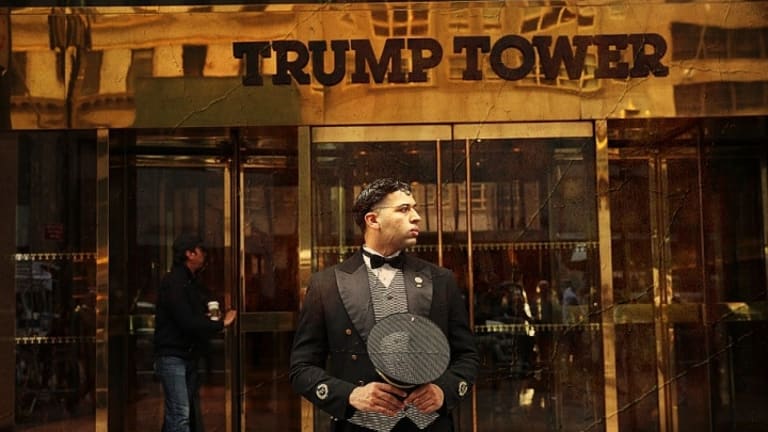 Dems and Republicans, Real Estate Hustlers Alike
Dick Platkin: In the Trump family the apple did not fall far from the tree, when real estate hustling expanded from Federally subsidized and racially segregated housing to tacky luxury towers and bankrupt Atlantic City casinos.
From the White House, to the State House, to City Hall, Real Estate Hustlers Are Still Hyping Their Same Awful Projects
The corporate media portrays this country's two dominant political parties, the Republicans, now tied to Donald Trump, and the Democrats, now in the Joe Biden-Kamala Harris camp, as bitter enemies. But they are really frenemies, teams who compete in the same league, like the Dodgers and the Giants. One of their common denominators is the real estate hustlers in each party's upper echelons.
In the case of the White House, Donald Trump is a second generation real estate hustler and slumlord, whose father, Fred Trump, was particularly notorious. Folksinger, Woodie Guthrie, who lived in Beach Haven, a Fred Trump, post-WWII FHA segregated housing project, wrote a bitter song about "Old Man Trump,"
Beach Haven ain't my home!
No, I just can't pay this rent!
My money's down the drain,
And my soul is badly bent!
Beach Haven is Trump's Tower
Where no black folks come to roam,
No, no, Old Man Trump!
Old Beach Haven ain't my home!
In the Trump family the apple did not fall far from the tree, when real estate hustling expanded from Federally subsidized and racially segregated housing to tacky luxury towers and bankrupt Atlantic City casinos.
In the Trump family the apple did not fall far from the tree, when real estate hustling expanded from Federally subsidized and racially segregated housing to tacky luxury towers and bankrupt Atlantic City casinos.
Scamming also passed on to the third generation, with first son-in-law, Jared Kushner making a name for himself in Baltimore, where his Kushner Company owns thousand of dilapidated rental apartments. These apartments also wracked up hundreds of code violations for rats, mice, insects, leaks, and mold, and if tenants withheld their rent, the company immediately took them to court. When the State of Maryland threatened the Kushner Company with a lawsuit and the Federal government's Department of Housing and Urban Development (HUD) announced its intentions to withhold rental subsidies, the Kushner Company finally corrected the code violations.
In late July 2020, Donald Trump took a cue from his father, who was arrested at a KKK rally in 1927, and issued a racist dog whistle to his waning political base. He told them that if the Democrats defeat him in November, they would racially integrate American's suburbs through public housing and imposed zone changes. He tweeted:
"I am happy to inform all of the people living their Suburban Lifestyle Dream that you will no longer be bothered or financially hurt by having low income housing built in your neighborhood.
In fact, his administration's policy is to weaken fair housing regulations. A for HUD programs to build low-income housing in suburbs, this fear mongering is groundless because the Nixon and Reagan administrations abolished these programs decades ago. But it is true that in some states, especially California, conservative Democrats, like State Senator Scott Wiener, intend to impose statewide upzoning on all single-family neighborhoods. If successful, this con would allow real estate grifters to build unplanned, by-right apartments wherever they penciled out, including in the suburbs.
These apartment complexes, however, would not racially integrate any homogenous neighborhoods because up-zoning increases land values. As a result, if in-fill apartments replaced existing single-family homes, they would be expensive. This ensures that most buyers and tenants would be white since few minority renters or buyers could afford these posh units.
Furthermore, many suburbs are already racially and ethnically diverse, and this would not change through the elimination of fair housing regulations, upzoning, and the restoration of HUD housing programs. Why? Because Black, Asian, and Latino flight quickly followed white flight from cities to suburbs. As a result, market forces racially and ethnically integrated the burbs.
State House: Despite the Covid-19 pandemic, economic collapse, and mounting homelessness, diehard real estate hustlers are still hyping their awful projects in the California State Senate and Assembly. Brushing off three previous defeats, State Senator Scott Wiener and is cronies are back for a fourth try. They – or most likely the lobbyists who they front for -- divided defeated Senate Bill 50 into nine separate proposals. The most notorious are Senate Bills 725 and 1120, and their closely related Assembly Bills 725 and 3040. If adopted and then signed by Governor Gavin Newsom, this legislation, like last year's, would automatically permit fourplex apartments on all single-family lots. In other cases, it would allow apartment houses in areas with locally adopted plans for lower density residential.
Like their local equivalents, these prospective bills are based on a completely spurious claim: that upzoning increases transit ridership. This might be true if the tenants in new apartment buildings were low-income, but only high-income tenants can afford to move in, and they rarely use transit. This is why the Red and Purple subway lines in Los Angeles have rapidly declining ridership despite the construction of many new transit-adjacent apartment buildings near the subway alignment. It is the wrong type of housing serving the wrong type of tenants.
If the State Legislature adopts these nine housing bills, the real estate hustlers will run for cover when their developer-friendly solutions make the housing crisis worse, not better. Even if their legislation produces more in-fill apartments, they will be expensive, displace transit-dependent residents, and increase vacancy rates and homelessness. Since most of the new tenants will drive cars, the legislation will also increase Green House Gas emissions and, therefore, accelerate climate change.
The political question is whether enough Sacramento legislators understand this and will stand up to the well-funded real estate hustlers in their midst.
City Hall: While many local politicians understand the fallacies of the nine statewide up-zoning bills, they welcome similar proposals and justifications when they are in their own Council Districts. This is why City Hall's real estate hustlers are still hard at work despite the FBI corruption investigations. Two former members of the City Council, Mitchell Englander and Jose Huisar, will serve time in Federal prisons for dirty real estate deals, with U.S. Attorney indictments are likely to snare more local officials and lobbyists. Other City Hall representatives are, however, more careful to avoid outright bribes. Instead they opt for soft corruption packaged as campaign contributions and easy access to their private offices.
This is why real estate scams still thrive at LA's City Hall, propped up by the same phony arguments the hustlers deploy in Sacramento. Most notably:
SB 1818 and TOC Guidelines are LA's two density bonus programs. Despite their obvious failures to build desperately needed low-income housing, they allow developers to exceed the density, height, and size restrictions of existing zoning. The developers only need to pledge that a small fraction of their rental units will be low income apartments, knowing that City Hall will never inspect them to verify the low-income rents and presence of vetted low-income tenants.
Transit Neighborhood Plans (TNP), especially the Purple Line Extension in the greater Miracle Mile area, rely on the same fallacious justification as Scott Wiener's bills in Sacramento: up-zoning increases transit ridership. Based on same deceptions, the TNP intends to upzone the entire Wilshire Corridor, from Highland to San Vicente, as well as three north-south corridors: LaBrea Avenue, Fairfax Avenue, and San Vicente Boulevard.
Echoing the same myths: In LA the real danger is not real estate industry AstroTurf lobbying groups spewing nonsense about rich people taking mass transit to justify windfall profits for property owners, it is elected officials who echo the same myths. City Hall is far more skilled at "feeling the pain" of local residents while it gives away the store to real estate developers. Like their benefactors, our local officials maintain that deregulating private real estate investment is the path out of the housing crisis, even though it makes the deepening housing crisis even worse.
As you watch homeless encampments emerge in the shadow of new up-scale apartment buildings, the evidence will be right before your eyes about the malfeasance of the White House, the State House, and City Hall.
Dick Platkin
Reposted from CityWatchLA with the author's permission.