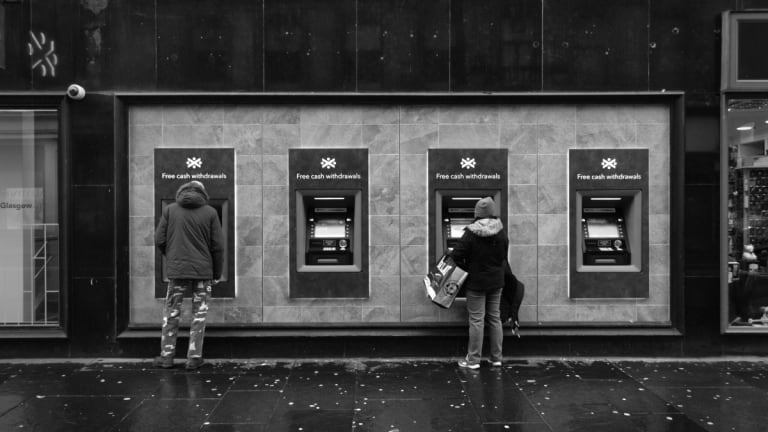 Responsible Banking Laws Gain Ground to Stand on
Could Bank of America and others narrow lending disparities by doing more business directly with lower-income buyers of color? They should, without special programs.
In late 2019, 46-year-old Sebastian Cortes decided to buy a home for his family, one near where he grew up in South Los Angeles. Cortes, a sales rep for a steel company, beefed up his credit score, then headed to Wells Fargo Bank to apply for a loan. He knew that in the tight L.A. housing market, he faced cutthroat competition for a home he could afford and credit standards that he wasn't sure he could meet.
But he also knew he had been depositing his paychecks at the bank for 20 years. Yet in response to his application, he said he got a terse denial in the mail. It was especially disappointing because of the work he'd done before even going to the bank. "It took me about six months. I didn't start applying until I had a good enough FICO score," said Cortes. Banks make underwriting decisions for the good of their investors and other customers, and they don't reveal their reasons for denying or granting loans. Still, Cortes thought the decision was unfair. He'd entrusted Wells Fargo with his money, but when he asked the bank to invest in him, the answer was no.
The Los Angeles City Council might have had borrowers like Cortes in mind when they adopted responsible banking laws in 1992, and then strengthened them in 2012 and 2018, amid opposition from the financial services industry. The law requires that the city use its financial clout — a more than $50 billion annual banking portfolio — to choose banks based in part on their consumer policies and lending records. If a financial institution doesn't put money back into the community, the city can take its business elsewhere.
"Heaven forbid we don't leverage our position and demand better from who we do business with," City Councilmember Nury Martinez declared in late 2017 as she and her colleagues held a hearing on toughening the responsible banking ordinance, and cutting ties with Wells Fargo Bank, the city's then-principal banker, in the wake of the bank's 2016 fake account scandal.
The city of L.A. opted to switch its business to Bank of America and JPMorgan Chase after a competitive bidding process that included social responsibility and community reinvestment criteria. (L.A. has since canceled its contract with Bank of America for reasons unrelated to social responsibility or community reinvestment. The transition from Wells Fargo to Chase is still ongoing; the city continues to bank with Wells Fargo, at least until its contract expires in June 2022.)
But since its inception, the responsible banking ordinance has languished. It's on the books, a toothless signifier of the city's progressive intention. Until now, there has been little political will to put it into practice.
This year, however, city treasurer Diana Mangioglu, who began her job in June 2020, says implementation is a priority. "We recognize it's a gap," Mangioglu said, "and something we're responsible for and something we have to do." She said she has budgeted resources to hold banks accountable and eventually put people like Sebastian Cortes in a better position to obtain loans and purchase homes. But advocates note enforcement will also take significant political will, the kind that's been missing since the ordinance was strengthened in 2018.
After his initial denial, Cortes said he was approved for up to $500,000 from Quicken Loans and about $300,000 from Bank of America. "I thought I could move to Idaho and buy a mansion," Cortes joked, because even the most modest home in his South L.A. neighborhood remained out of reach. The median home price at the time — in March 2021 — was $675,000. Not only did Cortes not have enough buying power, but he was also competing with investors with cash in their pockets. Still, he said, 'I was determined," and he kept searching.
Meanwhile, as the city's law goes unenforced, L.A.'s principal banker, JPMorgan Chase, disproportionately loans to white Angelenos while making home loans much less frequently in the vast majority of L.A. census tracts where people of color are the majority.
A minority of Los Angeles residents — about a quarter of the population — lives in majority white census tracts, but last year JPMorgan Chase made more than half of its loans in those tracts.
Chase rejected twice as many borrowers from majority African American communities as it did from white neighborhoods. More than 11% of applicants from white neighborhoods were rejected while 23.27% of those from Black areas got a no. The bank denied 14% of would-be borrowers from predominantly Latino neighborhoods.
Chase isn't an outlier. L.A.'s largest retail banks (consumer-serving institutions with more than $10 billion in assets), which include all but three of the 17 that do business with the city, invest far more home loan dollars in white neighborhoods than in communities of color. Among the 17 banks are Bank of America, Citibank and Bank of the West. In 2020, the city's largest financial institutions made 57% of their loans to majority white neighborhoods, even though whites make up just 26% of L.A.'s population.
Bank of America spokeswoman Susan Atran argued that home mortgage disclosure data "doesn't tell the whole story" because it doesn't reveal "all the credit variables considered by a lender."
"We understand the importance of fair lending and are fully committed to supporting affordable home ownership," Atran wrote in an email, noting a $15 billion commitment to helping 60,000 people with low and moderate incomes nationwide buy homes through 2025.

In the wake of George Floyd's killing and the ensuing protests, major banks like Bank of America, Citibank and Chase made multibillion-dollar racial justice pledges in 2020. Chase spokeswoman Christina Dello Buono noted in a statement, "We committed $30 billion to advance racial equity last fall. A big part of that is to help more Black and Latin/Hispanic families achieve homeownership."
Chase has announced down payment assistance and programs that eliminate closing costs. The bank has opened a branch on Crenshaw Boulevard in South L.A. and hired "community lenders" to work with "underserved communities."
"While this represents progress, we know there's more work to do," Dello Buono wrote.
A lot more work, noted South L.A. real estate and mortgage broker Mark Alston, as he explained to a group of Black realtors last year that people of color, especially Black people, lag behind whites in wealth and home ownership. The reason? Two hundred and forty-six years of slavery, followed by more than 100 years of Jim Crow segregation.
"If I give you a 359-year head start, then make everything fair… I cement in the disparity," said Alston.
To move the needle, Alston told Capital & Main, banks should change underwriting criteria so that it doesn't emphasize high credit scores and cash on hand, both of which disadvantage borrowers of color. Black and Latino borrowers on average have lower credit scores and less wealth, but can often demonstrate an ability to repay because of long-term steady employment.
At L.A. City Hall, treasurer Diana Mangioglu faces the task of weighing the arguments and analyzing data from all 17 commercial banks with which the city currently works.
At least 16 other cities have adopted responsible banking laws and the evidence for their success remains largely anecdotal. Cleveland dedicated a full-time staff position to making the law work. Its bank relations manager, Aisha Weeks, collects and analyzes data, engages the banks when she spots a problem and advocates for fairer underwriting and appraisal policies. "You have to have conversations and have that engagement. That is a full day," said Weeks.
Pittsburgh similarly pays close attention to enforcing its law, said Ernie Hogan, the executive director of the nonprofit Pittsburgh Community Reinvestment Group. "In order to work, there has to be a balance between neighborhood groups, city officials and financial institutions," he said, adding that the city has kept branches open in lower-income neighborhoods and deposited money in community banks that are meeting local needs.
Paulina Gonzalez-Brito, the executive director of the nonprofit California Reinvestment Coalition, said elected officials need "steel spines" to "resist threats or incentives from banks aimed at preserving the status quo" in order to make responsible banking laws work.
So far in L.A., elected officials seemed to have moved on to other concerns. Mangioglu said that to her knowledge, L.A. city councilmembers haven't checked in on the implementation of the responsible banking law.
Mayor Eric Garcetti, City Council President Nury Martinez, and other current and former members of the City Council Budget and Finance Committee, except for City Councilmember Bob Blumenfield, didn't respond to Capital & Main emails asking if they'd checked whether the law was implemented. Blumenfield spokesman Jake Flynn said the councilmember hasn't followed up on the responsible banking ordinance.
But if elected officials have lost interest in leveraging the city's financial power to obtain more equitable lending and investment, the banking industry continues to use its dollars to influence them. One way the industry does this is by giving unlimited amounts of cash to local officials' favorite causes.
The biggest recipient of so-called behested payments from banks is Mayor Eric Garcetti.
He collected $150,000 from Bank of America for his Mayor's Fund for Los Angeles in 2015, and has continued to pick up more such donations to charity than any other elected official in the city.
Eleven local banks or their charitable foundations gave more than $900,000 in donations at the behest of 11 elected officials in the past three years. Mayor Garcetti picked up the lion's share, with more than half a million dollars. City Councilmember Curren Price, a member of the Budget and Finance Committee, was second, turning over $85,000 in bank donations to charities, most of it going to a South L.A. nonprofit that has at least one contract with the city to build affordable housing. City Controller Ron Galperin took in $80,000 in donations.
These payments may go to good causes, but as California Common Cause's Sean McMorris said, "The public should rightfully scrutinize these contributions. They can curry favor. They can unduly influence a politician."
As Sebastian Cortes' search wore on, he got news that a special mortgage program with the nonprofit Neighborhood Assistance Corporation of America had approved him for a loan. Improbably, he learned about the NACA program from a TikTok video. Funded as part of Bank of America's affordable homeownership commitment, it looked too good to be true — no down payment, no closing costs and below-market interest rates — and Cortes thought it probably was. 
But he took a chance and sent his application along with a $25 application fee. The process was arduous, but eventually, after sending in reams of documents and receiving loan counseling, he qualified to buy a fourplex in South L.A. He and his family live in one of the two-bedroom units and rent out the other three. "It's nothing spectacular, but it's comfortable. I'm not where I want to be, but it's a step closer," Cortes said, adding that he wants a single family home, and maybe even a ranch one day.
NACA reviews borrower applications and provides loan counseling. The group doesn't consider credit scores at all, said its director, Bruce Marks, just a borrower's ability to pay, sometimes based on nontraditional criteria like whether applicants have paid rent and utilities on time. Because of the program, people like Cortes become homeowners, and Bank of America gets credit for making loans in low- and moderate-income communities, although not nearly enough to eliminate lending disparities.
Cortes got a break, but could Bank of America and others narrow lending disparities by doing more business directly with lower-income buyers of color? Real estate and mortgage broker Mark Alston, who serves as the chair of the National Association of Real Estate Broker's Political Action Committee, argued they could — without special programs. In addition to rethinking creditworthiness standards, he said banks could better train loan officers to help first-time buyers. He said big banks have failed to look for business among realtors of color. "How loan officers get business is referral from real estate agents. You participate in places where agents are and that's how you increase market share."
Now, if the city of L.A. begins to enforce its responsible banking law, the banks could come calling. Maybe they'll take Alston up on his suggestions.
Robin Urevich - Capital & Main