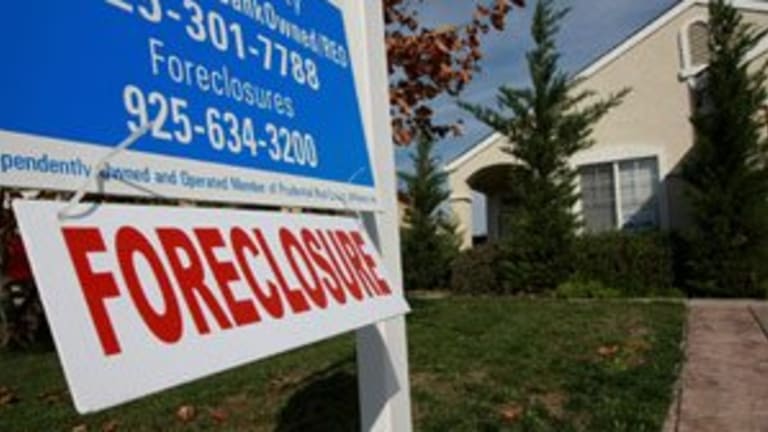 California Gives Struggling Homeowners a "Fighting Shot"
Steve Mikulan: The new law sounds like a textbook example of how government can and should help its citizens, especially during a time of economic upheaval.
You don't have to be a recent homeowner to know how precarious the housing market has been since the bubble popped in 2007. Consider this, for example: Today half of all San Bernardino County homeowners have to put on scuba gear to view their mortgages.
Last week, however, just as that county toyed with the idea of seizing such homes through eminent domain, there was a bright spot. Governor Jerry Brown signed into law (to take effect January 1, 2013) the Homeowner Bill of Rights, a consolidation of several bills that had been strongly pushed by state Attorney General Kamala Harris.
The HBR offers several solid benefits to homeowners, but two stick out:
The law prevents banks from carrying out "dual-tracking" tactics in which they negotiate mortgage modifications with financially distressed homeowners while simultaneously preparing to foreclose on them.
It guarantees that struggling homeowners have a single person to contact at their lender – a person who is fully knowledgeable about the details of the owners' individual cases. These lender contacts, in turn, must have direct access to their banks' decision makers.
"The California Homeowner Bill of Rights," said Harris, "will give struggling homeowners a fighting shot to keep their home. This legislation will make the mortgage and foreclosure process more fair and transparent, which will benefit homeowners, their community, and the housing market as a whole."
The new law sounds like a textbook example of how government can and should help its citizens, especially during a time of economic upheaval. Yet we may also be forgiven a nagging feeling that it could be an underused weapon, simply because many strapped homeowners won't know about it – and because banks and other mortgage lenders won't be in a hurry to bring them up to date.
In case you doubt this, take a look at the Keep Your Home California program, a $2 billion strategy designed to help Californians stay afloat even as their mortgages slip underwater. According to California Watch, "more than two years after President Barack Obama announced the delivery of the first $700 million installment for the initiative, the California Housing Finance Agency, which administers the program, has spent just five percent of the money."
Part of the reason, explains CalWatch reporter Aaron Glantz, is the reluctance of banks to participate. But if banks aren't taking part, it also means that mortgage holders aren't being told about this program. Remember the scene in The Grapes of Wrath where the Okie family lands in a government-run resettlement camp – which seems like paradise compared to the labor gulags they've been staying at? Henry Fonda's Tom Joad clearly has never heard of such oases, run by the Department of Agriculture. "Why ain't they more like it?" Tom asks, incredulously. "You find out," says the camp caretaker. "I can't."
Presumably California homeowners will be in a little better position to "find out" about their new rights. But only if the law is publicized and strictly enforced. Not too long ago CalWatch ran another investigation, whose lessons do not bode well for the uninformed. This one concerns Heritage Pacific Financial, headquartered in Texas that specializes in suingCalifornia homeowners who have been foreclosed for welching on their second mortgages – even though they may have filed for bankruptcy. Wrote CalWatch's Rick Jurgens:
"Critics of Heritage Pacific say the company's central tactic is forcing settlements from people who can't afford a drawn-out legal fight and who don't know the details of California law. The company has sued people with second-mortgage debts of less than $150,000, despite a state law prohibiting lawsuits alleging fraud on mortgages below that amount. "
Heritage Pacific's plans are the target of a class-action suit filed in Santa Clara County. (The company declined to respond to our requests to discuss the suit.) The fact remains, however, that lending sharks continue to ply the pacific waters of California real estate in search of prey. Only this week the city of Los Angeles was moved to sue US Bank over that lender's alleged policy of allowing 10 percent of the properties it has acquired through foreclosure to deteriorate into slums. (The action was undertaken by the City Attorney, so the charges are strictly civil, not criminal.)
For its part, US Bank, which is also accused of illegally evicting tenants living in its properties, acted as though it was shocked – shocked! – that this had happened, blaming the situation on contract loan servicers.
An L.A. Times piece on the suit notes that Deutsche Bank, which the city has also tangled with on the same issue, has similarly blamed loan servicers.
In other words, No one here but us – er, US — banks. To some, that One Percent alibi might sound like 100 percent b.s.
Steven Mikulan
Editor, The Frying Pan
Posted: Thursday, 19 July 2012