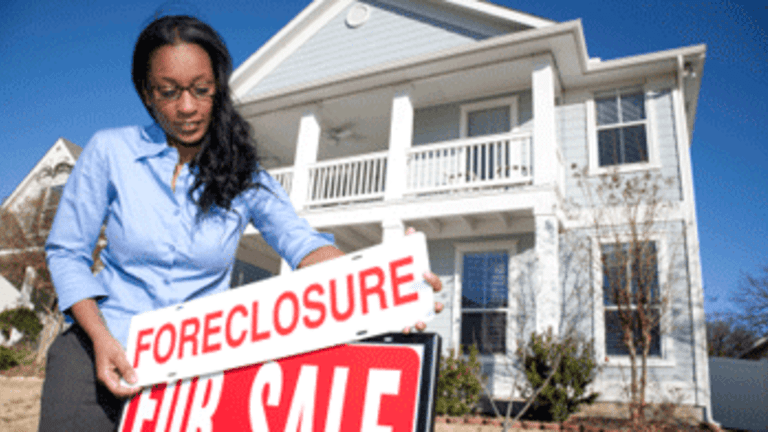 The Foreclosure Crisis: Urgent as Ever and Could Get Worse
Carl Bloice: There are an estimated 3.5 million seriously delinquent mortgages out there. There were nearly 2.7 million foreclosure filings on about 1.9 million homes last year. That's down from 2007, but it's still about one out of every 69 homes in the country.
Noting that a Federal judge in California was slated to soon okay the "largest residential fair-lending settlement in history" ever reached by the Department of Justice in a bias case," Attorney Anita Hill commented in Time magazine last week that in putting together the deal the U.S. Attorney's office is to be lauded. She added "without Countrywide's admission of fault for overcharging and steering minorities into high cost loans when they qualified for conventional loans, it's uncertain whether the agreement will stave off future unlawful behavior. Moreover, it certainly won't be enough to repair the damage that has been done to those individuals and the communities in which they reside."
The agreement requires Countrywide Financial Corporation - now part of Bank of America - to pay $335 million to African American and Latino homeowners who have been found - in Hill's words - "victims of Countrywide's racially motivated fraud and deceit. To begin with, the $10,000 compensation some of the 200,000 Countrywide customers covered in the settlement are entitled to is likely not enough to put them back in their homes, let alone rebuild their neighborhoods," Hill wrote. Hill, author of Reimagining Equality: Stories of Gender, Race, and Finding Home, is a professor of social policy, law and women's studies at Brandeis University.
That some of the nation's leading banks and mortgage lending institutions were engaged in fraudulent, predatory and discriminatory lending practices was obvious over four years ago - before it was clear public knowledge that the distortion they created in the housing market was central to the country's continuing economic crisis. The devious ways that major financial institutions went about trading, hiding or escaping responsibility for the mortgage mess they had created lay at the heart of the "great recession" in the U.S., but were also instrumental in the economic difficulties that show no signs of abating in Europe.
The unemployment problem in the country today means depravation and hardship for millions of people. So, too, does the plague of housing foreclosures. So long as it persist, economist say, there is next to no possibility of anything approaching an economy recovery.
"It was 35 years ago that US president Jimmy Carter declared the energy crisis 'the moral equivalent of war.' His use of martial language might not have galvanized Americans in the way he hoped, but it still is useful to think of economic struggles in military terms," wrote theFinancial Times Lex column January 10. "Today's enemy is the housing crisis and the fight is going badly. Prices are down by a third and there is a glut of foreclosures, with another wave coming. Allowing more foreclosures not only further depresses this pool of wealth but makes it tough to normalize interest rate policy," the column said.
On January 11, the Federal Reserve said the country's housing market remains stagnant. The word it used was "sluggish." Or, as political commentator and for New York governor Eliot Spitzer put it: "… the mortgage crisis continues, depressing the middle class."
There are an estimated 3.5 million seriously delinquent mortgages out there. There were nearly 2.7 million foreclosure filings on about 1.9 million homes last year. That's down from 2007, but it's still about one out of every 69 homes in the country.
Those tracking the data have suggested the number will be higher this year. The reason? The process Atty. Hill described: "The lack of clarity regarding many of the documentation and legal issues plaguing the foreclosure industry means that we are continuing to see a highly dysfunctional foreclosure process that is inefficiently dealing with delinquent mortgages, particularly in states with a judicial foreclosure process," Brandon Moore, the CEO of RealtyTrac, told the McClatchy newspapers.
And yet, neither the Congress nor the Obama Administration has come up with any measures that would seriously stem the tide of foreclosures. Nor, as Hill pointed out, result in justice or relief for those conned by the financiers, or guarding against the process resuming.
Last year, there were nearly 2.7 million foreclosure filings - which included default notices, scheduled property auctions and bank repossessions - were reported on roughly 1.9 million properties last year. That works out to about one filing for every 69 U.S. homes. That rate and total foreclosure activity in 2011 were at the lowest annual levels since the housing market imploded in 2007. But the decline may be short-lived, as lenders work their way through the backlog of delayed filings stemming from "robo-signing" scandals.
"We expect that trend to continue this year, boosting foreclosure activity for 2012 higher than it was in 2011, though still below the peak of 2010," Moore said.
"The Foreclosure Crisis: A Nation in Denial," is the title of a commentary by Bruce Judson on Huffington Post January 9. "As we start the New Year, the executive branch and Congress continue to pretend the gravest risk to our economy and social stability does not exist: the ongoing foreclosure crisis," wrote Judson, entrepreneur-in-residence at the Yale Entrepreneurial Institute and author of It Could Happen Here: America on the Brink. "The financial crisis began with the housing crisis and it will not end until we resolve housing. Government policymakers who seemingly ignore this basic fact are leading the nation to another potential catastrophe."
In 2007, only a few observers were warning of the devastating effect all this was having, especially on African American and Latino communities from one end of the country to the other.
"Today, an estimated 29 percent of all homes with mortgages are underwater. In addition, at least one respected analyst estimates that a total of 14 million homes will be foreclosed on from 2007 to the end of the crisis," Judson wrote. "This represents a hard-to-imagine one in every four mortgages. With foreclosures increasing, there is now such a looming imbalance of supply and demand that, as the Fed notes, further decreases in home prices are likely. Some believe home price reductions of another 20 percent are likely. This would, in all likelihood, have disastrous consequences on at least three fronts - and ripple effects that are impossible to predict."
Judson wrote, "What is shocking is the almost total lack of attention the administration has paid to suffering homeowners. It's hard for me (and apparently Chairman Bernanke) to understand how the administration can possibly hope to revitalize the economy without seriously addressing the overhang of consumer housing debt. Moreover, the failure to address the risk this poses for a broader economic catastrophe borders on the inexcusable."
"If President Obama is serious about saving the middle class and reducing income inequality, the administration needs to be far more aggressive in developing policies to keep homeowners as homeowners. As I have written before, this was one of FDR's central goals in the New Deal. Detailed proposals for addressing this extraordinary risk do exist. However, they will require a determined effort. There are solutions, but they are not simple."
"What is most important right now is that we recognize we are in a lifeboat that will not reach land," wrote Judson. "We need to focus on implementing a meaningful solution to the problem. A clock is ticking and Washington needs to acknowledge that a witching hour is approaching."
Three years ago, with much fanfare, the Obama Administration launched the Home Affordable Modification Program with a target of assisting over 3 million distressed homeowners. As of the end of the year, it is said to have aided somewhere in the vicinity of 750,000. One problem is that it's voluntary and the bankers aren't in a voluntary mood.
Oh, and those other guys running for office?
In their debate, most ignore the problem. For the presumed front-runner it's apparently a piece of cake, something "the market" can handle all by itself.
Nevada leads the nation in both joblessness and foreclosures. One out of every 16 homes in the state was subject to some type of foreclosure filing in 2011, according to RealtyTrac, an online foreclosure data firm.
"Frontrunner Mitt Romney hasn't pandered to struggling Nevada homeowners," Arthur Delany wrote on Huffington Post last week. "He told the Las Vegas Review-Journal in October he supports the government stepping aside: "Don't try to stop the foreclosure process. Let it run its course and hit the bottom."
"It's not likely Romney will have much more to say on his next visit," wrote Delany. "The candidates didn't talk foreclosure policy in Iowa, even though the state attorney general is leading national foreclosure settlement negotiations with the country's biggest banks. Only Jon Huntsman, who didn't bother to campaign in the Iowa, has taken a position on the settlement."
The Huntsman website says the candidate, if elected, would "direct the Department of Justice to take the lead in investigating and brokering an agreement to resolve the widespread legal abuses such as the robo-signing scandal that unfolded in the aftermath of the housing bubble. This is a basic question of rule of law; in this country no one is above the law."
"Because if we actually believed the lie so often told that if we just worked hard and put our noses to the grindstone that we could be Just like Mitt then it wouldn't be so bad," wrote Pamela Hilliard Owens on the Black Liberal Blogger last week. "But, see, we're not stupid. Because being broke and poor and being stupid are not synonymous.
"Just as an example? We see things like the Countrywide scandal where a huge corporation ripped off thousands of African American and Hispanic homeowners (my guess is none of them were multi-millionaires), charging them more for mortgages than similarly qualified white folks, just because they could. Sure they got dinged $335 million as a penalty, and congrats to US Attorney Eric Holder for at least getting something out of the bastards, even it wasn't near enough. But what about all those families whose lives are now ruined because of Countrywide? Who is going to put them back together and make them whole?"
"These are the kind of things that happen when the deck is stacked, which are the kind of things that gave rise to the Occupy movement and many more similar movements around the world that explode when people get fed up with inequity and injustice. But God knows if we could all just live the Life of Mitt?"
"All would be right with the world, wouldn't it, kids?"
"Ultimately, after the financial market collapsed, the government bailed out the banking industry, including Bank of America, which now owns Countrywide," wrote Hill in Time. The banking industry rebounded because the government concluded that a secure banking system was in the public's interest. Yet, the playing field won't be level as long as American communities pay for the corrupt decisions made by lenders. A federal effort targeted at restoring blighted neighborhoods is needed to clean up the mess left behind by such egregious predatory practices as those alleged in the Department's reports and pleadings."
"… Funding to restore the neighborhoods Holder's team of attorneys, economists and mathematical statisticians have identified would enhance the DOJ's effectiveness as well as assist state and local governments currently dealing with costs associated with these sites. As importantly, it would show our federal government's commitment to the protections enshrined in our Constitution and laws."
"The greed and fraud of Wall Street banks caused the loss of millions of homes and billions of dollars in the housing crash," read a recent statement from MoveOn.org. "Now we need President Obama to take a strong stance for homeowners, and for accountability, by opening a federal investigation into big bank fraud."
"This is something the president can do on his own right now, without fighting Congress. And millions of Americans can be helped if banks are held responsible and forced to compensate homeowners for their wrongdoing."
"Wall Street gets investigated for the misdeeds that led to our financial collapse, they're very worried about what we'll find," read a recent statement by Russ Feingold, founder Progressives United. "That's why they're eager for a sweetheart settlement deal that would give them broad immunity without an investigation. Thanks in part to the pressure thousands of fellow progressives put on state attorneys general, that deal is on hold."
"But we don't just need to stop a deal that will cut off an investigation - we need President Obama to take the lead and launch the investigation. That's why we're joining with our friends at Move On to petition the president to investigate Wall Street now."
"… For far too long, Wall Street has received a blank check from Washington. They got bailed out after they gambled our economy into a recession, and they lobbied hard to make sure that regulation was too weak to prevent another crash."
"So without an investigation, we can't hold the big banks truly accountable for the $7 trillion they cost the global economy, homeowners can't get fair compensation, and Wall Street will have no reason to stop skewing the playing field against the 99%."
On Monday, the New York Times called upon the Obama Administration to provide leadership on the matter by appointing "an interagency task force to investigate and pursue potential civil and criminal wrongdoing by institutions and people whose conduct in the mortgage chain had the greatest economic impact," led by "a leader with the impulses of a crusading prosecutor" that would focus its attention on "the large banks and their top echelons."
"Bankers should not be allowed to walk away from the economic havoc they wreaked upon the country," says Robert L. Borosage, co-director of the Campaign for America's Future, "They should be held accountable, so that no one on Wall Street even thinks about playing roulette with people's lives again."
Carl Bloice
BlackCommentator