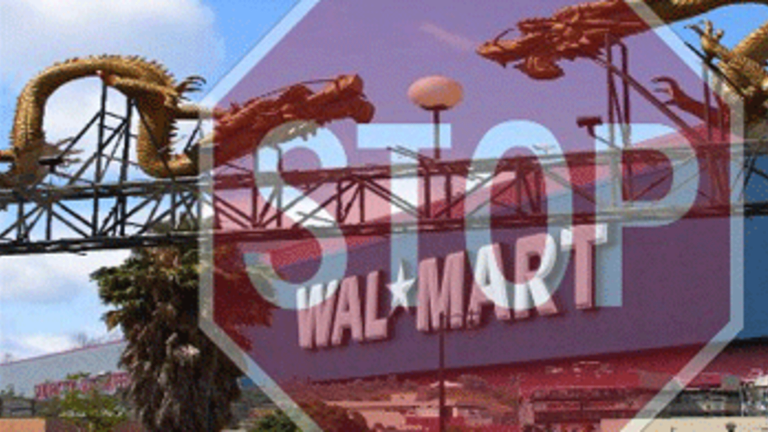 Walmart Bribery Bombshell: Case Could Cost Company Billions
Steve Mikulan: Walmart's biggest black eye came from a story outlining how the head of the retailer's Mexican operations spent $24 million bribing officials there to fast-track its expansion in Mexico.
Over the past week retail giant Walmart has squirmed in the unflattering news spotlight. There was a wave of stories about one of Walmart's Thai shrimp distributors treating its workers as little more than captive laborers, and another barrage of pieces focused on corporations dropping their affiliations with the right-wing American Legislative Exchange Council even as Walmart holds onto its ALEC membership card.
Walmart's biggest black eye, however, came from a blockbuster weekend New York Times story outlining how the head of the retailer's Mexican operations spent $24 million bribing officials in that country to fast-track its expansion there. Worse, the company tried to squelch an internal probe into the allegations.
While it's easy to dismiss the bribery story with an everybody-does-it shrug, or by assuming a corporate titan such as Walmart will emerge with only a slapped wrist, recent legal history says otherwise. The bribery accusation Walmart faces falls squarely under the purview of the Federal Corrupt Practices Act (FCPA). That law, passed in 1977, makes it a federal crime for an American company and its agents to bribe an official in a foreign nation to gain a business advantage in that country. The act began seeing a lot of use during the twilight years of the Bush administration, but has been employed with accelerating frequency by Barack Obama's Justice Department.
Southern California companies have been especially hit hard by FCPA prosecutions: The DOJ won convictions against Azusa-based Lindsey Manufacturing for bribing Mexican officials (a judge later dismissed the case's indictments), and officers in Orange County's Control Components Inc. were also convicted in a case tied to Chinese officials. In 2009, a West Hollywood couple, Gerald and Patricia Green, were convicted of bribing a Thai tourist official to gain control of the Bangkok International Film Festival.
Walmart's first admission that it knew of the bribery appears in its Form 10-Q, filed last December with the Securities and Exchange Commission. Toward the very end of this lengthy document, the company claims that
During fiscal 2012, the Company began conducting a voluntary internal review of its policies, procedures and internal controls pertaining to its global anti-corruption compliance program. As a result of information obtained during that review and from other sources, the Company has begun an internal investigation into whether certain matters, including permitting, licensing and inspections, were in compliance with the U.S. Foreign Corrupt Practices Act . . . We cannot reasonably estimate the potential liability, if any, related to these matters. However, based on the facts currently known, we do not believe that these matters will have a material adverse effect on our business, financial condition, results of operations or cash flows.
Those could turn out to be famous last words. According to an ABC News story, Walmart could be on the hook for 1 percent of its annual revenues – more than $10 billion, when court costs and other settlements are factored in. (Because of British statutes, the United Kingdom could also sign onto the case against Walmart, increasing the company's headaches – and potential liability.)
That same ABC story quotes claims made by anti-Walmart activist Al Norman, who says the company has used bribery before and outlines his charges on his Sprawl-Busters.com site. If any of Norman's charges are true, they may now get new life breathed into them.
For the moment, though, the focus remains on what Walmart did in Mexico. During the last three years debates over the FCPA (its far-reaching scope, its increasing use by DOJ, its definition of what constitutes a foreign official) have been buzzing like white noise in the pages of legal journals and on the screens of FCPA Web sites. And now this law, passed by Congress to curb the corporate excesses of the 1970s, is about to come center stage in what could become one of the country's greatest corporate dramas in decades.
Steve Mikulan
Editor, The Frying Pan
Posted: Wednesday, 25 April 2012