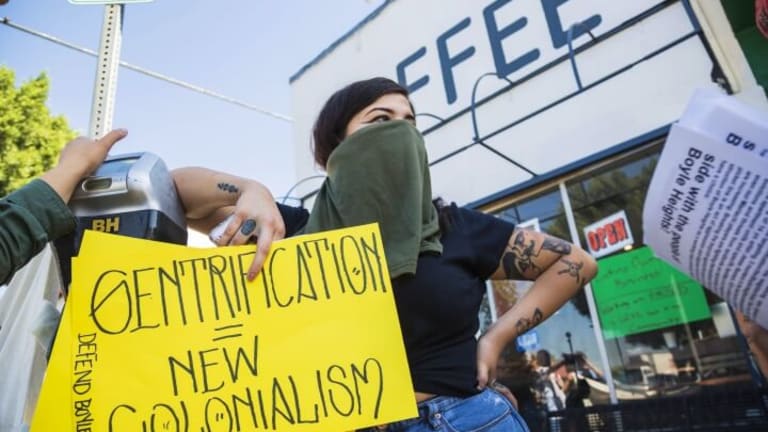 When Affordable Housing Gentrifies
Alison Salazar: While affordable housing developers are not gentrifiers, they could more efficiently combat gentrification with policy that ensures the right of return for displaced tenants.
Recently, there has been controversial debate on gentrification and affordable housing in Boyle Heights, the heavily Latino community east of Los Angeles. Affordable housing critics, including Union de Vecinos, often accuse housing developers, like East Los Angeles Community Corporation (ELACC), of contributing to the gentrification that hits neighborhoods like Boyle Heights particularly hard.
It is unfair to call developers gentrifiers while they actively work against gentrification; however, Union de Vecinos is right to emphasize that residents are displaced during the building process. While affordable housing developers are not gentrifiers, they could more efficiently combat gentrification with policy that ensures the right of return for displaced tenants.
While affordable housing developers are not gentrifiers, they could more efficiently combat gentrification with policy that ensures the right of return for displaced tenants.
To fully understand why affordable housing is actually working against gentrification, we need to understand the severity of the housing crisis. According to a 2014 Harvard University study, approximately 60% of Angeleno tenants pay more than 30% of their income on rent, and one-third of this group pays more than 50%. With a rental vacancy rate of 2.7% in LA and median household income of $33,235 in Boyle Heights, Boyle Heights residents are significantly burdened by the lack of affordable housing.
Gentrification, as Union de Vecinos argues, worsens the situation by raising rents and making it even harder for residents to remain in the community. Clearly, high rents and gentrification are closely interconnected. In fact, ELACC agrees, and its determination to build affordable housing across Boyle Heights corroborates just that. By building housing that low-income families can afford, ELACC enables them to stay in the community, even during an era of heightened gentrification.
While affordable housing is not a permanent solution to the housing crisis, it is not a gentrifying agent either. When tenants face raised rents they have to choose between moving, living in poorer conditions, or even becoming homeless. But with more affordable housing units available, they can stay. In the past, ELACC has leveraged about $135 million of investment to the Eastside and built over 500 units of affordable housing. For the City of LA, average rents in 2015 were $1,730 for a single bedroom and $2,550 for two bedrooms. On the other hand, rent for ELACC's Cielito Lindo units is projected to range from $437 to $1,033.
While Boyle Heights still faces gentrification exacerbated by affluent newcomers, ELACC has housed more than 1,000 residents in safe, habitable, and affordable housing. Affordable housing both beautifies the community and combats gentrifying forces in Boyle Heights by giving residents the opportunity to remain in their neighborhood. Unfortunately, while it builds apartments for 50 families, ELACC is forced to evict the 15 tenants that inhabited the previous units.
Given the housing crisis's severity, the units that ELACC has built fail to meet the demand for housing. The persisting shortage and ongoing gentrification pushed Union de Vecinos to deem developers like ELACC as enemies. While Union de Vecinos sees the eviction of 15 tenants as an act of gentrification because families were displaced, ELACC actually provided each family with a relocation package worth $19,500.
In response to aggravated tenants, ELACC additionally agreed to grant them a right of return. If they want to return to live in one of the 50 affordable apartments, they are guaranteed housing and won't have to go through credit checks. Instead, they merely have to go through an application process and meet Federal guidelines for affordable housing. ELACC's ability to reach a compromise serves as a model to demonstrate that developers can be efficient and create housing, combat gentrification, and avoid displacement—all simultaneously.
Although the compromise between ELACC and the 15 families had a happy ending, right of return compromises are not always met, mostly because they aren't required. Moreover, a policy requiring affordable housing developers to guarantee displaced tenants the right of return would be the most efficient way to combat gentrification, but it might face opposition. Critics may assume that developers would be discouraged from building due to strict regulations and extensive requirements.
However, the ongoing development across the city despite strict zoning laws proves otherwise. Similar to the recently approved JJJ Measure, policymakers can create incentives for affordable housing developers to assure that they would continue to build units and thus continue to fight against gentrification.
Despite recent accusations, affordable housing developers are not gentrifiers. In fact, by building housing that low-income families can afford, developers actually help them stay in their communities, even when gentrification is trying to push them out. However, we need to acknowledge that while affordable housing developers aim to house as many people as possible, this requires the displacement of previous tenants.
So, to develop the most efficient method of housing low-income families in neighborhoods vulnerable to gentrification, policy is needed. By eliminating the burden that tenants carry of having to protest for their right of return, well-written policy can guarantee that displacement due to housing be eliminated. Even further, policy can help deteriorate the causal story blaming affordable housing for gentrification and instead introduce a more accurate image of it as an anti-gentrification force.
Alison Salazar
Alison Salazar is a junior at Occidental College, majoring in Urban & Environmental Policy Major and minoring in Latino/a & Latin American Studies.