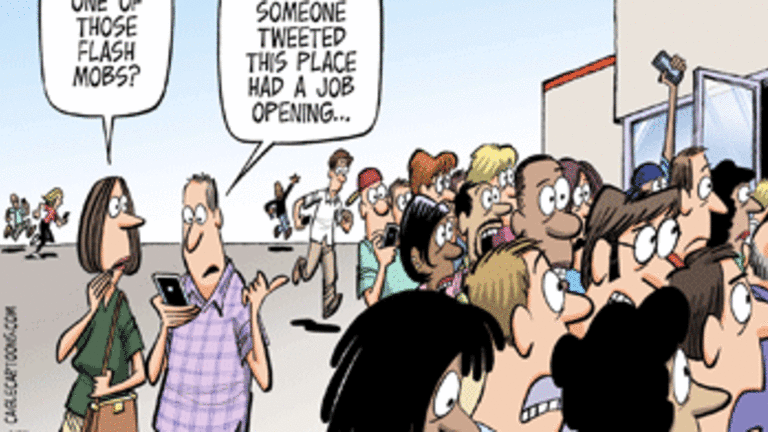 Carnage at Yahoo: The Lopsided Economy
Carl Bloice: With industry executives raking in fantastic and unwarranted riches while the lives of workers from Sunnyvale to Pittsburgh are rendered ever more precarious, whatever is happening certainly is lopsided.
The March unemployment figures arrived just as I was thinking about Yahoo and the 2,000 workers the company recently laid off. Although it won't be known until next week where exactly the axe will fall and which techies will lose their jobs, my friends in the industry say most probably won't have much trouble finding new work – unless they happen to be new entrants into the field or over 40 years old. (Yeah, it's that way.) Just why Yahoo is sacking 14 percent of its workforce is somewhat murky. The company isn't going broke; it just isn't turning in a profit volume that investors seek, especially when measured against rivals Google and Facebook.
The Associated Press reported that "As traumatic as the job cuts may be for laid-off workers," industry analyst Scott Kessler says Yahoo needs to prune its payroll to show Wall Street that the company can be run more efficiently than it has been in recent years. "Last year, Yahoo produced revenue of $353,000 per employee while its two biggest rivals, internet search leader Google Inc. and social networking leader Facebook Inc., each generated $1.2 million per employee," said AP.
Quiet as it's kept, that's how capitalism works. Produce not enough value for the owners and you can find yourself headed for the unemployment office.
Also, lurking in the background here is an ongoing challenge to the current company management from a certain hedge fund and the indication that the most important asset being highlighted and coveted is the firm's huge use data base collected from its nearly 700 million users and thousands of advertisers – "data that drives deep personalization for users," which Yahoo says can "create a new generation of more personalized online products."
"With a clear focus on profitability and growth, the company will be disciplined in its investments and radically simplify how it builds, launches and maintains many of its properties and products," a company press release read.
"We need better execution to accelerate time to market and to better monetize the attention we have," said Yahoo CEO Scott Thompson, the man wielding the layoff axe.
Yahoo wasn't the only company announcing a 14 percent staff reduction last week. J.C. Penney laid off 600 employees from its corporate headquarters April 6. It also said it will soon close its Pittsburgh call center, scraping the jobs of nearly 400 workers we can be sure will have difficulty finding new employment. A majority of the jobs are part time and a company spokesperson told the media the sacked workers are unlikely to be absorbed into other units of the retail company.
Penney's new CEO Ronald B. Johnson received $53.3 million in total compensation last year, third on the top 100 list. "Last year, Mr. Johnson left his position as senior vice president of retail at Apple, along with Apple stock worth $101 million at the time that had not yet vested," the New York Times reported the day after Johnson announced the layoffs. "So, as part of his pay package, J.C. Penney gave Mr. Johnson a one-time stock award worth $52.6 million. (As of the end of last week, his Apple stock would have been worth about $159 million. His Penney stock was worth $58 million.)"
Yahoo CEO Scott Thompson is also a highly paid Silicon Valley insider, having moved less than four month ago from eBay's PayPal payment service. His last reported compensation pay package there was $10.4 million paid out in 2010. Yahoo offered Thompson a deal that includes a $1 million salary and a bonus of from $1 million to $2 million this year, depending on company performance and Stock options valued at $22. 5 million. According to The Economic Times, Thompson is also reaping $1.5 million to offset money he forfeited by leaving PayPal. "A $6.5 million chunk of the stock awards are also meant to offset some of the compensation he would have gotten at PayPal, according to the filing," it said.
Thompson apparently botched the staff reduction process from a public relations point of view. In an arena where a one-big-family ethos is promoted, it was consider uncouth for him to have announced the terminations without saying why they were being undertaken or what the company's future plans are.
"Thompson also sought to boost sagging employee morale in a staff memo Thursday,' reported AP. The memo said the plans would be revealed April 17. Thompson said he wanted to be "fair and respectful" to the laid-off employees before discussing the future.
Whether or not the laid off Yahoo workers, or those at J.C. Penny are able to find new jobs quickly, what each of them is going through at the moment will, indeed, be "traumatic." Their former bosses will experience some drama but no trauma.
Which brings us back to the newest unemployment figures and the millions who are out of work, will soon be out of work, will see their unemployment compensation run out, will lose their homes or be unable to pay their medical expenses or afford college tuition.
"What distinguishes this jobs recovery from others is the sheer scale of the job loss that preceded it," the New York Times reported April 7. "The economy has regained 3.6 million jobs since employment hit bottom in February 2010, but it is still missing nearly 10 million jobs - 5.2 million lost in the recession and 4.7 million needed to employ new entrants to the labor market. The Economic Policy Institute estimates that at the average rate of job creation in the last three months, it would take until the end of 2017, fully 10 years from the start of the Great Recession in December 2007, to return to the prerecession jobless rate of 5 percent."
"And there is no guarantee we will ever get there," wrote journalist Teresa Tritch, a member of the paper's editorial board. "It took about four years to close the job gaps created by the recessions that began in mid-1981 and mid-1990. In the tepid expansion after the 2001 recession, the job gap had still not closed by 2007."
"Despite ongoing improvements, the labor market still has a deficit of nearly 10 million jobs, and the lack of demand for workers means unemployment remains high and wage growth for people with jobs remains low," writes economist Heidi Shierholz of the Economic Policy Institute. "To get back to full employment in three years we would need to be adding around 350,000 jobs per month. The nation's labor market remains weak, and we continue to need aggressive policies to create jobs."
"The fall in the unemployment rate was actually a bad sign for the economy," read Reuters. "The jobless rate dropped because workers were exiting the workforce, possibly because they were discouraged at job prospects although some likely were retiring as well. The workforce shrank by 164,000 people. The participation rate, which is the percent of the population in the workforce, fell to 63.8 percent from 63.9 percent in February."
Most of the decline in the participation rate is being ascribed to workers becoming discouraged and dropping out of the labor market.
The national jobless rate slipped to 8.2 percent in March. African-American unemployment dropped to 14.0 percent in March. In March of 2011, the rate was 8.9 percent overall and 15.6 percent for African-Americans.
The jobless rate for both African American and Latino youth were lower in the first quarter of 2012 than for the same period last year. However, the employment-to-population ratio for young African Americans, which had risen a bit in February, slipped in March, back to where it was this time last year. This may indicate an increase in the number exiting the workforce, perhaps because they found job prospects too discouraging. For all Latino workers, the ratio has remained pretty much the same over the past year.
"This monthly jobs report may be a one-off disappointment or it could signal that the job market is doing worse than we thought," economist Jared Bernstein suggests we should be saying. "Either way, there's too many un- and underemployed people out there."
The fourth paragraph of the front-page New York Times story on the new jobs stats read: "The slowdown suggests that employers remain cautious about hiring as they digest the impact of rising gas prices, especially on consumers, and as they face uncertainty about health care and pension costs."
Liberal economist Robert Reich disagrees.
"You will hear other theories about the hiring slowdown, but they don't wash," he wrote on his blog April 6. "You will hear other theories about the hiring slowdown, but they don't wash.
"It's not due to 'uncertainty' about the economy. That's a tautology – the economy's future is always uncertain, especially when consumers don't have the dough to keep it going."
"American consumers, in short, are hitting a wall," continued Reich. "They don't dare save much less because their jobs are still insecure. They can't borrow much more. Their home values are still dropping and many are underwater – owing more on their homes than the homes are worth.
"The economy has been growing but almost all the gains have gone to the very top. As I've noted, this is the most lopsided recovery on record."
Like the layoffs at Penny, the upheaval at Yahoo is not unrelated to the Great Recession. Over the past four years, there have been six large layoffs at the firm; 1,500 workers were sacked in 2008. Last month's jobless figures don't say clearly whether a real recovery is underway and, if so, whether it can be sustained. But with industry executives raking in fantastic and unwarranted riches while the lives of workers from Sunnyvale to Pittsburgh are rendered ever more precarious, whatever is happening certainly is lopsided.
Carl Bloice
The Black Commentator