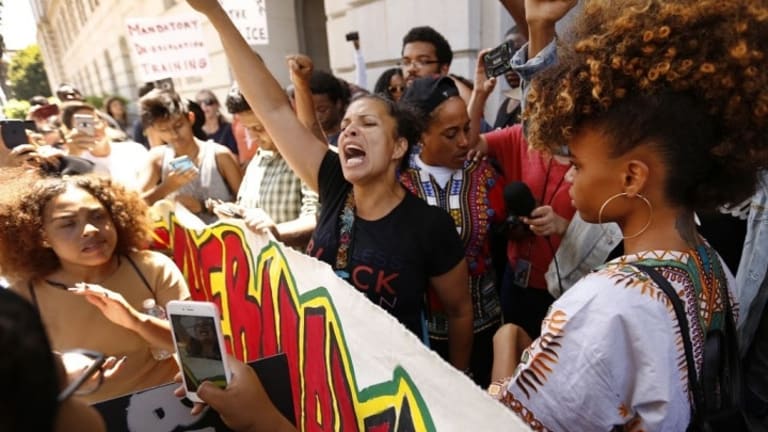 L.A.'s "Defund the Police" Battle: Breakthrough
Eric Mann: Dozens of angry, articulate, and organized Black students—many from Students Deserve—testified that the very presence of police in the schools was a racist and anti-Black attack on their racial identity, self-worth, self-confidence, and academic performance.
Section 1: The Black-Led "Defund the Police" Movement Wins Great Breakthrough in Los Angeles: An Organizer's Interpretation
Section 1: Anatomy of the Breakthrough • Section 2: The Strategy Center's Role
Section 3: The Elected Officials' Role • Section 4: Board, LASPD Struggles Continue
Section 5: What This Taught a Veteran Organizer
"Los Angeles Cuts School Police Budget by $25 million"—June 30, 2020 L.A. Times Headline
At 11 PM on Tuesday June 30—after 13 hours of public testimony and board deliberations and yes, years of organizing—the Black Lives Matter and Defund the Police movement in Los Angeles and nationally took a great leap forward. The Los Angeles School Board, led by Board Member Monica Garcia, with the support of board members Nick Melvoin, Kelly Gonez, and Jackie Goldberg, voted 4 to 3 to cut the $70 million a year budget of the Los Angeles School Police Department (LASPD) by $25 million—35%—and move those funds to programs focused on the needs of Black students. This reduction in the department's funds will potentially lay off 65 armed officers and cut the department's overtime budget. We know of no other Defund the Police campaign in a major U.S. City that has made such a major political and material breakthrough—in this case, Los Angeles City, with 4 million residents, 650,000 students, and the second largest school system in the U.S.
Dozens of angry, articulate, and organized Black students—many from Students Deserve—testified that the very presence of police in the schools was a racist and anti-Black attack on their racial identity, self-worth, self-confidence, and academic performance.
Our campaign was also a major ideological victory. It delegitimized the very existence of police in the public schools and affirmed the experience and demands of the most militant and conscious Black students. The LA School Board meeting, with hundreds of demonstrators outside, 50 people inside the boardroom at a time with only board member Monica Garcia in person, and several thousand supportive viewers on closed circuit TV was a site of the most intense ideological contestation with the entire system of anti-Black colonial education. Dozens of angry, articulate, and organized Black students—many from Students Deserve—testified that the very presence of police in the schools was a racist and anti-Black attack on their racial identity, self-worth, self-confidence, and academic performance.
Dr. Melina Abdullah, co-chair of Black Lives Matter L.A., testified that all three of her children suffered police abuse in the schools while her son's first experience of anti-Black police brutality was at the age of six. She described in painful detail how every aspect of a Black child's life is criminalized and why the demand for No Police in the Schools was a life and death issue for the Black community.
Channing Martinez, director of organizing at Labor/Community Strategy Center and a graduate of Crenshaw High School in South Central, told the board:
"The Strategy Center fought for years to end your police tickets and arrests for Black and Latino students coming to school late that you called truancy. We fought to end anti-Black 'willful defiance' suspensions and expulsions and to get the LASPD to return 1 tank, 3 grenade launcher, and 61-M16s that had been procured from the Department of Defense 1033 program. By now it should be clear. The only structural solution to educational and anti-Black racism is to end the police occupation of the schools altogether."
Our political, fiscal, and ideological victory led LASPD Police Chief Todd Chamberlain, who had only recently been hired, to resign the following day. Chamberlain, a former LAPD captain, with a bachelor's degree in criminal justice and a master's degree in organizational management, had tried to put a humanistic face on a militaristic institution. But he well understood the significance of the devastating vote of no confidence in his department and chose to exit rather than try to manage under even further scrutiny.
This was also a breakthrough, if just in the earliest stages, in the far larger war to protect and expand Black Los Angeles. The Strategy Center has been trying to build a movement, along with other forces like the Crenshaw Subway Coalition of which we are a part, for a counter-gentrification Right of Return of the Black Community to South Central. We have been working on the formulation of "the right of return" of Black dispersed populations, based on the Palestinian demand, that I began to explore in my 2005 and then 2015 edition of my book, Katrina's Legacy, to imagine and demand the return of 100,000 post-Katrina dispersed Black people back to New Orleans.
In this No Police in the LAUSD Schools campaign we tried to convey the terrifying reality that Black students—once 25% of the Los Angeles Unified School District—are now only 8% and under daily attack. This is situated in the even larger crime that the Black population of Los Angeles—once 750,000 in 1970—has been forced down to 350,000 through conscious government and societal policies of economic sanctions, police occupation, and thousands of "you are not welcome here" public and private assaults. This was reflected in the federally and Democratic Party driven "war on drugs" "war on crime" "war on gangs" and as the Clinton's demonized "super-predators" and "welfare frauds" the very clear "war on Blacks."
Even in this great board vote on June 30, while we won a tactical victory in the wider war to reverse anti-Black policies, programs, and outcomes, the LASPD has retained 65% of its budget—$45 million—and still has more than 300 officers with guns. That is why we have to turn this breakthrough into a larger and longer offensive. Just recently Black Lives Matter L.A., Students Deserve, United Teachers of Los Angeles, Inner City Struggle, Youth Justice Coalition, and the Labor/Community Strategy Center wrote to LAUSD Superintendent, August Beutner.
"As our communities have experienced centuries of divestment, and with more budget cuts coming from the state of California, we will need much more than the initial $25 million redirection from school police to begin to rectify the harm caused to Black communities. In fact, now may be the most appropriate time to imagine both what genuine race-conscious investments look like, and to reimaging what school safety means as we look for ways to keep all members of the school community safe in the midst of a global health pandemic. However, LAUSD must also recognize the precedent that was set when a Board majority voted to reduce LASPD's budget by 35 percent – the District must not reverse course, and all implementation should reflect the spirit of the movement.
We call on the Superintendent to develop a timeline to phase out both the need and funding for school police, with funds being redirected to services and supports for Black students."
Anatomy of the Breakthrough
The Strategy Center has played a leadership role in anti-racist, Black liberation, organizing against the colonial and police occupied public schools in LA for more than 20 years. This recent victory for the Black and Black/Latinx united front offers such rich practice. Here are some themes and conclusions I'll integrate into the analytical narrative to encourage discussion and debate in the growing Black-led social justice movement.
The Centrality of the Black Liberation Struggle to urban and U.S. revolutionary hope and strategy
The Strategy Center's long term commitment to and physical centering in South Central's Black community
The essential role of the most radical, revolutionary, militant, and left politics to shape the Black and Latino movement.
The building of a Black/Latinx/Third World united front with an agreed upon Black priority—and the outreach to the Latino community for its own independent and supportive voices in the larger united front
The synthesis of long-term organizing and revolutionary opportunity to move decisively under opportune circumstances
The value of an aggressive ideological challenge to the U.S. white settler state and its colonial anti-Black educational system
The value of an anti-genocide frame in which to situate the suppression and subjugation of Black students, Black workers, Black women, Black homeless, Black prisoners, Black communities
For the Strategy Center, the motivating force of our view that Black people constitute an oppressed Black Nation inside the white oppressor nation.
A successful navigating of a complex relationship between social movements and elected officials that integrates that work into a larger social justice and revolutionary strategy. In this case, we rejected on the one-hand, an ultra-left theory of "exposing" "denouncing" and "forcing" those in power to vote for our demands and on the other, the ultra-right theory of the "inside outside game" that is little more than becoming an adjunct to the Democratic Party. The Movement treated the board members as political people who would be sympathetic to and supportive of our people, our program, and our objectives That mutual respect was critical to the victory
The victory was rooted in a multi-generational movement inside Black and Latino communities in which young people and students were the driving force but older organizers, parents, teachers, community residents, and board members were understood as part of the solution not the problem. Contrary to some other theories and practices of "youth organizing" the Black and Latina students saw The System not "adults" as the target and the cause of the problem. That was the product of thoughtful organizing work over years in which student leaders felt supported and encouraged to exercise leadership inside student structures but also within a multi-generational community and movement ones as well.
The explosive combination of deep ideological framing and grassroots organizing. Too often, "ideology" is the terrain of isolated ideologues and "organizing" is reduced to militant, Alinsky-like reforms inside the existing system with no ideological challenge. In this case the role of ideology and organizing were integrated in ways that were critical to the victory
 A generally non-sectarian theory and practice of the united front inside the Black community, inside the Latino community, inside the Black/Latinx alliance and inside the movement that allowed differences and tensions to be negotiated and resolved in ways that strengthened the movement and was apparent to the LAUSD board members with whom we negotiated and collaborated.
As will be explained, these are not abstract or tacked on ideological explanations but political lines that were actively put forth and gained influence through struggle inside the broad united front that won this breakthrough. This political perspective will be needed to protect what we have won and to extend those gains. This independent ideological perspective is even more critical in the midst of the Democratic Party's efforts to shut down this militant moment and replace it with a manipulative empty appeal to Black voters and a pacified representation to white voters. The Democrats face a very real electoral challenge to defeat the fascist right in the 2020 presidential elections. But we can't also expect them to advance the interests of the most militant, radical, and far reaching Black and Latino led social movements. That is our job.
I will of course tell you the story of the organizing and complex negotiations with the LAUSD Board so that you will have enough factual information from which to draw your own conclusions and learn from the narrative not just the analysis.
 Eric Mann
Counterpunch
See Section 1: Anatomy of the Breakthrough
See Section 2: The Strategy Center's Role
See Section 3: The Elected Officials' Role
Section 4: Board, LASPD Struggles Continue
Section 5: What This Taught a Veteran Organizer