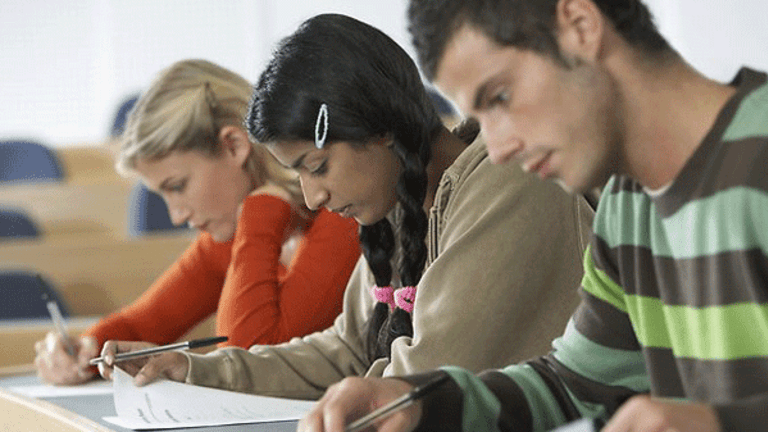 Pentagon Data on Student Testing Program Rife with Errors and Contradictions
Student Testing Program -- We're witnessing the institutionalization of a direct informational pipeline to the Military Entrance Processing Command.
Student Privacy Compromised by Massive Program
The Department of Defense has released a database on the military's controversial Armed Services Vocational Aptitude Battery Career Exploration Program (ASVAB-CEP) in 11,700 high schools across the country. An examination of the complex and contradictory dataset raises serious issues regarding student privacy and the integrity of the program in America's schools.
The data was released after a lengthy and contested Freedom of Information Act (FOIA) request.
See the State ASVAB Databases and the National Database.
The DoD reports that 678,000 students participated in the program during the 2012-2013 school year, down nearly 10% from the previous school year. The three-hour test is the linchpin of the Pentagon's school-based recruiting program and provides the Military Entrance Processing Command (USMEPCOM) an invaluable tool in prescreening candidates for military service.
The ASVAB is used as a recruiting tool in high schools to gain sensitive, personal information on high school students, the vast majority of whom are under the age of 18. The administration of the ASVAB manages to circumvent the Family Educational Rights and Privacy Act, meaning that 3 hours of test results, detailed demographic information, and Social Security numbers are delivered to the Pentagon without providing for parental consent. ASVAB results are the only student records leaving American schools without allowing for mom and dad to sign off.
Military regulations allow schools to choose release options pertaining to ASVAB test results. These options range from Options 1 through Option 8 - the only one that prevents test results from being used for recruiting purposes. Just 15% of those tested had Option 8 selected. Most school administrators are still unaware release options exist. Unless a school is proactive, the Pentagon uses the data for recruiting
Meanwhile, the DOD markets the ASVAB in high schools without revealing its tie-in to the military or its primary purpose as a recruitment tool. It is terribly deceptive.
A Snapshot of the data
=========================================
INDICATOR 2011-2012 2012-2013
Total Tested 752,758 678,248
Total Schools 11,754 11,741
# Students Option 8 122,636 105,222
% Option 8 16.29 15.51
# Schools Option 8 2177 2408
# Schools Mandatory 1219 938
==========================================
281 fewer schools required students to take the test last year, reflecting a national campaign to end mandatory testing. However, a half-dozen states have enacted policies that allow minimum scores on the ASVAB to substitute for graduation requirements or have required the test to be used for student assessment purposes. No arrangements have been made to protect the privacy of these students.
We're witnessing the institutionalization of a direct informational pipeline to the Military Entrance Processing Command.
The database purports to reflect the number of schools and students that participate in mandatory testing, although there are obvious problems with its accuracy. Five high schools in downtown Miami with an average minority population of 96% tested 3,266 children but the database lists them as "not mandatory". In Michigan, a web search shows that Pickford, Watersmeet, Goodrich, Manistique Lake Linden, Rapid River, and Ironwood High Schools all force students to take the test, but the data says they're all voluntary. Munford High School in Munford, Tennessee, tested 855 but is listed as not mandatory. Perhaps patriotism is rampant in Munford, but how, exactly, do they manage to get 855 teenagers to voluntarily sit for three hours to take a military exam?
According to the data, 6,536 schools or 56% of the total nationally, tested ten or fewer children, comprising just 6% of the total number of students tested.
Kevin Haake of the Nebraska Coalition to Protect Student Privacy explains it this way, "We'd rather not have the military actively recruiting in our schools but I don't see an egregious violation of civil rights when a couple of kids voluntarily sign up to take this military test. It's another matter when entire classes of children are told they've got to take this thing and all their information is shipped to the Pentagon without mom and dad knowing about it."
In early 2013 The UN's Committee on the Right of the Child called on the Obama Administration to "Ensure that schools, parents and pupils are made aware of the voluntary nature of the ASVAB before consenting to the participation into it." The Obama Administration replied to the Committee, "Participation in the ASVAB CEP is entirely voluntary. DOD does not require schools to participate, nor does it require schools to test all students within a participating school.
The ASVAB is often the only "free" assessment on "test day". At Crown Point HS in Indiana, "11th grade students that wish to take the PSAT, and potentially qualify for national merit scholarships, will be required to pay $14.00. 11th grade students that do not wish to take the PSAT will be administered the ASVAB exam. The ASVAB exam is free of charge." Crown Point tested 469 students last year and they're listed as not mandatory. All had their results shipped to recruiting services without parental consent.
Guidance counselors in high schools in a dozen states across the country have said they were told by recruiters that privacy concerns are misplaced because students sign a "Privacy Act Statement" when they take the ASVAB. However, most state laws require parents to give their approval for the release of such information The 2013 report Best Practices for ASVAB-CEP Administration from Rutgers Law School makes a compelling case that school officials have both legal and professional responsibilities to ensure that ASVAB student test information is not automatically released to military recruiters.
Another misperception spread by the recruiting command is the notion that the "Opt Out" law regulates ASVAB testing and that if a parent doesn't "opt out" of lists being supplied to recruiters at the beginning of the year, their child is fair game for the ASVAB. Recruiters also disseminate release option forms to schools that leave off mention of Option 8. See this form distributed by the recruiting command to a large Maryland jurisdiction.
The tide is turning, however, as coalitions have sprung up in nearly half the states to fight these violations of civil liberties. More than 2,000 schools have moved to protect student privacy, up from a few hundred just six years ago. Two states, Hawaii and Maryland, and many of the nation's largest school systems, have mandated the selection of Option 8. Activists in New Hampshire have lobbied to introduce HB 1321, a bill that mirrors Maryland's law.
Diane Wood with the Texas Coalition to Protect Student Privacy reflects common sense attitudes, "I support the military but I got fired up when I discovered this egregious violation of civil liberties that's been going on entirely unnoticed. I don't care if it's the Department of Defense or who ever. This privacy campaign has resonated with Tea Party activists down here. We all see ASVAB testing as an unwarranted and illegal federal incursion into our lives." It's a peculiar campaign that attracts allies on opposite ends of the political spectrum.
The ASVAB-CEP program is fraudulent but it is sponsored by the military, a sacrosanct institution that remains above constitutional restraint and the rule of law in the view of many American school officials and state legislators. We must convince them otherwise.
Pat Elder
National Coalition to Protect Student Privacy
Pat Elder is the Director of the National Coalition to Protect Student Privacy. www.studentprivacy.org Email: pelder@studentprivacy.org