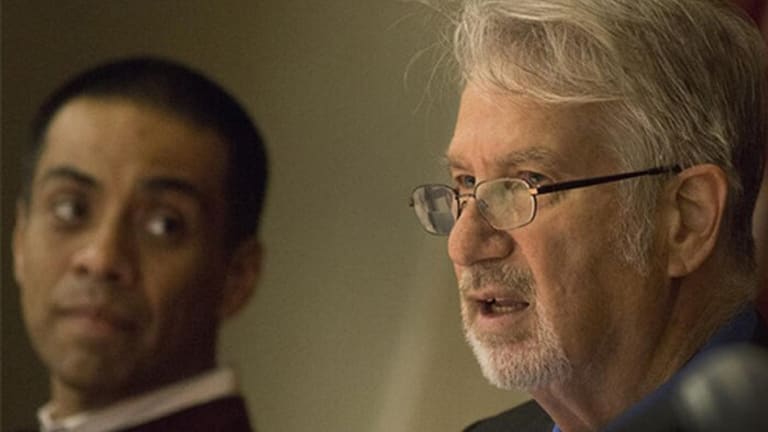 What Bennett Kayser's Defeat Teaches Us
Joshua Leibner: You completely dismissed the agonized cry of the teachers of LAUSD who believed that the students should have a superintendent who championed their causes through education policies.
The results are in and now many people will examine why you lost and/or why the Ed Reform candidate won.
I went to the polls in LA's District 5 and voted for you, even though it was cast with a heavy heart.
There is absolutely no question, you were far better ideologically kin to me than Ref Rodriguez. The people who backed his campaign are the toxic corrupters of the heart and soul of public education.
It is a sad day for LA.
BUT…Now that the election is over, the truth needs to be spoken about the history of Education Reform in LAUSD and the BOE's complicity (and yours) in the matter.
Back in the spring of 2003, at a huge demonstration down Hollywood Boulevard filled with thousands of thoughtful, passionate activists hollering in the streets to prevent the US from going to war with Iraq, we looked desperately for some leader…some elected Democrat official…to speak at the event to help stop the lunacy.
Nothing.
Crickets.
And so, it is with head-shaking numbness, I watch all the GOP presidential hopefuls rewrite history of how we got into the situation in the first place.
But the Democrats were an equally sorrowful lot.
When John Deasy was imposed upon the Board, it was a grim time for our democratic municipal government. That was not your fault and it was obvious one needed to extend good will to an incoming superintendent and provide support. However, it was VERY clear to hundreds of educators soon after, that Deasy was not operating in good faith—and worse—GOOD PEDAGOGY—for the students and educators working in LAUSD.
Throughout Deasy's early years, the Board heard the misgivings and despair of many teachers, yet continued to give Deasy aid and comfort in his reckless autocratic reshaping of LAUSD. To pretend that you were in the forefront of the fight against Deasyism is a rewriting of history.
You voted with the superintendent often enough and even as late as October 2013, you voted to retain Deasy as Superintendent with every other colleague except the late Marguerite LaMotte. You were never particularly forceful in your public statements about the direction Deasy was taking the district.
When you voted to back Deasy, U.S. Secretary of Education Arne Duncan congratulated you all for your wisdom saying, "LA is absolutely going in the right direction."
You completely dismissed the agonized cry of the teachers of LAUSD who believed that the students should have a superintendent who championed their causes through education policies.
So many of the things that happened under Deasy—Eli Broad's financial involvement and influence, the purging of hundreds of teachers whom EVERY SINGLE ONE you fired with no pause of consideration, and even with the initial IPad planning you did not do your due diligence.
As a LAUSD National Board Teacher, I, along with so many of my colleagues, watched with horror as Deasy implemented his agenda. It is one thing to have so many of the educational and academic intelligentsia on our side—but they have zero political power. Only you and the Board are OUR voices that can argue for a different course. And you and many others let us down because you were not alone in your silence.
You completely dismissed the agonized cry of the teachers of LAUSD who believed that the students should have a superintendent who championed their causes through education policies.
Where was your colleague Steve Zimmer during these years? His fiery Youtube speech on your behalf has gotten plenty of attention, but anyone can go back over the public record and see what a conciliating and comforting voice he was during the Deasy years. When schools needed a champion to forcefully combat and denounce what was happening in LA, Zimmer could be counted on to deliver abstract, stirring odes to Martin Luther King rather than dealing with the injustices and grim realities of PRESENT DAY Los Angeles.
For most of the Deasy years he was self-aggrandizingly useless.
Don't even get me started about Board President Dick Vladovic. This craven individual couldn't even bring himself to take his name off the odious "Parent Teacher Alliance in Support of Rodriguez, Galatzan and Vladovic for School Board 2015" mailers that swamped our mailboxes with their grotesque messages. It was MORE IMPORTANT for him to not offend these millionaires than to stand up for decency.
My only hope is that Monica Ratliff is elected the next Board President and Vladovic can go off to Xanax heaven for the next five years as he self-servingly navigates the waters of whom he might offend to see what is in his own best interest.
Sadly, because the BOE initially did SO PATHETICALLY LITTLE to curtail Deasy, you provided a beachhead for the reformers in our school system. The reason Rodriguez could send those mailers out is because the folks who SHOULD have supported public education on the BOE hoped that by cooperating and staying silent, the Reform forces and money would not come for them.
Well, Mr. Kayser. They came for you.
And they got you.
But they didn't just get you. They got us.
They got our kids.
Our forces can now examine the tactics of the Charter industry and the Big Money, but really, don't we know it all by now? What we must do is take lessons from your defeat and those in positions of power must double down and do THE RIGHT THING from Moment One in regards to public education.
I do take some comfort in Scott Schmerelson's victory, and you should, too. I hope he is reading this letter as well and can see that these same tactics that were used against him are NEVER going to go away. It is their modus operendi to undermine what is actually good for schools, even as they employ Orwellian language to protect THEIR OWN interests in the guise of our children.
I look forward to your voice on the outside now fighting the money and PEDAGOGY that defeated you. I hope you have a clearer sense of what we have all been fighting.
Twelve years into the Iraq War, NO ONE—at least no rational person—wants to claim to be its champion.
I look forward to the day when no one wants to claim ownership of Education Reform.
I just wish we had those voices back then when these fiascos began.
Yours and good luck in the future,
Joshua Leibner