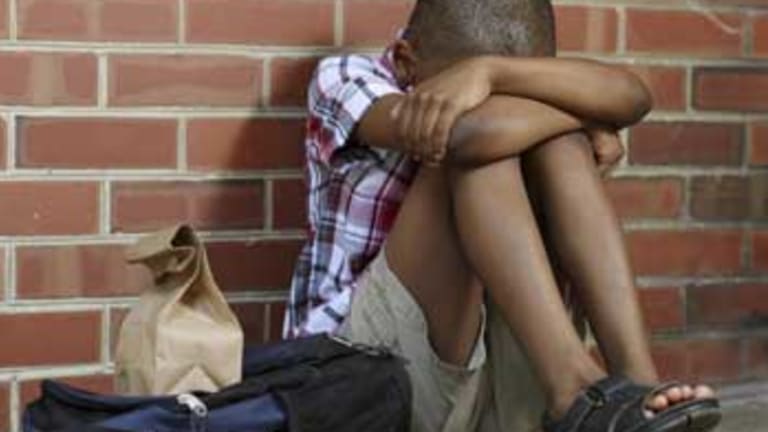 Black Lives Matter Meets United Teachers Los Angeles
Wade Kyle: I find in my union a similar commitment to working for a more fair and just world. I can proudly say that UTLA has become one of the most socially progressive labor unions in the country.
This February, I was attending the California Teachers Association Good Teaching Conference in Garden Grove with other educators when we learned that the Ku Klux Klan was staging a rally in nearby Anaheim. I was in the CTA Black Caucus meeting. The tension in the room was palpable. People were shocked. I wasn't, but that may be because I grew up in an area in northeast San Fernando Valley that was home to an active Ku Klux Klan chapter.
Over the years I have had colleagues and friends tell me that racism doesn't exist anymore, but none of those people were black. None of them had a childhood where grown men would yell, "Go home, N ****r!" In elementary school, I was called the N-word by white students, by Latino students, by Asian students, and even by some parents. They sent me a clear message—I did not belong, I was not welcomed there.
When I hit high school, I was no longer called the N-word but instead found that I was treated differently than my non-black friends, often in subtle ways. For example, my college counselor didn't give me the same information he shared with them. While they were given college application deadlines, I was told I should join the military even though my academic standing was on par with my peers.
There was also an occasional overt demonstration that I was not a welcomed member of the student body. I clearly remember a time when a Los Angeles Unified School District administrator shoved me as he marched down the hall. "Out of my way," he yelled. I don't know why I expected an apology from him—probably because I was unaware of the long history of problematic issues between the district and African Americans. This history culminated in the first proactive civil rights enforcement action taken by the United States Department of Education under the Obama Administration.
On the other hand, my teachers and I always had a better relationship. From kindergarten to 12th grade, my teachers treated me with kindness and respect. They welcomed me into their classrooms and asked how I was doing. In 1989, when I was in middle school, my teachers went on strike. Several of them asked me to join them on the picket line. I declined, not knowing much about striking at the time. Instead, I brought them doughnuts; we had that type of close relationship.
In middle school I didn't understand that those teachers belonged to the teachers union, United Teachers Los Angeles. It was those close relationships with teachers who were active in UTLA that made me feel special; they made me feel like I belonged, even though the larger LAUSD did not. These teachers helped shape my core beliefs and influenced my decision to become an educator. Once I became a teacher, my goal was to be as good to my students as my teachers had been to me. After graduating from college and grad school, none of my high school friends understood why I chose teaching. They asked, "Why not make more money?" But none of them had been black growing up in LAUSD.
It was important to me to be THAT teacher who supports his students. I remember one day, after I dismissed my class, apologizing to a parent for having to reprimand his son during recess after he'd called another student a derogatory term for a gay man. His father told me, "That's okay, Mr. Kyle. When I am not here, you are Dad."
That happened eight years ago, and his son and I are still in contact today. He plans to go to college and study to become a teacher. Some people might say that what happened between those two boys during recess had nothing to do with me. But I disagree. I believe that as the teacher I am the role model, and during school hours, the surrogate parent. As teachers we never know who is internalizing the messages we convey. I could have said nothing. However, my silence would devalue the boy being victimized and empower students harassing him. So I took action—just as my teachers would have done for me when I was a child. I sent a clear message to the students in the class, and the parents, that teachers care about ALL students. Bullying will not be tolerated.
I find in my union a similar commitment to working for a more fair and just world. I can proudly say that UTLA has become one of the most socially progressive labor unions in the country.
I find in my union a similar commitment to working for a more fair and just world. I can proudly say that UTLA has become one of the most socially progressive labor unions in the country. UTLA continues to fight for the rights of marginalized students and employees. We are fighting the billionaires who would dismantle public education. We are leading the charge for the rights of the LGBTQ community. We're standing up for the rights of immigrant students to attend school and beating back ICE immigration raids. The children of these communities can look upon their teachers and feel accepted—and feel safe.
As educators, UTLA is in a unique position to confront issues such as institutional racism and police brutality. Making headlines across this nation, a tidal wave of police brutality incidents is putting a spotlight on the disparate treatment doled out to black and brown communities. In most cases, where lethal force has been used, the police encounters have been with young black or Latino men and women. Black Lives Matter has been the leader of the movement to put an end to state sanctioned violence and to support these young people and their families.
As a further demonstration of our commitment to our community, on Monday, April 11, 2016, UTLA will host a forum on racial justice with members from the Black Lives Matter movement. The discussion panel will be held in South L.A. at the 93rd Street Elementary School located at 330 E. 93rd Street. The program begins at 4 and is open to the public.
Here in Los Angeles, local actions to keep up the protest are being planned, and our students are looking to us for support. Our actions speak louder than our words. Will we be THAT teacher, THAT labor union that stands to fight for the rights of ALL students? Knowing what I know about UTLA, I have faith the answer will be yes.
Wade Kyle
Wade Kyle is a long-time teacher in South Los Angeles with the Los Angeles Unified School District. He has a bachelors degree from Loyola Marymount University and a masters degree from California State University at Dominguez Hills. Mr. Kyle is active with UTLA serving several positions.