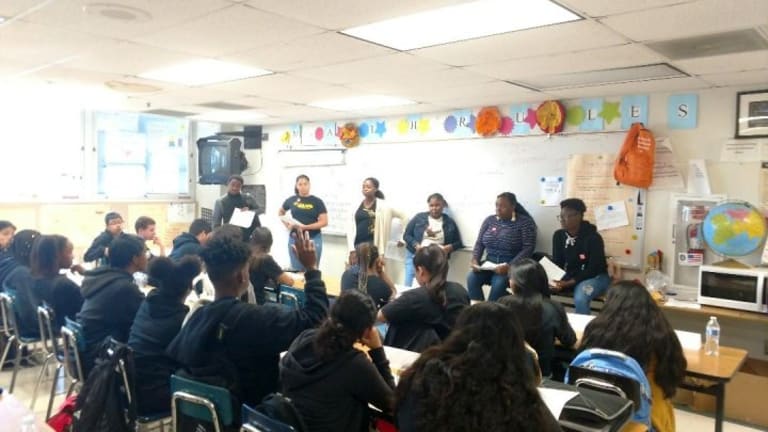 The Criminal Miseducation of Black Students in the LAUSD
Sikivu Hutchinson: District-wide, only two out of ten African American students are proficient or on grade level in math, while only three out of ten are proficient in English. For Black students transitioning to college, the implications are dire.
If African American students in the Los Angeles Unified School District were a single district, that district would be the eleventh largest in California. This stat comes from a recent analysis of LAUSD test results that unsurprisingly confirms the district's systemic failure of Black students. Over half of South L.A. schools with the largest concentration of Black students were rated "poor" in academic achievement. These schools received a red rating. By contrast, only fifteen schools were rated red for white students. District-wide, only two out of ten African American students are proficient or on grade level in math, while only three out of ten are proficient in English. For Black students transitioning to college, the implications are dire.
District-wide, only two out of ten African American students are proficient or on grade level in math, while only three out of ten are proficient in English. For Black students transitioning to college, the implications are dire.
Yet, where is the outrage??
Although African American high school graduation rates have increased, only half of Black LAUSD graduates have the grades and A-G (or college preparation) classes required for admission to UCs and CSUs. This combination of low access to college readiness resources, minimal access to college and guidance counselors, as well as high quality instruction, after school enrichment and tutoring programs, is informed by the systemic criminalization of African American students. While the LAUSD phased out willful defiance as an "offense" that students can be suspended for, Black students continue to be suspended at higher rates than non-black students.
Moreover, widespread district practices such as random searches (which the board voted to phase out in July after community organizing by student activist coalitions like Students Deserve and the Students Not Suspects campaign) and over-policing by school resource officers further undermine student learning, safety, and engagement.
The dwindling number of Black students at traditionally African American campuses is another factor. For the most part, faculty of all ethnicities are not trained to be culturally responsive to the needs and communities of Black students. Despite the millions poured into professional development training, faculty and administrators are not versed on how structures of segregation, institutional racism, state violence, sexual violence, and economic insecurity impact the psychological, emotional, and academic wellbeing of Black students.
In addition, Black "Generation Z" youth are more likely to identify as lesbian, gay, bisexual, and/or transgender, making them more vulnerable to bullying, harassment, and emotional abuse. Higher levels of LGBTQIA+ identification among Black youth defies mainstream, Eurocentric stereotypes about queer identity. It also dovetails with the rising number of queer Black parents who are raising children in communities where they are "invisibilized" by anti-queer public policies, conservative religious traditions, economic inequality, and minimal to nonexistent social services.
While the district has developed some programming and outreach for high school age LGBTQIA+ students, there is little to no culturally responsive programming or professional development that addresses the lived experiences of queer, trans, and nonbinary African American students in grades K-8. Students in these grades are even more underserved because teachers and administrators may not have been trained to be conscious about or attentive to addressing homophobia and transphobia on their campuses.
Why is this relevant to achievement? Because it represents the many challenges confronting a district that is ill-equipped to address a changing student body and the intersectional issues it faces. As greater numbers of elementary and middle school African American students grapple with gender identity and sexuality in homophobic, transphobic school communities, it will have a profound impact on their academic outcomes.
In a district that is still steeped in rote learning and tracking, the social-emotional wellbeing of African American LAUSD students has always been given short shrift. Only a handful of elementary and middle schools have a fifty percent or higher rate of English proficiency for African American students. They include Open Charter Middle School, WISH Community Charter, 156th Street School, Kentwood Elementary, Palms Middle School, Open Charter Middle School, Cowan Magnet, Loyola Village Magnet, and Broadacres Magnet. This small handful of schools (with the exception of Palms) are the only ones in the district with a fifty percent or more math proficiency rate for Black students.
At the high school level, only King Drew Magnet High School, TEACH Tech Charter, USC Hybrid College Prep, Palisades High, Hollywood High, University High and CATCH Charter High have at least a fifty percent or higher rate of English proficiency for Black students. According to the data, no high school has an African American student math proficiency rate of 50% or higher. Astoundingly, some Black "leaders" within the LAUSD say that increasing Black math proficiency to 5% per year is an acceptable goal.
What is the district's response to these gross disparities? In April, the LAUSD School Board sponsored a resolution entitled "Closing the Opportunity and Achievement Gap for African American Students". The resolution is the umpteenth district measure over a fifteen-year period that is designed to address "systemic inequities" faced by Black students. It calls for a "five-year plan" to increase the numbers of Black students in gifted and talented programs, honors classes, advanced placement classes, and early education programs. As with all of the previous resolutions that were passed to supposedly improve conditions in LAUSD for Black students, this plan is big on ambition and short on accountability to the community for how it will be implemented and evaluated (backers of the resolution have floated the creation of "African American Family" groups to participate in its implementation, but the district has provided no specifics on how this would play out).
The district's cluelessness on redressing math literacy is especially egregious. Veteran math educator Dr.Michael Batie analyzed math proficiency for a fifteen-year period in his publication the "Black Zero Index". Dr. Batie views the district's piecemeal efforts as akin to rearranging deck chairs on the Titanic. He has proposed creating a school district within Board District One, which has the largest Black student population in the LAUSD. Rather than emphasizing "how poorly Black students are doing", these dismal performance stats should be a call to action and catalyst for forward-looking initiatives.
Of course, starting a breakaway district is no easy or overnight task. It requires a petition to the L.A. County Office of Education School District Reorganization Committee and the collection of fifteen thousand signatures. In the meantime, improving math achievement for Black students requires the kind of bold restructuring that George McKenna, the board's sole African American member (who is running unopposed for reelection in March after challenger Tunette Powell was disqualified for allegedly not having enough signatures to qualify for the ballot), has steadfastly refused to pursue. Under McKenna's watch, Black students have stagnated, victim of his empty bluster, bravado, and fiddling-while-Rome-burns posturing.
Batie believes the district should prioritize providing schools with math specialists at every level in order to improve math literacy and competency among elementary and middle school instructors who may be assigned to teach math with no math background. Connecting math to real world practice and application—instead of emphasizing rote instruction that simply has students look at numbers on the page without seeing patterns or context—incorporating games and practical exercises, contests, manipulatives, and building exercises encourages students to stay mentally focused and internalize basic math skills as a foundation for higher math in high school and college.
For Batie, providing parents with strategies that empower them to assist their child in math literacy is a top priority. These skills are critical for equipping parents with the tools from birth through high school to help youth develop the rigor required to achieve math proficiency.
Ultimately, the district's failure of African American students in math and English has national implications for Black economic self-determination. If Black students continue to be cheated out of educational justice in public schools, more parents will retreat into independent charters and private schools, hastening a vicious cycle of divestment. And if Black students remain underserved in math, science, and English, they will be unable to develop critical thinking and analysis skills, successfully complete college, or compete in STEM fields that have few Black faces.
In a political climate where public education has been gutted by neoliberal forces of privatization and corporate control, the miseducation of Black students is a criminal enterprise that demands accountability from district "leaders" who continue to be asleep at the switch.
Sikivu Hutchinson
BlackFemLens
Sikivu Hutchinson is the founder of the Women's Leadership Project program for South L.A. girls of color and co-facilitator of the Black LGBTQIA+ Parent and Family Group