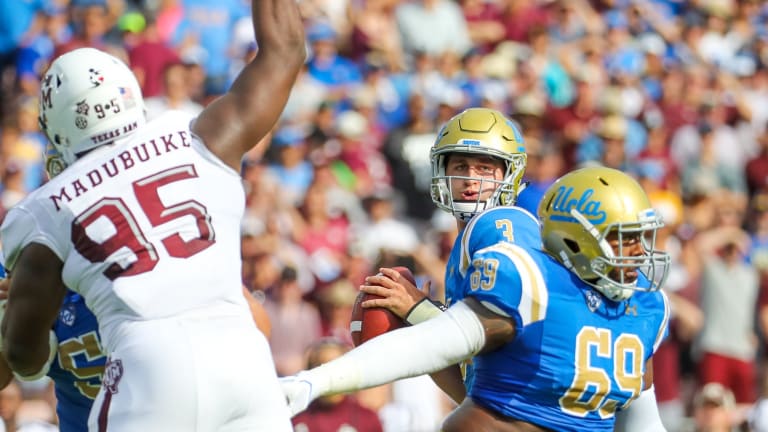 Neoliberal Higher Education on Display During College Football's Bowl Season
The college bowl system is no longer a system. It is an industry. Higher education used to be a social institution. Today, it is a corporate undertaking.
One of the best ways to understand the impact and grip of neoliberalism on everyday life is to compare the way things used to be to the way they are today. That is not always easily done because people often need to live through something to recognize the difference, and the change I shall describe extends beyond the lifespan of many observers.
Besides, what happens in higher education (the focus of this commentary) is typically removed from daily public life. The major exceptions come two times a year—during college basketball's March Madness national tournament and late December-early January during college football's bowl season. Those are times when people across the country watch college sports.
Still, it is only by looking through the history lens that we can appreciate how much things have changed over the decades. In this case, it is how college sports have become monetized. Let's look at the matter of college football bowls.
Few teams participated in college bowls in the mid-20th Century because participation was restricted to only those teams that had outstanding football seasons. Today, many teams participate, and it is not because there are many more deserving teams. It is because the purpose of the bowl system has morphed. Today it is a billion-dollar-plus industry with the media, corporate sponsors, the travel/hospitality industry, and (of course) the universities and their associated conferences, all of whom participate financially.
Just how much has the bowl system changed over the years? Only six major bowl games existed by the end of World War II–Rose, Cotton, Orange, Sugar, Sun, and Gator–and that number didn't grow significantly over the ensuing decades. By the end of the 1960s, only nine major bowl games existed (the original six plus Bluebonnet, Liberty, and Peach), with eighteen major teams playing. It meant that several Top 20 teams did not play in bowl games. In 1969-70, for example, five Top 20 teams with a combined record of 40-7-2 did not participate in postseason play.
That outcome is unimaginable today. How so? The 2022-23 college football postseason included over forty bowls with over eighty teams playing. What's more, a number of teams received bowl bids after completing six-win/six-loss seasons, and losing teams ended the year with sub-.500 records. Eleven teams finished the 2022 season with 6-7 records–Connecticut, Miami (OH), Florida, Baylor, Louisiana, Missouri, Bowling Green, Georgia Southern, Utah State, Kansas, and Oklahoma. A twelfth bowl participant, Rice, finished the year with an astonishing 5-8 record.
Bottom line? The bowl system has changed dramatically in quantity and quality—not by a little, but by a lot. Why? There are at least two reasons. One is sociological, the other is a matter of economics, and the two are connected. Sociologists have written extensively about a dynamic called goal displacement. That happens when an original objective or mission is displaced in favor of something different. In this case, college football displaced the goal of rewarding a few teams for excellence with (and this is where the economics comes in) converting the system into a big-money industry.
Today's bowl system is brought to us by ESPN (the king of the bowls) and a slew of corporate sponsors, including Duke's Mayonnaise, Barstool Sports, Duluth Trading, Tony the Tiger/Kellogg's, Union Home Mortgage, SERVEPRO, and Quick Lane. Jimmy Kimmel even has a bowl sponsored by Stifel (whatever that is). The system exists today because of the intersection of the networks needing sports content, corporate sponsors willing to put cash on the line, local businesses benefitting from bowl visitors, viewers (us) willing to eyeball games, and universities and conferences needing bowl payouts. Sports betting companies are another ingredient in the mix, and we'll get to that later.
What's interesting is that sustaining the industry does not require large numbers of "cheeks in seats" at games. It is not unusual to see bowl attendance figures with 20,000 fans attending. Large attendance at games is not an issue because today's bowl system is a media creation. It requires 1) America's insatiable appetite for college football (check) … 2) consumers (fans) willing to watch teams they do not generally follow (check) … and 3) fans who aren't turned off by "uneven" quality of play (check). So, gobs of fans watch Eastern Michigan vs. San Jose State, Western Kentucky vs. South Alabama, and Ohio U. v. Wyoming. We get our fix because it's still football, after all.
Will football-mad America continue watching mediocre teams play in bowl games that do not have much personal meaning? I believe the answer is yes. Here is one reason why.
It is the emergence and expansion of the college sports betting industry. The ease of placing bets–and the constant search for games to bet on–compels interest in games that otherwise would not garner much interest. Indeed, an increasing number of universities are forming partnerships with betting platforms and encouraging their fans (including students) to download apps and place bets using a promoted sports betting service.
Where there is a market, there is a way—and we have seen that before—with former underground activities becoming public enterprises (e.g., the public lottery). It would be one thing if higher education were an uninvolved observer in what I have just described. College teams play the games, and what other parties do is their business. But that is not what is happening. The big-money frenzy is everybody's business, including higher ed—now an all-in participant—with strong ties to corporate partners in a friends-with-benefits relationship.
Let's face it. The college bowl system is no longer a system. It is an industry. Higher education used to be a social institution. Today, it is a corporate undertaking. Neoliberalism lives.