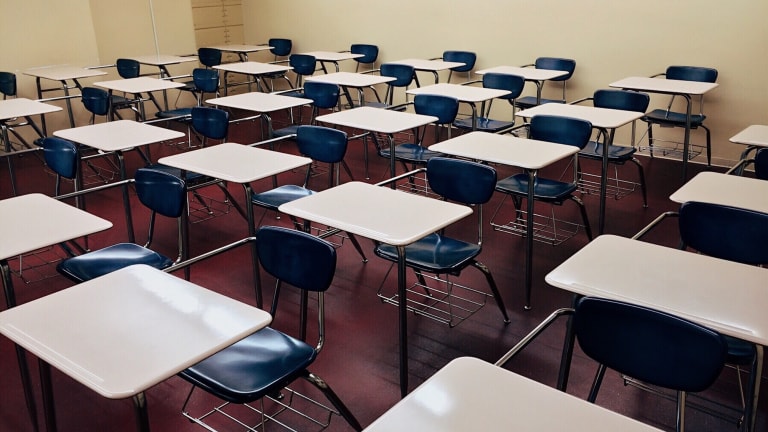 Why California Public Schools Are Losing So Many Underpaid Teachers
Districts struggle to fill open positions and see new waves of teacher departures this summer.
Through the years, Kati Bassler has seen plenty of her teaching colleagues grab a side hustle or summer gig. It's not uncommon. As Bassler puts it, these teachers often are paid a salary that doesn't quite cut it, but they're part of a profession that they value and don't want to leave. So they take in extra cash where they can, and try to stay in the game.
Lately, Bassler says, the math has gotten worse. Many of her teaching peers in Monterey County are burned out, badly in need of a summer break after two years of pandemic-freighted workloads that taxed them mentally and emotionally. But they simply can't stop.
"Our area has some of the highest rents in the state," Bassler explained. "Their full-time salaries are just not commensurate with the cost of living in this area. So a bunch of them will teach summer school or take other jobs for the money, even though they've been under tremendous pressure and could really use time to recharge."
The conversation around elevating the standard of public education in California is a multifaceted one, just as it is across the country. But a fair place to start is that teachers must be able to afford to do their jobs.
Increasingly, they can't. And the continued flight from the profession is both a chilling reminder of that affordability gap and, for those who remain in the classrooms doing the work, a call to arms.
Those studying the issue from the outside fully agree. "We have to stop treating our public school education system in this country as an afterthought," said David Cooper, director of the Economic Analysis and Research Network at the Economic Policy Institute. "We are already facing a huge shortfall."
The EPI's analysis of figures compiled by the Bureau of Labor Statistics puts that notion into bold relief. Since 2008, when effects of the Great Recession began to be felt, K-12 public education employment in the U.S. is down by about 432,000 people, a 5.3% hit. 
But if school staffing levels had kept pace with the actual growth in student enrollment from 2008 to 2021, the institute says that the shortfall would now be 8.6%.
That is a menacing number, but it's in line with the experiences of many school districts in California, which is down 6.7% overall in public education employment since 2008 and experienced a massive surge in teacher retirements in both 2020 and 2021.
Bassler, president of the Salinas Valley Federation of Teachers, said the turnover rate of teachers and staff in the area is more than 10% a year, with tech educators prominent among those who have begun leaving for better paying jobs in the private sector.

The entry level salary for middle and high school teachers in Salinas, the largest city in Monterey County, is $48,000. A 2019 study by a website dedicated to rental reports and listings, meanwhile, found that the average rent for a two-bedroom apartment there was more than $2,000 per month (double the national average) and had increased by 50% in five years. A check this week found no two-bedroom units available for less than $2,350, except for in a low income housing project.
Spiraling health care costs ratchet up the financial pressure further, especially on new teachers. "They have nothing left for food," said Bassler, an educator for 25 years. "These are the teachers we are hoping will be part of our community for years to come, and some of them have to access resources in the county for their groceries. It sucks, it really does."
Beyond question, teachers and administrators say, the strain of attempting to work in public education during the pandemic has driven many out of the field or to early retirement. But the teacher shortage isn't a new problem. Researchers say it was building for years, long before COVID. And one core issue, money, is every bit as obvious as it sounds.
The teacher compensation gap is real. For nearly two decades, the EPI has been examining the numbers on the "pay penalty," as it calls the difference between teachers' weekly wages and those of other college-educated workers. The analysis accounts for factors known to influence earnings, such as level of education, experience and state of residence.
As of 2019, the most recent data available, the regression-adjusted analysis shows that public educators earned 19.2% less than their nonteaching peers, a discrepancy that has tripled since 1996. Not only that, but "when you adjust for inflation, there has been no change in teacher compensation over the past 20 years," said EPI's Cooper. By comparison, he said, similarly educated workers outside the public education field have seen their inflation-adjusted wages rise 22% over the same period.
The institute's research indicates that California teachers earned 15.5% less than their college educated nonteaching peers from 2014 to 2019. With inflation now skyrocketing, many of those on the front lines of public education in the state are fearing the worst: more early retirements, more teachers leaving the profession and more instances of school districts cannibalizing one another for available talent.


That is already happening in many places. Last week, as the school year drew to a close, a teacher walked into the office of Diana Abasta, president of the Burbank Teachers Association, and said she'd have to quit.
"She's a special-ed teacher, a very qualified person doing important work in the kind of job that has been really difficult to fill in recent years," said Abasta, who teaches ninth-grade honors English. "She said, 'Diana, we just can't afford to live here. I'm going to have to look in another district.'" That district likely will be in the Santa Clarita Valley, about half an hour away, which Abasta said is where many Burbank teachers live because they cannot afford to rent or buy in Burbank.
California districts are often operating at staffing levels well below their needs, and some of the larger ones acknowledge hiring underprepared teachers in an effort to keep up. Meanwhile, nearly half of those surveyed last year by the Teacher Salary Project, a nonpartisan organization that raises awareness of education compensation issues, said their pay wasn't sufficient to keep them in their jobs for the medium to long term. More than 80% said they currently or previously worked multiple jobs to make ends meet as a teacher.
"It's one thing if you're moving on because you have some other passion that you want to pursue," said Abasta. "But when you leave because you just can't make it work anymore, we're in trouble." Burbank voters twice failed to pass parcel taxes that would have been used in part to increase salaries in order to attract and retain district teachers.
Statewide, California relies on revenue directed through Proposition 98 to local school boards and districts. Passed more than 30 years ago, Prop. 98 establishes a minimum level of state funding for K-12 and community colleges, though it has functioned more often as a cap, forcing local communities to fill the holes.
With tax collections soaring among the wealthiest Californians during the pandemic, funding through Prop. 98 spiked dramatically both in the 2021-22 and 2022-23 fiscal years. In both cases, Gov. Gavin Newsom proposed a wide range of education spending programs, none of them tied to permanent raises for teachers.
One of Newsom's plans is to expand public school transitional kindergarten to all 4-year-olds in the state, which could require the hiring of some 11,000 new teachers and 25,000 teaching assistants — this in the midst of a personnel shortage that is largely salary driven. "If we can't find staffing, we just flat can't do it," Modoc County education superintendent Mike Martin told Cal Matters. "It's not like we have a pool of folks lined up asking to come work in our districts."
The stakes are high up and down the state. The Berkeley Unified School District suffered a 14% turnover rate in teachers last year despite offering raises between $3,000 and $6,500, depending upon experience. The district also gave a 2.5% raise two years ago, and a 3.5% one-time bump using COVID relief funds. Even with that, Berkeley ranks in the bottom third in Alameda County when it comes to paying its educators — the result of years of underspending on salaries and, now, a runaway inflationary cycle.


In Salinas, Bassler says the state's funding structure needs to change. "A lot of what comes to us through the state is tied to cost of living, not salary," she said. "You've got to put this on salary if you want it to stick. There should be a main salary for teachers in California commensurate with their educational level."
EPI's Cooper has advocated for local agencies to use federal pandemic and relief money — from the CARES Act and the American Rescue Plan Act, for example — to immediately raise teacher pay and stem the tide of resignations and retirements. Even so, he says, those are temporary measures.
"We've seen districts use these funds to pay teacher retention bonuses or to pay signing bonuses in order to attract new teachers," Cooper said. "But this model is not sustainable in the long term. A real solution is likely going to involve more tax money."
That's a chilling thought to Abasta, who has worked in Burbank for nearly 30 years. She has seen what happens when state funding does not account for teacher raises, shifting the responsibility to local bodies who have to win over community residents who already pay high taxes.
The other option, though, is the one playing out right now, with districts struggling to fill open positions and worrying over new waves of teacher departures this summer. Increasing salaries doesn't fix everything, Abasta said, but failing to increase them almost guarantees future talent loss in the classroom.
"How you budget tells me what you value," Abasta said. "Our educational system is a crown jewel, and it's the most important thing we can give our children. What's happening with our teachers now is threatening that model."
Crossposted from Capital and Main