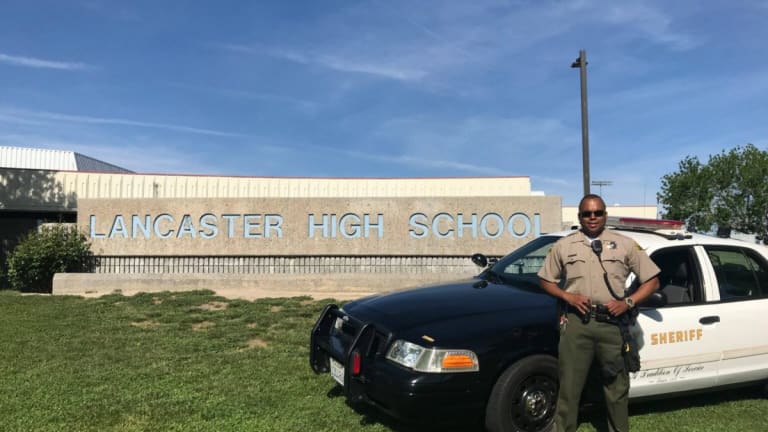 Campus Police Face Greater Scrutiny Come the Fall
Jeremy Loudenback: There's no correlation between law enforcement and increased public safety at school. We need schools to incorporate the community in policy.
L.A. County Schools Will Increase Scrutiny of Campus Cops Starting in the Fall
Sheriff's deputies patrolling elementary, middle and high schools across sprawling Los Angeles County will work under greater scrutiny when campuses reopen in the fall, following a vote Tuesday by county supervisors.
The move comes in the wake of the killing of George Floyd by a white Minneapolis police officer, and yearlong protests against racism and police brutality that brought heightened scrutiny to the police presence on campus. But unlike a decision by the Los Angeles Unified School Board earlier this spring, the supervisors' vote will not reduce the presence of law enforcement on school campuses located within county lines.
The successful motion, put forth by Supervisors Holly Mitchell and Sheila Kuehl, requires the county to provide greater scrutiny of future agreements between 17 school districts and the Sheriff's Department, and account for students' grievances, including claims of excessive use of force.
There's no correlation between law enforcement and increased public safety at school. We need schools to incorporate the community in policy.
The motion also calls for tracking how sheriff's deputies serving as school resource officers respond to interactions with children at schools, under what circumstances, and how the interactions might differ by race and gender. The supervisors also ordered up a report on successful supports and community interventions in county school districts that have either eliminated or reduced the need for a law enforcement presence.
"The needs of our young people and children in school go well beyond that which can be accomplished through enforcement," Supervisor Kuehl said at the virtual public meeting. "They need access to support systems that will not criminalize behavior that's a part of, well, growing up."
Kuehl said L.A. County's effort to better monitor sheriff's deputies in schools did not seek to second-guess local school districts, but asserted the board's role in "safeguarding the health and well being of all county residents."
Whittier Union High School District Superintendent Martin Plourde disagreed with that stance, saying at Tuesday's meeting that local school boards should retain the ability to decide whether to contract with police and how to ensure their presence on campus is constructive.
"They offer our students, families and community a sense of safety and build strong positive relationships with our students," Plourde said.
A review of research on school resource officers by the WestEd Justice and Prevention Research Center found little evidence of improved school safety with any police presence on campus, but an increase in suspensions and expulsions, compared with schools that did not employ the officers. Meanwhile, contact with police officers among Black boys is associated with lower test scores, according to a 2019 American Sociological Review article.
In contrast with decisions by some school districts to maintain contracts with sheriff deputies, the Los Angeles Unified School District finalized a plan in February that slashed its in-house school police department budget by 35%, directing $36.5 million to a Black student achievement plan. The cities of Oakland, Portland and Denver, among others, have ended their contracts with law enforcement agencies entirely, choosing instead to develop alternative plans to maintain school safety. 
For the most part, these alternative safety plans have yet to be tested, however, as most students have not fully returned to campuses shuttered by the pandemic. 
At Tuesday's meeting, Gary Hardie, Jr., a board member with the Lynwood Unified School District, described why he and his colleagues voted to terminate a contract with the L.A. County Sheriff's Department last year, applying the $350,000 contract to academic counselors, mental health and tutoring hotlines and early education investments.
"Not renewing this contract meant that we could find restorative and trauma-informed practices that we know are best for our students and their families and by our staff in extension," Hardie Jr. said.
The issue of eliminating the use of deputies on campuses is particularly heated in the Antelope Valley, where the Sheriff's Department has most of its contracts with schools. In Lancaster, a coalition of educators, students and justice advocates have urged officials with the Antelope Valley Union High School District to invest in more counselors, tutors and other support staff instead of the sheriff's deputies.
Activists with the "Cancel the Contract" coalition wrote a letter in March describing a disproportionate rate of school suspension and arrest for Black students in the district. They also called out the practice of searching students' belongings without cause, and described an incident that involved deputies drawing their guns on two students for allegedly stealing candy from a local store.
Still, renewing the $1.6 million contract with the Los Angeles County Sheriff's Department received support in a school board meeting in April, allowing for as many as nine deputies to patrol the Antelope Valley Union High School District's 11 high schools and three junior high schools when school begins again next year.
Christian Green, campaign coordinator for the Cancel the Contract coalition and an advocate for foster youth, said the board's vote on Tuesday was a positive step, even though students will still face sheriff's deputies and police presence on their campuses in the fall. 
"There's no direct correlation between law enforcement and increased public safety on campuses," he said. "We're crying out for the school district to incorporate the community — and our voices — into these schools."
Jeremy Loudenback
The Imprint