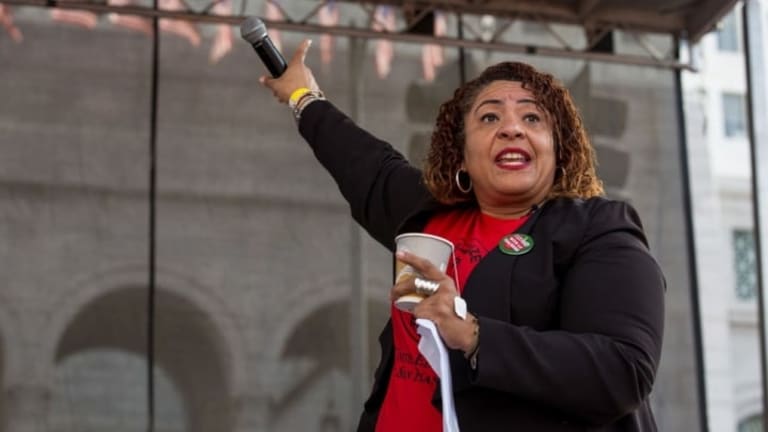 Cecily Myart-Cruz Leading UTLA into Good Trouble
Sharon Kyle: At this time in history – I feel called to serve and I'm ready to do what John Lewis told us all to do—I'm ready to get into good trouble"
My plan was to sit down with Cecily Myart-Cruz for a standard interview. With questions in hand, after spending a considerable amount of time synching our schedules, we connected via phone. Two minutes into the conversation, I threw out the questions. Cecily Myart-Cruz is on a mission, full of energy and ready take on the world—even after a long hard day.
In case you haven't heard, Cecily Myart-Cruz is the new president of United Teachers Los Angeles (UTLA), the second largest teacher's union in the United States. Identifying herself as a Black Latina, Myart-Cruz is the first woman of color to serve as president in UTLA's 50-year history. "Since 1970, UTLA has been led primarily by men. In 50 years, only two women have served as president—I'm the third and the first woman of color," she said. "This sends a message, especially when you consider that 70% of our membership is female."
Cecily taught for 26 years, at both elementary and middle school levels, including a stint at the Compton Unified School District. As a UTLA Area leader, she worked with schools, parents, students and the community to oust 23 "bully principals". Cecily collaborated with school communities in initiating the year-long boycott of district periodic assessments in protest of excessive testing.
She is no stranger in taking direct action. "People used to tell me that I was just like my father. He was the kind of man that walked into a room and people would stop and listen to what he had to say. He was a champion for the voiceless. I never saw that in myself but when I look back over the years, I have to admit. I'm just like him."
Whether it is fighting against co-locations, demanding Ethnic Studies for students, declaring an end to the criminalization of youth, Cecily has been a voice for the voiceless in the school system. "I am a product of the Los Angeles School District. I was born and raised here. I was a student, teacher, union representative—all in the same area. This is my home. Cornel West said, If you don't love the people, you can't lead the people. I think this is one of the reasons many felt I was suited to serve."
For 50 years, UTLA has represented teachers at the Los Angeles Unified School District (LAUSD). Founded in 1970 by merging two major rival groups, the American Federation of Teachers Local #1021 and the Association of Classroom Teachers of Los Angeles, today UTLA has 35,000 members and is the main representative of certified, non-administrative staff in the Los Angeles Unified School District. But organized labor has taken a big hit over the past 40 years and UTLA is no exception.
The Washington Post recently reported that for the past 40 years, participation in labor unions in the United States has steadily declined from 1 out of 5 workers at the time UTLA was founded to 1 out of 10 workers today. "The deep recession of 2008 coupled with the incursion of corporate charter schools took a toll on our membership" Myart-Cruz added. "That caused UTLA to lose 10,000 members."
At this time in history – I feel called to serve and I'm ready to do what John Lewis told us all to do—I'm ready to get into good trouble.
People are always asking, 'Where did all the Black teachers go?' Well, statewide there are 310,000 teachers of that number 12,000 are Black and of that number 2,500 are Black male teachers—statewide!
"When our young men, our babies, don't see themselves in the faces of their teachers, we need to ask ourselves why and also ask ourselves how this affects the students. Before I became president, UTLA was already moving in the right direction. In 2019, we had an unprecedented win with our mass strike action. I want to continue on the path to victory and get the union to use social justice issues to engage members, parents, and students. The union has to be about social justice principles—principles of the common good."
"As much as California is seen as a progressive state, we never had a push to critically examine and then address systemic racism, even with numbers as dismal as they are in terms of our teacher racial demographics," she said. "You can't be neutral in these matters. You are either an anti-racist or you are a racist. You are either working to dismantle institutional racism or you are working to keep these systems in place either directly or indirectly. The Black Lives Matter movement has done a lot to move the needle on this issue but this is just the beginning."
I asked Cecily about pushback. She explained that she has gotten pushback but her strategy is to focus on the oppressed: "If you make things better for the most oppressed, everyone wins," she said. That theory reminded me of the work of Lani Guinier and Gerald Torres memorialized in their book, The Miner's Canary; Enlisting Race, Resisting power, Transforming Democracy. Like Myart-Cruz, Guinier and Torres argue that issues of race point to underlying problems in society that ultimately affect everyone, not just those in Black and Brown communities.
Cecily pointed out that the work done primarily by the youth over the past couple of months has motivated many to change. "The Navajo Nation credited the Black Lives Matter movement for helping to motivate them to make demands like the changing of sports teams' names," she said. She also talked about how important it is to speak out even if you don't win the first time.
Myart-Cruz stepped into the role of UTLA president on July 1. In the midst of a pandemic, racial unrest, nationwide protests, skyrocketing unemployment, an economic crisis, and the threat of hundreds of thousands being evicted, I asked her what she does for self-care. She told me that she never knew she enjoyed cooking until the quarantine. "I spend time with my 9-year-old son and my mom and I cook. I can't believe how much I enjoy it. I also take my son for a ride around the neighborhood on our bicycles every day"
[dc]"I[/dc] never saw myself as anything other than a teacher. I loved my work. Six years ago, when I was first asked to run for VP of NEA, I declined," she concluded. "It took four requests before I gave in and then I really struggled to find my voice. There was a learning curve. I climbed it. Now—at this time in history – I feel called to serve and I'm ready to do what John Lewis told us all to do -- I'm ready to get into good trouble".
Sharon Kyle
Publisher, LA Progressive