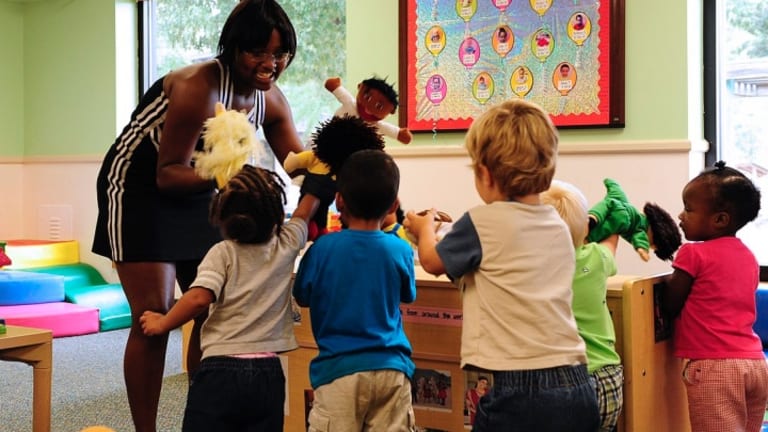 Child Care Workers Weigh Historic Choice
Joe Rihn: The most important point of unionizing is to have contributions and needs recognized. This union vote is also about building a sustainable future for child care workers.
In what could be a major victory for organized labor, child care workers serving California's low income families will soon vote on whether to unionize with Child Care Providers United. California provides subsidies through its Department of Social Services and Department of Education to parents who cannot afford child care, while "resource and referral" agencies list providers and connect them with families in need. Many of the caregivers accepting these subsidies run programs out of their own homes, earning low wages and working long hours.
According to a 2016 report from the National Women's Law Center, California's monthly reimbursement rate for caring for a 4-year-old is $889, which averages out to about $5.56 per hour for a 40-hour work week. However, some child care providers are responsible for round the clock supervision. "The first child comes in at 4:25 in the morning," says Sylvia Hernandez, who runs a center in her home in Van Nuys, where she cares for children as young as 1. "The last child leaves at 7 in the morning because she comes in at 10 at night."
The most important point of unionizing is to have contributions and needs recognized. This union vote is also about building a sustainable future for child care workers.
Hernandez hopes the union will bring better wages, but she also wants something more fundamental: respect and recognition for the crucial role that she and her colleagues play in the early development of so many children. "We have a curriculum. We're not just babysitting them, we're actually teaching them," she says. Kim Martin, a child care provider in North Hollywood, holds a bachelor's degree in childhood education and offers a play-based curriculum that includes art, music and literacy. "We're raising children," says Martin, who believes domestic work is often undervalued. Although workers like Hernandez and Martin operate on thin margins with few resources, they are caregivers for the state's poorest children. In 2016, the maximum income for a family of three to qualify was $42,216.
According to Child Care Providers United, the campaign is about more than supporting workers; it's about demanding additional funding and better services for the children and families who rely on subsidized child care. Campaign organizer Jono Shaffer says the very need for such programs is indicative of a larger problem. "The reason people need child care is because they're working. If they are falling into the income levels that this program is designed for, it means their employers are not paying them enough," he says, adding, "The working parents are often employed by massively profitable companies like Amazon, McDonald's and Walmart."
COVID-19 has both exacerbated the challenges that these child care workers face and demonstrated how necessary they are. "Child care is the backbone of the economy," says Martin. Although the pandemic has forced Martin to close temporarily, Hernandez's business is still open, caring for the children of essential employees such as nurses and postal workers.
According to Child Care Providers United, 72 percent of home-based centers have remained open despite shortages and limits on cleaning supplies and other materials needed to operate safely during the pandemic. Subsidized child care workers also narrowly avoided a 10 percent cut in the state's most recent budget. Without full funding, warns the California Budget & Policy Center, some caregivers would not be able to keep their centers—which are run as independent businesses—open.
Child Care Providers United is a collaboration between AFSCME and SEIU that could soon represent over 45,000 workers. According to the emerging union, the push to organize child care professionals began in 2003 and is currently the largest unionization effort in the United States.
Until Gov. Gavin Newsom approved AB 378 last year, state law blocked union organizing in the industry. Earlier bills that would have legalized collective bargaining between subsidized child care workers and the state were vetoed by governors Jerry Brown in 2011 and Arnold Schwarzenegger in 2007.
The campaign, and the legislation that allowed it, also represent pushback to the Supreme Court's 2018 Janus v. AFSCME ruling, which stated that nonunion members could no longer be required to pay fees to unions advocating on their behalf. Janus was touted as a major blow to organized labor, but large-scale organizing efforts like this one may demonstrate how unions can build power in new sectors of the economy to secure a strong future for organized labor.
Hernandez and Martin are optimistic about the upcoming vote. "This is the first time we've come this close, so I feel confident we're going to win," says Martin. According to both women, the most important point of unionizing is to have both their contributions and their needs recognized. "The reason why we joined the child care provider union is because we want our voices to be heard," says Hernandez. Martin adds, "The biggest thing for me is that it would give us an opportunity to have a voice at the table."
The union vote is also about building a sustainable future for the industry. "For younger people who are coming in now, the union will give them an opportunity to do some financial planning—things that I didn't do because I wasn't making enough to put money aside," says Martin.
Joe Rihn
Capital & Main