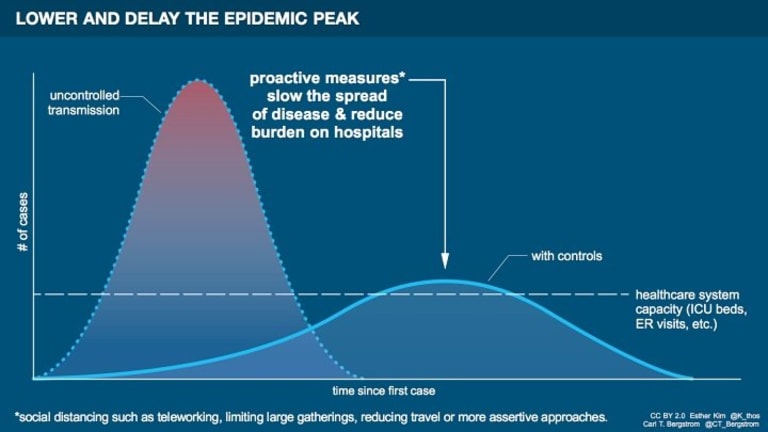 Why It Might Matter to Close Your School
Sara Roos: There are a lot of issues in there to unpack, but most importantly, the considerations surrounding school closure are not about individual risk or anyone's personal chance of survival.
It's understandable to look at the fatality and even incidence rate of Covid-19 here in Los Angeles and think:
"Huh? Why the panic; far, far more people die of the flu annually, and we're all healthy here. A little cold's no big deal, most people will survive, particularly kids, and besides, I have no way to care for (or feed) the kids during the daytime."
There are a lot of issues in there to unpack, but most importantly, the considerations surrounding school closure are not about individual risk or anyone's personal chance of survival.
There are a lot of issues in there to unpack, but most importantly, the considerations surrounding school closure are not about individual risk or anyone's personal chance of survival. At issue is a sensible, effective public health response to a local health emergency and a global pandemic.
The concern is that those who do suffer adverse effects from the novel coronavirus will need access to hospitals, hospital beds, ventilators and a sizable medical staff. With huge estimates of the ultimately infected population, if transmission happens too rapidly, the health infrastructure could be overrun and vital care unavailable when a lot of people need it.
That is why slowing the spread of Covid-19 is so important. Public health measures such as "social distancing" or closing schools are not intended to contain the disease but to limit and slow its spread. For the common good. Figure 1 reproduced from Univ. of Washington Professor Bergstrom's blog "Modeling the flow of information through biological and social systems" explains the well-accepted concept:
There are a lot of interesting statistics compiled here about Covid-19. And actual science preprinted (published prior to peer review) here and here and here – as fast as can be shoveled onto the web by an army of researchers.
So the concern is not primed so much by the current incidence or death, or even its rates or estimated long-term effects, but rather with Covid-19's potential spread and longevity and how to manage that logistically.
Because it turns out that while both death and taxes may indeed be certain, both may nevertheless be delayed. Social distancing is effective in slowing viral transmission between people in the same way that cutting brush as a "fire break" can slow the advance of a wildfire. Panic, fear and confusion may leave us feeling incapable of having an effect, but it is not so. Measures such as closing schools and washing hands and limiting the likelihood and speed of transmission by reducing large gatherings have been shown repeatedly to be effective.
Families of school children in daily contact with grandparents are wise to worry about the safety of their elders. But keeping children at home in the event that schools do close will not increase risk to the elderly but will limit exposure likelihood in the children and help confer some protection to seniors.
Others worry about the loss of services provided at school – meals served, supervision while parents are at work that cannot be abandoned without losing the families' livelihood.
The USDA has approved California's request to serve meals at schoolsites even should they be closed to instruction. It is unclear how this would be implemented should schools here ultimately close. But the matter is clearly not unappreciated.
Likewise California's Secretary of Labor has announced: "If you're unable to work because you are caring for an ill or quarantined family member with COVID-19 (certified by a medical professional), you can file a Paid Family Leave (PFL) claim. PFL provides up to six weeks of benefit payments to eligible workers who have a full or partial loss of wages because they need time off work to care for a seriously ill family member or to bond with a new child. Benefit amounts are approximately 60-70 percent of wages (depending on income) and range from $50-$1,300 a week."
Obviously enormous problems, these are very much part of the same issue which forces the need to slow the spread of disease. With a geometric rise in incidence, who will watch the kids? Slowing the spread is critical, and provisions are being steadily mustered for individuals to act on a group level.
It cannot be stressed enough that these public health measures are not about your own – or your child's – risk of contracting Covid-19. It is about dampening the transmission from among those who already are infected, often asymptomatically. Just because the risk of contracting disease may be similar for a child accompanying a parent to the grocery store as sitting in a classroom, the risk of that child then transmitting the disease further is diminished. They are not in prolonged contact or interaction; their associations are not as intimate.
But more, because this is a novel virus never before seen by any human immune system, the risk of infection and its spread is completely unlike that of an already-circulating virus. Without the background immunity already present in the community where a virus strain has been circulating, the total incidence of infection among an immunologically "naïve" community will grow far greater, far faster.
The imposition of school closure and quarantines is undeniably disruptive: monumentally so, and disproportionately so among our diverse communities. But it may be a necessary measure for the long-term good of the entire community – which includes us all as individuals, too.
Sara Roos
Los Angeles Education Examiner