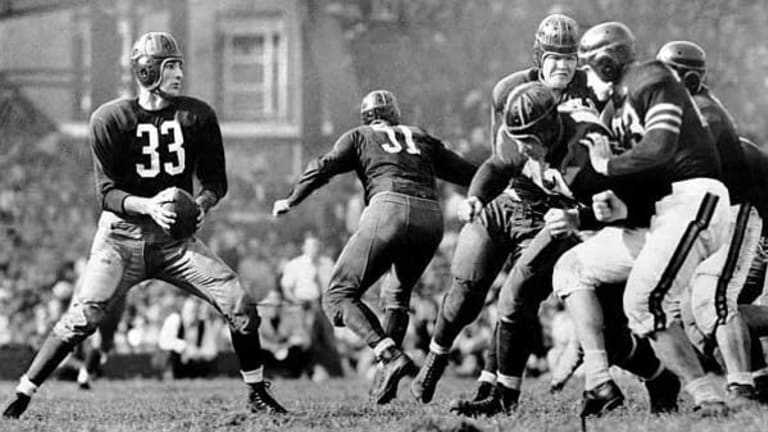 Game Plan for College Sports Reform
Frank Fear: How about taking a page out of history? Let's do in 2014 what happened in 1905: leaders take stock and make adjustments "for the good of the game" and—more importantly—for the good of American higher education.
Let's analyze two systems for ranking America's universities—by academic excellence & by standing in major college football. The rankings come by way of U.S. News and World Report (2015 rankings for excellence) and The Associated Press (9/28/14 rankings for football).
The results, though interesting, aren't surprising.
Only two of the top-ten schools by national academic rank—Stanford and Duke—play big-time football. The other eight universities either don't play football competitively (e.g., Cal Tech) or participate in lower-division play (e.g., Chicago). Likewise, only two of the AP's Top 20 football teams are among America's top universities—Stanford (#4 academically, #14 in football) and Notre Dame (#13 academically, #9 in football).
Now let's look at the comparison strictly from the football angle. Florida State is America's top-ranked football team. The Seminoles are the defending national champion, too. The school gets plenty of headlines these days, but many are for matters away from the field. FSU's top player—and the country's best football player as measured by winning The Heisman Trophy—has gotten in trouble multiple times recently. First he was accused of sexual assault. Then he was pinned for stealing food items at a local store. Most recently he uttered highly sexualized language—in public, no less—while standing on a table at the school's student union.
And the school garnered another set of national headlines when the chair of the governor's re-election campaign—a non-academic and former state politician—was named the school's incoming president. The board of trustees, chaired by another former state politician, tried naming him without bringing in competitors for public interviews. The board had to backtrack after students, faculty, and the public complained. The final outcome was the same.
Of course it's ludicrous to make a connection between academic standing and football excellence. But there is another matter that can (and should) be taken seriously: it's when problems on the football side encroach on the essence of what it means to use the term, "higher education." Concerns in that regard stretch back over a hundred years … and continue to this day.
In 1905 20 players reportedly died from injuries suffered on the field (in high school and college, pro football didn't exist then), an outcome that precipitated a national conversation about abolishing the game.President Theodore Roosevelt got involved. He called for reform, voicing his concern about football violence during a Harvard University commencement address that year. In December of that year representatives from over 50 colleges and universities met in New York City. They changed football's rules with safety in mind, banning the dangerous "flying wedge" and legalizing the forward pass, among other things.
Over a century later, football safety is still a matter of national concern. In 2013 President Barack Obama talked about football during an interview with The New Republic. The President said he'd "think long and hard before allowing his son to play." And while he noted that professional players are "well paid, have a union, and are grown men," he raised other questions, particularly about college play: "You read some of these stories about college players who undergo some of these same problems with concussions and so forth and then have nothing to fall back on. That's something that I'd like to see the NCAA think about."
The culprit is Chronic Traumatic Encephalopathy (CTE), a progressive, degenerative brain disease. According to Boston University's Center for Study of Traumatic Encephalopathy CTE "triggers progressive degeneration of the brain tissue." It "can begin months, years, or even decades after the last brain trauma or end of active athletic involvement." Among its many manifestations are "memory loss, confusion, impaired judgment, impulse control problems, aggression, depression, and, eventually, progressive dementia."
College football plays on. Yes, there's concern about the long-term impact of giving and receiving football hits. But unlike the National Football League, which established a payout plan for players suffering from degenerative brain disease, the NCAA does not have a similar plan in place.
How can this be? Primary attention focuses elsewhere. For schools playing in the so-called "Power 5" conferences—the Big Ten, Atlantic Coast, Pacific-12, Big 12, and Southeast conferences—football is big business. According to USA Today, which tracks data annually, public college athletic programs (across sports, roughly 250 schools in total) spent about $8 billion dollars on college sports last year.
Big-time college athletics today—football especially—is about the three "M's: Money, Media, and Mania. None of that is inherently bad. However, as with so many other things in life, one question stands out: When does something become too much and overdone? In this case: When does attention to the three M's deflect interest from other matters—matters that would seem to be more aligned with institutional mission, if not obligations?
While it's arguable that we've reached that point today, one school—the University of Chicago—made a corrective move over 70 years ago. Chicago was a top-ranked American university back then and still is: today it's ranked #4 nationally with plenty indicants of prestige (e.g., home to over 80 Nobel laureates). The school once played in the most prestigious athletic conference of the time, the Big Ten Conference, competing against the likes of Michigan, Minnesota, Wisconsin, and Illinois. The football team was coached by the legendary Amos Alonzo Stagg; and the team played in a 55,000-seat stadium. The first Heisman Trophy winner was Maroon halfback, Jay Berwanger.
But school administrators—led by its larger-then-life president, Robert Maynard Hutchins—felt that football interfered with the academic mission. In 1938 Hutchins expressed his opinion in an article published in the influential Saturday Evening Post. The quote has an eerie relationship to today's circumstance:
"The system went sour a long time ago and is only getting more bilious and more corrupt. As soon as you pay some students (with an athletic scholarship) to perform an undergraduate extracurricular activity for the revenue purposes of the institution, you have corrupted a set of academic and educational values of the highest order. So it is not surprising that all the other abuses follow, as the night the day."
Hutchins ended Chicago's football program the following year, in 1939. It stayed that way for 30 years until football returned in 1969 on a modest scale. Today the team plays on a field with limited seating. The competition includes Bethel, Beloit, and Carthage colleges. The school plays NCAA's Division III—the lowest level of intercollegiate competition. It's non-scholarship football.
The Chicago story isn't a model for many schools today, certainly not large public universities where students, alumni, and others root fanatically for their teams. It's a source of school pride, alumni attention, donations, and admissions. Football also gives national name-recognition to many of those schools, recognition that would not come otherwise. Names like Boise State and Fresno State come to mind.
But how about taking a page out of history? Let's do in 2014 what happened in 1905: leaders take stock and make adjustments "for the good of the game" and—more importantly—for the good of American higher education.
If that were to happen today there's no question what would be the focus of attention: money. It's hard to tell the difference between college and pro these days—except that the college players don't get paid. And when it comes to athletics, major schools act more like they're located on Madison Avenue than on Campus Drive.
What's needed? It's a matter of putting in place a series of money-related measures. The moves are related to bounding and rechanneling resources. Bounding resources means putting controls on how much money can be spent, where the money comes from, and how the money can be spent. The current situation requires different remedies for big and smaller schools, respectively. Rechanneling resources means using and investing revenues in new and/or expanded ways—all designed to advance institutional responsibilities associated with the players involved.
For big-time colleges, bounding resources means doing what the pros already do: cap spending. Put caps on how much money can be spent annually on two items that have gotten out of control: coaching staff salaries in revenue-producing sports & facilities improvement-expansion. The way to achieve the second outcome is to put an annual cap on another item: how much money can be raised through athletic philanthropy. And don't create high-ball caps, either. Analyze the data nationally for the Power 5 conferences and, then, pick cap targets that will accomplish an important (and needed) goal: putting a governor on the outlandish (spending), "the athletic arm's race," in major collegiate sports.
How about taking a page out of history? Let's do in 2014 what happened in 1905: leaders take stock and make adjustments "for the good of the game" and—more importantly—for the good of American higher education.
While most big-time schools have money to spend—and most of it comes from revenues that athletics generate—that's simply not the case at most schools where a good share of revenue is subsidized from other sources. Subsidies come from student fees, allocations from the school's general fund, and other means—not from funds generated by athletic activity, directly or indirectly (e.g., gate receipts, merchandise sales). As I've written elsewhere, athletic subsidies for last year at public colleges and universities exceeded $2 billion dollars; and over 70 schools had athletic subsidies exceeding 70% of total revenues. That situation is intolerable: the National Collegiate Athletic Association (NCAA) needs to set reasonable limits on the percentage of athletic budgets that is subsidized. It's a sure way to control spending.
Now let's turn to options for rechanneling resources. First, athletes in revenue-generating sports at major schools need to be compensated reasonably—beyond what they receive in scholarships that cover tuition, room, and board. One option is to set compensation levels equivalent to what graduate assistants earn for working on research projects and from assisting in the classroom. Just as grad assistants' pay is graded (at most schools) by level of experience, compensation levels for student-athletes can be set the very same way.
Then there's the important matter of sports injuries. Many college sports involve physical confrontation, including many sports we haven't historically viewed that way (e.g., soccer). The prospect of injury, especially head injury, looms large; and it's the most troubling and pervasive health issue facing competitive athletics. With the prospect of injury—often long-term, severe injury—the NCAA needs to create a national health and medical insurance program for former college athletes who suffer from debilitating injuries. What won't suffice is doing only what the NCAA is doing now (a forced action that came by way of law suit): evaluating student-athletes for the possibility of head injuries.
Finally, colleges (through the NCAA) need to invest more significantly in sports-safety research, including work that leads to technological breakthroughs in equipment. Sports safety has always been an issue, but it's especially important today. Why? As a society we're more aware of the health consequences associated with competition. Today's players are big, strong, and fast. The hits they give and take seem harder, and the hurt (that sometimes comes) can last a lifetime.
What do we need to make all of this happen? Leadership—socially responsible leadership. But, sadly, that's in short supply, not only in sports administration generally, but at the highest levels of our academic institutions – among presidents, chancellors, and trustees.
More than anything else, sports and university administrators and trustees need to embrace a new metric for evaluating "success." Successful performance shouldn't be only about wins, championships, gate receipts, media attention and revenue, donor contributions, and the like. And, let's face it, graduating players isn't enough either. The same goes for "running a clean program." Let's assume those outcomes.
"More and more" and "bigger and bigger" shouldn't be the anthem of college sports. Consider, again, what President Hutchins wrote in 1938 about the impact of money, and what too much of it can do to institutions. Leadership requires putting boundaries on the current portrait of excess.
Just how bad is it? Earlier this year Alabama's chancellor told TV's 60 Minutes that the head football coach's salary—which is currently pegged at more than $5 million per year—is "the best financial investment the university has ever made." Just what, I ask, is the mission of the University of Alabama? And how in the world does Alabama—a university—define "best?"
College sports reform is sorely needed. Sadly, we aren't even in the ballpark yet.
``Even if it were true that athletics developed courage, prudence, tolerance and justice, the commercialism that characterizes amateur sport today would be sufficient to harden the purest young man. He is made to feel that his primary function in college is to win football games. The coach demands it, because the coach wants to hold his job. The college demands it, because the college wants the gate receipts. And the alumni demand it, because the test of a college is the success of its teams and they want to be alumni of a good college." The New York Times, October 25, 1929
ENDNOTE: Parts of this essay were taken from articles that appeared previously at The Sports Column: an article on head injuries in sports and an article on sports reform.
Frank Fear