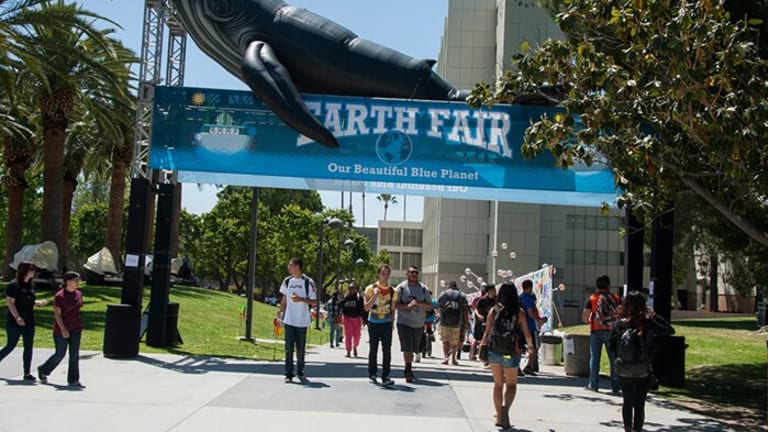 A Circular Argument on Impaction
Rudy Acuña: My current dragon is Impaction, which is to limit the access of transfer and freshman admits over the next five years by 1 percent a year. That does not seem so severe, but for the fact that those most apt to be cut are Latinos and Blacks.

I have never been shy about getting into a principled fight. If you do not fight for what is right then you are promoting what is wrong. Although I am today an atheist, I was raised a Catholic and one of my favorite passages in the bible is Revelation 3:15: "I know your deeds, that you are neither cold nor hot. I wish you were either one or the other!" In Revelation 3:16, Jesus said "So then because thou art lukewarm, and neither cold nor hot, I will spue thee out of my mouth."
It is a false syllogism to be for and against something.
However, there are times when you have to break it down. My current dragon is Impaction, which is to limit the access of transfer and freshman admits over the next five years by 1 percent a year (Approximately 300 students a year). That does not seem so severe, but for the fact that those most apt to be cut are Latinos and Blacks. Moreover, it cuts Ventura County from our service area.
I have participated in talks with the administration. I know that they say that they are against it and I take them at their word. Certainly Harry Hellenbrand has opposed impaction. However, I know this institution, and I would say that probably the majority of the faculty members support it because they erroneously believe that this would mean less students in their classes and more room for better "qualified" students. Their reaction is similar to the homeowners' attitude toward Section 8 housing in their neighborhood.
But breaking it down I am for access, and I know higher education is failing Latino students who are the reason why I am in higher education and not a millionaire.
In the fight against impaction I am against it pure and simple. But what am I against? In conversations with administrators I find myself caught in a circular argument. Trying to stop impaction I came up with a simple solution:
That over the long run we fight against limiting access. In the interim we have to stop the current impaction plan.
Currently we have 4200 to 4400 international and out of state students who pay higher fees. Resident undergraduates pay $6549 per academic year per student. Out-of-state and, I assume, international students pay $17,704 or $11,000 per student more than in-state students.
I proposed to take the 300 students per year out of the 4200 out of state and international pool whose numbers are growing as recruitment expands. We have a moratorium on limiting access to current and future transfer and freshman admits. (This does not include out of state and international students). We lift the impaction and go back to our current service area.
The counter argument by the administration is that space is not an issue in the case of classrooms only when it comes to research space and space for faculty offices. Impaction "has nothing to do with physical capacity." According to the administration, the Chancellor's Office (ipso facto the Trustees) is holding California State University Northridge to its share of CSU FTES that the state funds. "The CSU does not want CSUN to exceed its share, because the legislature might conclude that it can support more students with the same or less money."
I was told that out of state and international students were not counted in this FTES. In my view this is obscene because CSUN then profits $17,704 per student in tuition. This does not include the price of the dorm, which runs $800 a month a bed (You can get an apartment off campus for $1500 or $450 a bed) and the $3500 for a meal ticket. They are a very valuable commodity.
It seems unreasonable to me because the millions of dollars in profits do not go to lower student tuition. Instead they are for building structures, hiring more administrative staff and for perks. Consider that just in fees the university gets about $70 million for this non-FTES pool.
It would therefore seem logical to me to blame the legislators who are not funding the system properly; their oversight of the campuses is faulty. They should remember that the campuses are not just for photos ops. The administration also has the duty to students and faculty to give an accounting of the non-FTES pool profits.
No one benefits from circular arguments just like no one benefits from throwing wild punches. In theory, the Master Plan provides a seat be reserved for every public high school graduate in a public postsecondary institution. Increasingly the majority of those students are Latino and African Americans. So we should hold the state and our elected officials accountable for their promises and to their constituents.
,