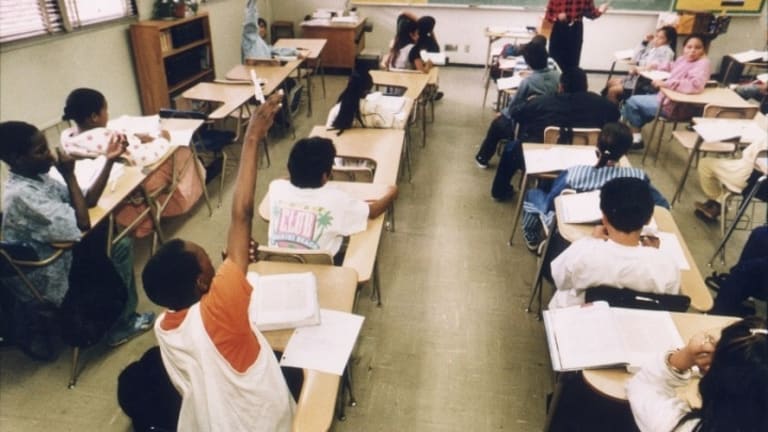 Covid-19's Devastating Impact on Our Children
David Trujillo: What are your concerns around the COVID-19 given the severe impact this pandemic has had on our educational system?
Interviews with Five Educational Professionals
I had the privilege of asking five educational professionals to give their perspectives on the current pandemic by providing their thoughts, concerns, and advice. Most are retired teachers. Their insights come from many years of experience within the Los Angeles school district. Some of these educational professionals have over 30 years or more teaching in the Los Angeles Unified School District.
What are we facing? According to Human Rights Watch, there are over 3.1 billion students out of school worldwide. And 55 million American children are out of school. School budgets are already underfunded and are now facing more difficult funding choices. Thousands of students are involved in home studies or on-line curriculum learning in a district where 80% of the Los Angeles students are living in poverty and do not have this in-home luxury. School districts are desperately trying to develop plans for reopening schools in a safe manner. Much of the current crisis is due to the impact of the coronavirus. Additional pressure will be placed on our public schools because the state budget is now in a crisis.
What are your concerns around the Covid-19 given the severe impact this pandemic has had on our educational system?
Austin Beutner, superintendent of the Los Angeles Unified School District, in a Los Angeles Times article wrote that there are three things that need to be accomplished to prevent this health crisis from becoming a crisis in education:
The need to secure adequate funding.
The need to invest in making sure all students continue to have internet access.
The need for continuing community support.
Will this be enough to save our students, provide confidence to our parents, and maintain our public school district? We need to wait to see but hopefully, this waiting period won't devastate our students and schools.
My question to them: What are your concerns around the COVID-19 given the severe impact this pandemic has had on our educational system? Especially on Latino students and the impact facing our children's quality of education. These written responses to my query have been lightly edited for clarity and length.
Isela Galdamez is a 1st Grade Teacher at Huntington Park Elementary
I believe teachers will face different problems in the era of Covid19, depending on the level they teach. Primary teachers in inner-city schools will face the language-barrier that exists between us and the parents we serve. I believe that if we can figure out how to communicate and become tech-support for these families, in their home language we will be more successful. Students at a younger age usually tend to want to please their teacher and if they know their teacher cares, they will work for them.
Teaching upper elementary and older students has different challenges in that older students are more technologically savvy and the struggle there won't be figuring out the apps or learning how to upload a video etc., but having the right attitude, stamina and mind-set to finish the assignments. When there are problems in the parent and the child/teenager relationship, it is more difficult for the teacher to provide support. For this age group, the key may also lie in the human bond. Teenagers can also detect when a teacher cares for them and if we were able to form a bond before this pandemic started, we are probably seeing more success. Starting a new school year virtually will only be more difficult. At both levels, the bigger our skill set in technology is the better we'll be able to serve our students.
I think the impact will be devastating to the community I serve. I think Covid19 will disproportionately impact low socio-economic, newcomer, and immigrant communities. I think it is incorrect to think that we can repair that reality by providing a device and an internet hotspot, although those do help. My newcomer students need constant human interaction to know they are safe. My English-learners need constant feedback and encouragement to develop language skills. All of my students learn best when given routine, known expectations, tangible consequences, and an assigned space where they can just focus on learning. At home, my students are babysitters to younger siblings, their parents are the essential workers who instead of staying home have seen an increase in their work hours. Grandparents are often the caretakers who have even less technical skills than their parents.
As educators, we need to make our bonds with the families even stronger in this age of Covid19. We need to become fully literate in who we are serving. We need to know their job schedules, their digital literacy, their level of literacy in their home language. We need to learn to communicate effectively, which may mean shorter but concise messages, using images and step by step instructions. Nothing beats a face-to-face conversation, but a phone call is often more effective than a text. We need to learn to ask parents key questions to gauge their understanding of the instructions we are sending home. Communication is key but we're also going to be selective in which battles we want to fight. We must remember we are here to give our students tools; some tools are great for some kids while others are not. Since we are so distant from them, our goal is to provide them with as many tools as we can and let them find one that they feel works best for them.
We must also avoid being judgmental of each other. We are facing something totally new and must remember that we are all doing our best to the best of our ability. Instead of judging or shaming each other, let's support and learn from one another.
Finally, I think we as educators need to remember to advocate for our students as we develop distance learning curriculums. It is very easy to blindly follow what our districts mandate and focus too much on Math and English Language Arts. At the elementary level, we need to keep vigilant and try to bring in the arts, science, music, etc. Oftentimes, the liberal arts are the only effective hook to keep our kids invested and engaged in school. I think, especially our immigrant kids and kids from low socioeconomic levels need these. They are often the ones that are asked to give these subjects up due to their low academic performance. The arts are what kept my sisters and me in school and what motivated us to keep setting new goals. For the inner-city student, it is often their mental escape and the hook to keep them going.
Terry Reyes is a retired LAUSD Bilingual/Special Ed Teacher with 34 years in the school district.
I retired from LAUSD in 2014 after 34 years in the classroom as a bilingual teacher. For the past 14 years of my career, I taught students with special needs. As a special education teacher, I am curious about how the needs of a student with special needs are going to or will be met. My focus is on the students with a learning disability as those are the students that I serviced.
Students with learning disabilities (SLD) have various characteristics that impact their learning and they need specific accommodations to meet their needs. My concern for these students is the educational value of distance learning. These students may have a limited attention span, difficulties with visual and/or auditory learning and need hands-on experiences to master reading, writing, and math skills. I am wondering how the teacher holds their attention and how the use of visual aids is used while the student is looking at a small screen. These students need a person to person interaction with review in different methods to assist them in learning and maintaining new skills.
Students who are more at a disadvantage are the English Language Learners. Many of their parents may not be able to assist them in using the various internet programs that were made available. Students whose parents are English Native speakers had difficulty navigating the new educational programs. How did parents with limited English speaking skills fair in this new process? Did younger students have to rely on older siblings? Did assisting younger siblings to impact an older sibling getting their own work finished?
In the last 14 years of teaching, I taught at Gratts Elementary, an inner-city school in the Rampart area. I wonder how those students and parents are coping with long-distance learning. The majority of the students lived in one to two-bedroom apts with limited space for studying. Many families were coping with socio-economic issues and had limited resources for their children. The freedom to play outside is extremely limited. The students and their families' world changed without any warning. Hopefully, they are adjusting and coping to the best of their abilities.
School provided a safe environment for the students. A place where their focus was on learning and their academic and social development. The school site also provided resources for parents through the school community rep, school psychologist, nurse, teacher, or an administrator.
Long-distance learning has been difficult for all as this method of teaching was thrust upon all totally unexpected and from one day to the next. LAUSD School administrators have attempted to give students laptops and provide wifi for students. I hope students have continued contact with their teachers through zoom, email, etc to ask questions on how to access their learning. Most likely there were students who were already working below grade level. My concern is when their students return to the classroom will they be further behind? Will there be resources to assist them to make up for the academic time lost?
Administrators, teachers, and parents need to work together. This is not the time for parents to bash the district. This negativity will put more stress on the students and for all. All involved should reflect on what is working and what programs and what teaching strategies can be improved. It would be good to see how working parents handled long-distance learning? What worked for them and their children? This can be down thru surveys, principal zoom meetings (Coffee with the principal-Arroyo Seco Magnet), parent/teacher meetings, etc.
For instance, home/school schedules were sent out when school was closed. Are those schedules being followed the best to one's ability? Will a survey come out at the end of the school year? Survey results will assist teachers and administrators for the upcoming school year.
It is easy to be negative. The problem stated and offer a solution, suggestion, or go back to good old fashioned brainstorming.
It all comes down to what is best for the student and how parents and teachers can be advocates for their students and/or children.
Eleanor Barbour is a teacher at Marshall High School
I teach at Marshall High School in Los Feliz. My biggest concern about my students is that they have a lot going on in their lives right now. Some of them are working, some are taking care of younger siblings. I had one student, a senior, tell me that both his parents were laid off and his family is now depending on his salary.
School provides a space that hopefully allows students to get focused and feel supported. When it's taken away, things definitely fall apart. Some students don't have work, nor do they don't have siblings to take care of. They technically have no excuse for not doing their work, but they're not doing their work. It's the lack of the structure of the school provided. Part of the problem is also that the superintendent announced that grades could go up following school closures, but they couldn't go down. Some students with As had no motivation to continue doing their work.
On the home front, I have an eight-year-old daughter, Julia, who goes to Aldama Elementary in Highland Park. As you have heard many times, I'm sure, it's challenging to keep elementary-aged kids engaged in school work at home. Julia's teachers wanted her to log on to Zoom twice a day, five days a week. She dreaded these sessions. At first, I made her do them. Then, I gave up. She was assigned work that might have gone well in the classroom, but at home, it was challenging. There were math worksheets, which weren't hard. However, they weren't engaging either. She also was supposed to be doing research on artists, writing paragraphs, and even essays on them, typing things up in Google Docs. It was so challenging for her that I ended up doing her assignments one week. I realized how stupid that was, so I decided we needed to figure something else out. Now I'm having her do assignments that I come up with, short tasks that take 15 minutes at the most, and I reward her with "free time" afterward. That has worked for us.
However, I'm a teacher. It comes naturally to me to come up with assignments. I would worry that some of her classmates are struggling through the work assigned by the teachers out of a sense of duty (to their credit). While those assignments did not work well for Julia, they might work for some kids. Who knows. For parents who got frustrated like me, I'm not sure what they ended up doing. Her teachers had no time to come up with an online curriculum. Everything was done on the fly, which of course is not their fault. It takes a lot of time and effort to successfully develop an online course. Her teachers did the best they could, but kids don't do well with online learning as far as I can tell. It's pretty awful making your kid look at a screen for the amount of time that the teachers were requiring. Kids don't learn that way.
You may have heard that for next fall there is a discussion of a hybrid kind of learning where students will come onto campus in small groups to meet with their teachers. I wonder how this can be done in elementary schools. It will be challenging. On the other hand, given the logistical problems, the district might opt to continue with on-line learning again next fall. No one knows what will happen. It's unnerving to think that the fall is coming and we don't really have a plan.
Teri Gonzales is a retired LAUSD teacher. She is a former, bilingual General Education, Special Education teacher, and Parent-Community liaison Special Education administrator.
The COVID-19 pandemic has dramatically and rapidly changed the course of daily living. The societal structure that was the first to be impacted was the school systems. Especially in the state of California and more locally Los Angeles. Entire daycare to University level school systems, both public and private, were shut down to prevent the spread of the serious and possibly fatal COVID-19 virus.
From one day to the next, face to face classroom instruction changed to online internet computer instruction. At first, the school systems shut down for only a temporary time, with a reopening start date. Then as the infection and death rate numbers quickly increased, schools were closed for the remainder of the 2019-2020 school year.
Knowing this, what does this mean for the present state of education and how will it affect student learning. Specifically, to students and families of color, poor, working-class students, and students who speak English as a Second Language, the majority being immigrants or from the African-American community. How will teachers adapt to the new teaching styles, how will it affect the working conditions, and their union rights and benefits? How will parents support their children's learning and continue to have a voice in the instructional program of the school? How will students and families of students with disabilities who are protected by Federal law be able to monitor the effectiveness of their child's Individual Education Plan which guides instruction for these students? These are the issues that concern me as a former, bilingual General Education, Special Education teacher, and Parent-Community liaison Special Education administrator. These questions need to be addressed and dealt with. I pose these questions in the hopes that there will be a deeper discussion by our educational professionals on how to best work to address these issues. The Los Angeles Unified School District (LAUSD) has announced a tentative opening date for August 18.
Maggie Mallen is a retired teacher with 32 years of teaching experience within LAUSD.
This pandemic has shown the difficulty of students to say engaged through online learning. My sister Margie is currently a teacher at Azusa High School where she teaches English language learners, many of her students have not signed in to her class because they're worried about their parents' working conditions and getting the virus. Others are just not motivated. It is also difficult to get help at home if they have trouble with the subject matter. Some find it hard to get motivated to work from home because there are so many distractions; younger siblings, housing conditions, problems with internet connections to name a few. Many students wonder if the work they are doing will be counted for a grade.
I think households without a parent at home to help in their studies really affect the students' educational outcomes. I have a niece who lives with me who happens to be a Senior. She's motivated to graduate. Fortunately, she has a retired teacher living with her who can help with her studies if she needs it. Motivation is key. Lack of motivation in students is not an excuse. But the pandemic has created conditions for deactivation of motivation. The question is how do we kick start and maintain a new sense of educational motivation for students and parents.