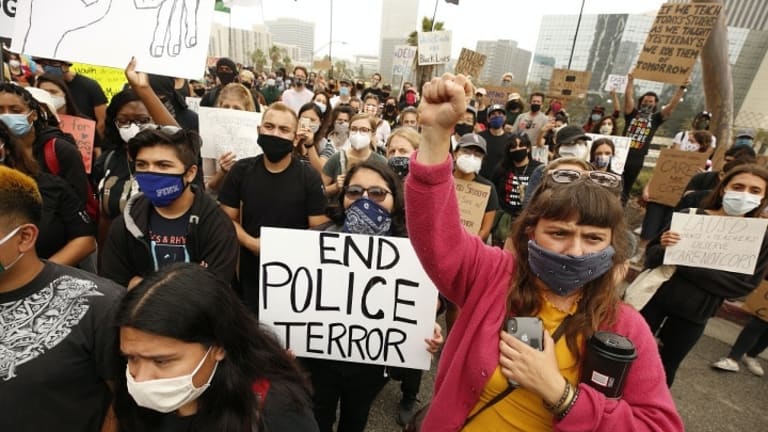 L.A.'s "Defund the Police" Battle: Elected Officials' Role
Eric Mann: It became clear to those of us who had spent years working with the board that the miracle would have to take the form of board member Monica Garcia.
Section 3: Radical and revolutionary social movements need courageous elected officials to turn demands into structural changes
Section 1: Anatomy of the Breakthrough • Section 2: The Strategy Center's Role
Section 3: The Elected Officials' Role • Section 4: Board, LASPD Struggles Continue
Section 5: What This Taught a Veteran Organizer
Another building block of the victory was the Strategy Center's 30 year history of working with, struggling with, sitting in upon, suing and bringing to court, and successfully negotiating major structural policy changes with the leaders of the LA Power Structure—the elected, appointed, and corporate officials in the city. We know that many new to the movement—experiencing what seemed like an apparent and rapid cause and effect between protest and a $25 million/35% cut in a major police force—assumed that mass anger and "street heat" by themselves, almost like alchemy, turned recalcitrance into victory at the LAUSD board.
Yes, to be clear, the mass protests in the midst of a national rebellion for civil rights and Black liberation were clearly the driving force. But still, it took years of prior organizing and weeks of organizing and tactics to get the four votes to deliver the structural changes we were demanding.
In the first weeks of the rebellion, organizers, members, and leaders of Black Lives Matter/LA, Students Deserve, Brothers Sons Selves, United Teachers of Los Angeles, Inner City Struggle, and the Labor/Community Strategy Center held many conversations to agree upon a tactical plan. We reached a consensus that we needed a strong board motion to move in the direction of defunding the entire LASPD budget.
But let's be clear. Just because a movement demands things it does not mean that the system is listening or every cares. The same historical moment and forces tried to win major cuts in the Los Angeles Police Department (LAPD). But despite thousands of people marching in front of the mayor's house, he only put forth a cut of $150 million out of a $2 billion+ budget and even then, he mainly withdrew an increase he had proposed. Similarly unsuccessful, despite the Los Angeles Sheriff's $3.5 billion, the County, only because of fiscal problems, only cut it by $150 million or less than 5%.
So, to even get a board member to consider a cut of 25% let alone 50% would take a miracle. Still, we hoped for at least a motion to cut the budget by 50% but we also needed a leader on the board to entertain let alone introduce such a motion.
It became clear to those of us who had spent years working with the board that the miracle would have to take the form of board member Monica Garcia.
It became clear to those of us who had spent years working with the board that the miracle would have to take the form of board member Monica Garcia. Ms. Garcia had roots in the long history of Chicano(a) student and educational insurgency in East Los Angeles, and had led the fight on the truancy tickets, willful defiance, and returning the weapons. We needed her to step forward again.
As a few of us reached out to her she was already reaching out to us. As we explained the idea for the 50% cut she said, "I am already there." (See Counterpunch, How we got the weapons out of the LA Schools). After several of us including Maria Brenes director of Inner City Struggle and myself worked with board member Garcia, reporting back to Brothers Son Selves and Students Deserve and other allies, Ms. Garcia introduced a motion to not just cut 50% of the school police budget in 2021, but to extend those cuts to 75% in 2022, and 90% by 2023. The question became: how could we get four votes out of seven to pass her motion?
As I reported (June 26, No Police in the L.A. Schools: A Great Breakthrough and Victory is in Sight) our first attempt was at the June 23 meeting. While we got four different board members, at different times in the debate, to agree to significant cuts in the LASPD budget, we could not get the four board members to find the will and unity to push through a common motion. And certainly not enough to support the visionary plan of Ms. Garcia. Right after the vote, I reported,
"The anger, pain, and determination of the Black community, the Latinx community, and all people of goodwill cannot be denied. There will be other votes and our movement is on the case. Victory is closer every day. No Police in the LAUSD Schools Now!"
After the "almost" June 23 LAUSD Board vote we had to pivot rapidly and move our energy to the board vote on the LAUSD budget of $7.6 billion on June 30, only a week away. Ms. Garcia agreed to re-introduce her motion, this time as an amendment to the annual budget. She also corrected a significant weakness in the first motion. Initially the motion called for the first set of cuts to be in 2021. This time we realized that we had to push for an immediate cut—that is, in the 2020 budget. Otherwise, the school police and their allies would have an entire year to counter-organize before the cuts went into place.
In the week preceding the budget vote, organizers from BLM LA, Students Deserve, Brothers Son Selves, United Teachers of Los Angeles, Inner City Struggle, and the Labor/Community Strategy Center—learning from the last board meeting and witnessing the contradictions inside and among the progressive board members—did more work to produce a unified voting bloc that could deliver four votes for the greatest possible cut in the police budget. Our tactical plan was clear. We would fight like hell to get at least 3 votes for Monica Garcia's 50% cut in the 2020 budget and try to get a fourth. If we could not we would push for the greatest cut in the LAPSD budget possible upon which four board members (out of 7) could agree. But the $35 million/50% cut was our goal and that is what people spoke about all day and night.
In that week the movement groups had engaging discussions with board members Monica Garcia, Kelly Gonez, Nick Melvoin, and Jackie Goldberg—all of whom, at one time or another, had voted for at least a $20 million cut. The discussions were complex and principled and we were fortunate to have four board members who understood they had some accountability to our movement and agreed there had to be some significant cuts to the school police budget.
Even given the limitations on our mass presence by the COVID 19 restrictions (let alone it devastating impacts) we still were able to bring hundreds of people outside the board room, more than 50 of whom went inside to testify in person and another hundred who testified through video. Again it was the Black students, many with Students Deserve and all of them speaking with clear support for the 50% cut, that moved the entire process forward. Black students said the very existence and presence of the police made them sick; the police made them not want to go to school; the police brought intimidation, fear, and anti-Black animus into every day in school. And many, in a great consciousness raising experience for board members and community members alike, explained in stark detail that it was not just the police but the entire school system that was punitive, racist, and anti-Black. Each student raised their testimony to a heart-felt, spoken-word performance. 
Still, it was not until the day of the vote that the dynamics of the board alliances played out. The organizations with the greatest history of working with board members tried to use every form of persuasion, negotiation, but also dynamics of mutual respect to forge a consensus. As the testimony continued we reached out to Nick Melvoin. Would he continue his vote from the week before for a 50% cut? Yes, he would! Then we had conversations with Kelly Gonez. Ms. Gonez said yes as well. As she explained, the week before she had supported a $20 million cut; but after another 5 hours of listening deeply to the students, she was convinced that a $35 million/50% cut was in order. So, by 7 PM we had three votes for Monica Garcia's motion. (The week before we had two.) But three votes—without a fourth vote—would not be able to change anything.
The fourth vote we needed was that of board member Jackie Goldberg. Ms. Goldberg, a well-known figure in the LA progressive community, had been on the LAUSD board for many years, went off the board, and came back through an election in 2016 with the strong support of UTLA. But as of 7 PM on June 30 she would not move from her $20 million maximum cut. But when it became clear that we had three votes for the 50%/$35 million cut many people from UTLA and every other constituency had phone conversations with her and her allies, calling on her to please be the 4th vote for the 50% cut. Still, even after those conversations, she indicated she would not move past a $20 million cut.
Now here was the dilemma. Had Jackie Goldberg drawn a line in the sand at a $20 million cut it would have forced the 3 other board members, who were ready to vote for $35 million, to join her motion or lose everything. That still would have been a step forward objectively but in terms of the morale and consciousness of our movement, the Black students, and the 3 board members who had agreed to a $35 million cut, it would have been very demoralizing as well. For if one board member, and yes, a white board member, demanded that everyone come down to her $20 million—even though we had three votes for $35 million,—the Black students in particular, who were putting their hearts and lives on the line, would have been profoundly disappointed that their impassioned appeals did not win the cuts they had demanded.
Then, sometime around 8 PM, we had a breakthrough. While the three board members who opposed any cuts were beginning their long, redundant, rambling monologues, Garcia and Goldberg negotiated with each other. They agreed on a $25 million/35% cut. Under this plan, Monica would introduce her motion for a $35 million cut, knowing she had 3 votes. Then Jackie would introduce a "friendly" amendment—meaning it would be accepted by the maker of the motion—to reduce the cut to $25 million. If the amended motion passed it would replace the initial motion and would become part of the 2020 budget. The result was that Ms. Goldberg agreed to cut an additional $5 million out of the LASPD budget to move up in the direction of Ms. Garcia's motion—even if, in return, three board members had to come down from their initial $35 million objective to meet hers.
And that is what happened. All four board members agreed upon a $25 million/35% cut. And yes, all the key organizations were aware of this agreement and enthusiastically signed off on it.)
Then, for at least three more hours, which seemed like an eternity, the three board members who opposed any cuts—George McKenna, the only Black member of the board, and white board members Scott Schmereson and Richard Vladovik, all of whom were former school administrators, spoke interminably about crime, gangs, danger, and the great contributions of police. While they knew our side had the four votes, they were speaking to a large constituency, not just among white parents but among some Black and Latin@ as well, who supported the police and who would be needed for their counter-plan that was already in the works.
Then finally, at 11:45 at night, almost 18 hours after some dedicated people had arrived at 6 AM to reserve seats for student speakers, the board finally voted. And yes, we won by the 4 to 3 vote we needed. Then the board voted to adopt the entire LAUSD $7.6 Billion budget. And when that passed, the $25 million cut in the Los Angeles School Police Department was locked in.
And yes, while not the 50% we had hoped, the 35% cut that we won, is the largest percentage cut we know of in any school police force and any police for period during this period of urban rebellion.
In the midst of COVID 19, we could not have the in-person hugging and crying that most of us would have wanted. But in the bizarre new world of remote viewing, at least several hundred people watched all 14 hours and we estimate that at least another 1,000 more watched the final vote on the School Board website. Those who braved the day had the pleasure of laughter, affection, and hugs. Others of us had to celebrate through the most beautiful texts, emails, calls, and zooms! Everyone knew they were watching history being made by organizers and organizations right before their eyes.
It is great being an organizer. Many days are long, many leads do not pan out, many tactics do not achieve their objectives and many weeks turn into months turn into years. But then, if you are lucky, there are the magical moments of victory. Organizing is for the long-distance runners but also for those, often young, who rise up, take leadership, and speak with the revolutionary truth of their own experience. We all saw with our own eyes the great young revolutionary Black and Latinx students who opened up their hearts and souls, changed minds, changed policy, and changed history. We also felt validated that the very long-term work of constituency development in the high schools, long-term relationships with board members, and long history of winning so many structural reforms in the practice of policing led to this victory as well.
We also understood that for the four LAUSD board members who voted for this historic measure--Monica Garcia, Kelly Gonez, Nick Melvoin, and Jackie Goldberg—they were part of the movement. They had to exercise their own agency, their own political judgment, and their own battles with powerful countervailing forces to deliver the votes and the victory for the people.
The Countermoves continue and the Movement needs to stay on the offensive making an accurate assessment of your opponent's tactical plan. Their superior force is always part of the reality and should not be a cause of despair; instead, it is a basis from which to develop a planned and conscious character to our resistance rooted in the actual conditions on the ground. If any movement wants to keep the political momentum it has to grasp the full power, danger, and tactical plan of its adversary so that it can develop a tactical plan based on that assessment. Sure enough, almost from the minute we won those who support a police/punitive school system went on the counter-offensive.
Conservative teachers counter-organize. United Teachers of Los Angeles' outgoing president Alex Caputo-Pearl and incoming president Cecily Myart-Cruz were forceful advocates for a full divestment of all police in the schools. The union's House of Representatives voted by a 154-56 margin to support their position. Predictably, shortly after the LAUSD vote conservative elements in the union began pushing for a "full membership vote"— normally reserved for contract ratifications—to overturn the union's position and as a vote of no confidence in the leadership. As Strategy Center organizers have attended and worked in the L.A. high schools for 30 years, we well understood that there is a substantial force of teachers, many white but also Black and Latinx, who see their students as dangerous and the police as their friend. We also saw so many UTLA teachers take a stand to be on the right side of history in this vote. This referendum will be a fight for the soul of the union. Its outcome is so important it will involve not just UTLA but many students, parents, and community groups who were instrumental in the LAUSD board victory to support teachers who are challenging colonial, anti-Black education. This will be a campaign with its own tactical plan—a campaign we have to win.
The struggle at the school board continues. The LAUSD board meets every month and there will be many future votes—some to dismantle, some others to preserve, and some to expand the authoritarian, militaristic, punitive, and racist public school system. There will be debates about innovative forms of security and safety led by students, teachers, and community organizations. Many of us are moving to educate and mobilize the community for the full removal of all police in the schools. And there will be new motions to allocate far more than the $25 million cut from the police budget to fund Black students and schools with significant Black concentrations. This is where protracted long-term organizing comes into play. The vote we won is just a moment in time and now the struggle continues. We have to find the will and resources to play the long-game and not allow the other side to wear us down or for us to self-sabotage through complacency and self-congratulation.
Working out relationships with the new leadership of the LASPD. The LASPD has a new police chief, Leslie Ramirez, a graduate of LAUSD and a 29 year veteran of the school police force. Her job will be to protect the existing funding of the school police and to ask for the funding cuts to be restored. There will be decent police with whom we have already worked saying, "Give us a chance to do better." It will be a challenge to work with the existing police, and a Latina police chief, as we try to restrict their abuses, reach agreements with them on specific behaviors, and at the same time call for their entire budget and role to be eliminated. The police are real people and real political forces and we engage them all the time through protests, conversations and negotiations. As one example, in May 2016, four years before this vote, the Strategy Center negotiated with former LASPD chief Steven Zipperman, a very decent person, to return the weapons—1 tank, 3 grenade launchers, and 61 M-16s—to the Department of Defense and issue an apology to the community—which he did. And yet, how did he have the power and the will to have ordered those weapons in the first place? And can you even imagine a white school district having procured those weapons in the first place?
Now, when the police are recalcitrant and won't negotiate it is easy to be in complete opposition to them. But when they approach you and say, "OK. I know you want to get rid of us but right now we exist and you exist so we better sit down and figure out if there are agreements we can reach" it presents a tactical conundrum.
In most cases, the Strategy Center would agree to those conversations and possible negotiations for specific improvements because that is our fundamental approach. We feel responsible to oppressed communities and our members are part of and represent those communities. People understand if you go into negotiations in good faith and come back to say the offer was tokenistic, manipulative, and even harmful. While they will still want to hear the details we have gotten great support because people trust that we did not reject the conversation out of hand. That does not mean that others cannot reach different tactical decisions and yes, we have also turned down meetings we felt were manipulative on their face.
But in this case, as just one tactical dilemma, the LASPD will be here for at least a year and most likely more in some, hopefully reduced capacity. And what if board members who have voted to cut their funding also ask us to negotiate with them to further restrict their authority and actions? The specifics are for each group to work out in their particularity. But our experience has indicated that for us, when in doubt we engage. For us, it is the clarity of the demands, the building of an independent base around a radical, structural program, building a broad united front to support those proposals, close ties with our members and the broader community, and the constant pushing for the most radical solutions that can give community-based revolutionaries the upper hand.
So in this case, yes, our ongoing negotiations with the police, still shaped by the specifics of when and how and in consultation with our allies to have a clear and agreed upon tactical plan, are part of our "No police in the LAUSD Schools" campaign.
Eric Mann
Counterpunch