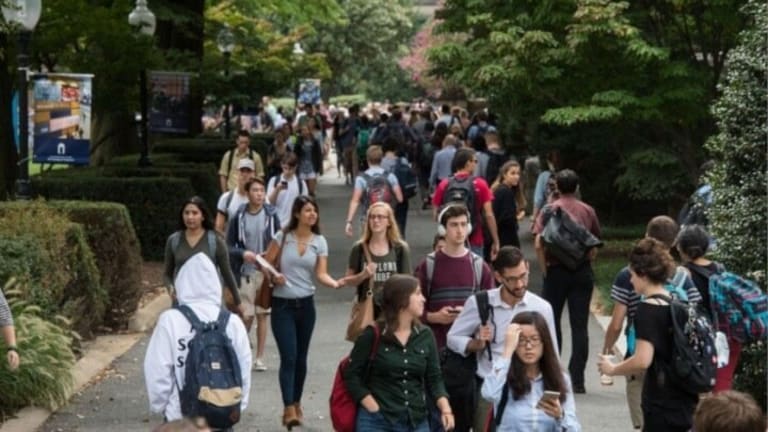 Reparations Aren't Possible! Tell That to Georgetown U. Students
Frank Fear: They're tackling a seemingly insoluble matter—reparations for African Americans—and their solution (drum roll, please) is to bear the cost personally.
Nearly four years ago I wrote an op-ed about student resolve. "A new kind of student activism is changing universities"the headline read. Last year I continued the theme with an essay published in these pages. "Students as agents of social change? You bet!"
Year after year … school after school …issue after issue … you'll find America's students organizing and pushing for change. Their schools are a frequent target. Endowment divesting (coal-related companies) at Stanford is an example—an effort launched by Fossil Free Stanford, a student-led group.
I've witnessed student-led action at my university, Michigan State. ReclaimMSU, which also includes faculty and alumni participants, is dedicated to reclaiming values at a public university struggling to find its way.
"We can do better! "We must do better!" That's what students seek.
They're tackling a seemingly insoluble matter—reparations for African Americans—and their solution (drum roll, please) is to bear the cost personally.
And each time I think it's impossible to smile more broadly in response to what students are doing across the country… well … I do just that. This time it's about the action taken by Georgetown University students. They're tackling a seemingly insoluble matter—reparations for African Americans—and their solution (drum roll, please) is to bear the cost personally.
That's right. Last Thursday, nearly 70% of GU students who voted (57% voter participation, the highest in school history) said 'yes' to a proposal that will add a $60 annual fee to the cost of attending GU. Per the resolution, the money collected will be allocated to the descendants of "The GU272" – 272 African American slaves sold by the Jesuits in 1838 to sustain (back then) a financially challenged school that was teetering on bankruptcy.
$60 per student per year may not seem like much until you analyze what it will yield in the aggregate—nearly a half-million dollars a year. And it will come from the pockets of students and their families who pay dearly for a GU education. GU's full-time undergraduates pay $55k in tuition annually. Add $5k (minimum) for housing, another $3k (minimum) for meals, at least $1.2k for books, and money for travel and other personal matters, and you're looking at a $65k+ yearly price tag.
But the students' action is about more than money. It's about exercising public leadership, doing the right thing. And while Georgetown officials know they aren't obligated to implement the students' proposal, they also know that history will be made if they do. The Chronicle of Higher Education reports that it would be the first reconciliation fund established in the history of American higher education.
But let's not view Thursday's action as a GU one-off. It's one step in a long-term process.
To GU's credit, when reports began circulating about what had happened in 1838, the university neither denied the claim nor sought to hide behind a collective screen (slaves are also tied historically to other elite universities, including Harvard, Princeton, and Brown). GU acknowledged its history and initiated campus conversations regarding how to respond.
I first learned about GU's history and situation three years ago this month. The New York Timespublished a feature article, authored by Rachel L. Swarns, entitled, "272 slaves were sold to save Georgetown. What does it owe their descendants?" I learned that a working group had been established and that the group (according to Swarns) "was weighing whether the university should apologize for profiting from slave labor, create a memorial to those enslaved and provide scholarships for their descendants, among other possibilities."
That type of engagement seems natural for higher education, but it's not the norm these days. All too often, major institutional decisions are made with limited, if any, campus-wide engagement.
But to be fair, the Georgetown administration was slow to take institutional action until—as Swarns reported in the Times' article—"students organized a protest and a sit-in, using the hashtag #GU272 for the slaves who were sold." Later (in November 2015, the article continues) "the university agreed to remove the names of the Rev. Thomas F. Mulledy and Rev. William McSherry, the college presidents involved in the sale, from two campus buildings."
So consider last Thursday's vote as a continuation of student activism that began nearly five years ago. And GU students know how to organize. The Hoya (GU's student newspaper of record) reported that information/education sessions preceded the student vote. "Since October, the GU272 Advocacy Team, an on-campus student group that raises awareness for descendants, has worked with the Georgetown University Student Association to push for this referendum. The team has led an outreach campaign to educate students and encourage them to vote, such as an April 3 town hall featuring a panel of students both for and against the referendum."
But one vote—no matter how significant—will settle this matter. "Georgetown will continue to grapple with its difficult legacy of slavery," wrote The Hoya. Still, though, alumnus Richard Cellini and founder of the Georgetown Memory Project (a nonprofit that has located nearly 8.3k direct descendants of GU272), believes that giving restitution is a firm step in the right direction.
Five years ago, Ta-Nehisi Coates wrote a long and provocative piece in The Atlantic. Entitled, "The case for reparations," it's a riveting socio-economic account of what it's like living black in America.
About twenty words from that article reverberate in my head still: "The lives of black Americans are better than they were…but progress rests on a shaky foundation, and fault lines are everywhere."
"We can do better! "We must do better!" Georgetown students are showing us how.
Frank Fear