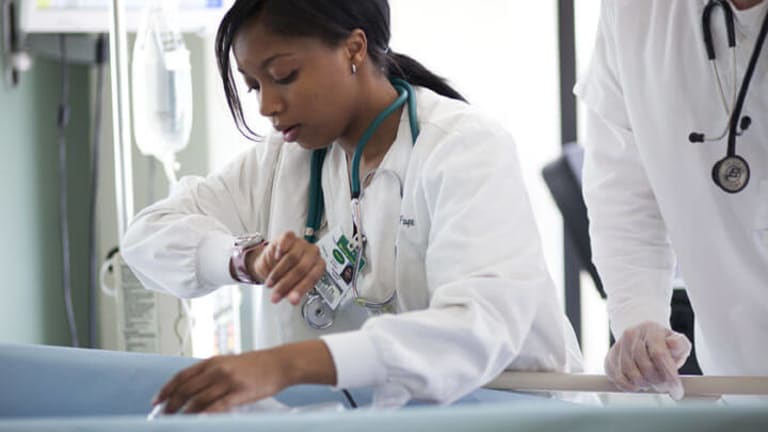 Finding One of Those Good Jobs Everyone's Talking About
E.M. Palon -- Well and good. Good jobs for everyone. But how does a youngster just entering the job market get a handhold.
November's presidential election turned on the question of jobs. Newly seated President Donald Trump pounded on jobs, promising that he'd put coal miners back to work, prevent companies from switching their operation south of the border, and ultimately create 25 million jobs, the most of any president, over the next decade.
"We will bring back our jobs. We will bring back our borders. We will bring back our wealth, and we will bring back our dreams," Trump said. His opponent, Hillary Clinton, talked of job creation as well, as did a great many candidates on both sides of the aisle.
Well and good. Good jobs for everyone. But how does a youngster just entering the job market get a handhold.
Well and good. Good jobs for everyone. But how does a youngster just entering the job market get a handhold. Or the mid-career person burnt out on a dead-end job they've been doing far too long. Or increasingly the person who once had a promising career ahead, only to see the company's prospects tank?
Education is certainly the key for all three of them. But many of us can't just drop everything and run off to Harvard—or even attend the local community college full time.
A carefully chosen online program might do the trick. But first it's wise to pick the right direction.
10 Best Jobs
According the most recent Kiplinger rating, the U.S. job market is currently quite good, with the unemployment rate dipping below 5 percent for the first time since the Great Recession hit in 2008.
In compiling its list of 10 best jobs, Kiplinger's report rates jobs both on annual average salary for each profession, but also taking in consideration the financial investment in education involved. We know too well the soaring tuition costs at most universities.
What's really interesting about this list of best paying jobs is that it divides neatly into five medical field jobs and five computing jobs. Indeed, according to BigFuture, the 10 industries with the fastest growth, across the board, not just at the highest pay scale, are also heavily weighted toward medical and IT fields, with five in medical-related fields, four in IT-related fields, and one in general merchandise:
Management, scientific and technical consulting services (83%)
Services for the elderly and persons with disabilities (74%)
Offices of physical, occupational, and speech therapists and audiologists 56%
Data processing, hosting and related services (53%)
Home health care services (46%)
Specialized design services (46%)
Computer systems design and related services (45%)
Offices of mental health practitioners (43%)
General merchandise stores, excluding department stores (41%)
Medical and diagnostic laboratories (40%)
The Medical Direction
Given my long career in nursing, nursing education, and hospital management, I was most interested to see healthcare professions so prominently mentioned on these two lists. We've all read how the aging of the Baby Boomer generation will cause an increasingly loud call for all levels of patient care workers and health systems managers. A career in any aspect of medicine will surely have legs.
Of the five medical jobs, a physical therapist needs a doctoral degree and a nurse practitioner needs a master's. A health services manager requires a bachelor's degree, while medical sonographers and dental hygienists require an associate's degree.
In my own nursing career, receiving graduate nursing education catapulted me ultimately into high-level nursing management, so I know the value of going back to school mid-career. In researching this article, I have come across Ashworth College, which offers an RN to BSN (Bachelor's of Science in Nursing) program, an important step in a nursing career. According to its website, Ashworth College offers a low-cost option, with tuition costs five times lower than other online institutions, allowing students to graduate with no student loan debt. How essential that must be to working men and women, facing staggering tuition costs elsewhere.
Ashworth offers several programs in Health Services Management, also on Kiplinger's list. All told, Ashworth offers 125 programs paths, including business, criminal justice, and education, in addition to healthcare and IT professions. Critical for many of us looking to land one of these top jobs, the school offers considerable flexibility, allowing students to progress at their own pace so they can best balance their lives between work, family, and education.
Here some links for Ashworth College: Facebook, Instagram, Twitter, Youtube, and LinkedIn.
Although I received all my education years ago at traditional brick-and-mortar institutions, online courses like these would have put much less strain on my family and my health, and probably have gotten me along in my career all the quicker.
E.M. Palon
This is a sponsored conversation written by me on behalf of Ashworth College . The opinions and text are all mine.