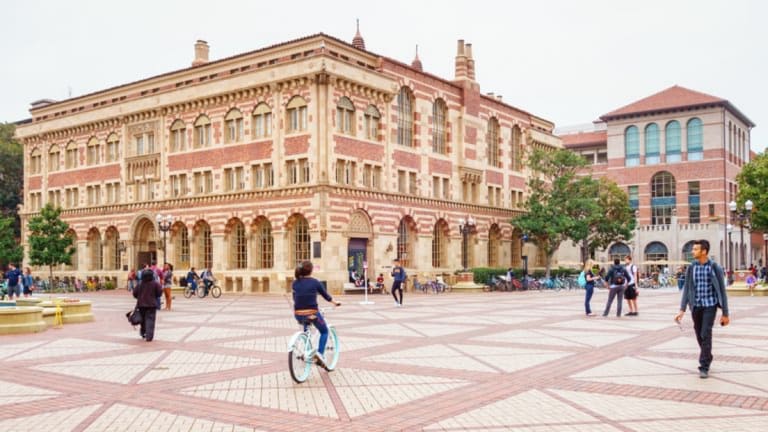 It's Time to Invest in Impacted Young People Who Are Fighting for Our Futures
Irene Franco Rubio: It's one thing to say 'Black Lives Matter', it's another to invest in young people fighting for their rights and futures.
In the racial reckoning and call to action that arose in 2020, we saw a surge in youth civic, political, and social engagement—from protesting on the streets to making our voices heard at the polls—in an effort to fight against injustice, systemic racism, and to preserve our democracy.
Beyond simply trying to prove how 'woke' every single company, school, organization etc. has become, inevitably as a result of performative activism, it is time to truly invest in young people who are fighting for our own futures. It's one thing to say 'Black Lives Matter', it's another to invest in young people fighting for their rights and futures.
It's one thing to say 'Black Lives Matter', it's another to invest in young people fighting for their rights and futures.
Young people stepped up to the plate in 2020 and demanded change. It's time we're invested in and our authentic value and contribution to our school communities and beyond is adequately addressed. One important solution is supporting marginalized youth while we're still in college and properly investing in student-led advocacy initiatives. 
One example of this is the country's first civil rights clinic at the University of Southern California: USC Dornsife's "Agents of Change" initiative which engages students in civil rights advocacy, community activism and governmental policy. Launched at the start of 2021 by civil rights attorney and Director Olu Orange and USC Dornsife's Associate Dean of Experiential Learning Tamara Seabrook-Anderson, Agents of Change is a two-year program that gives students the opportunity to work alongside community partners—such as Black Lives Matter Los Angeles, Color of Change, ACLU SoCal, Al Otro Lado and over 40 civil rights groups, ranging from volunteer-run activist groups to government agencies.
Similarly, in Oakland,the Reparations for Black Students Resolution—created by a coalition of grassroots community organizations and over 200 Black students, parents, and educators—is another clear example of reducing or eliminating the opportunity gap by overcoming racial and academic barriers to invest in students. In response to the school district's historic under-serving Black students, this resolution calls for a plan to invest in Black students' academic growth and require OUSD to eliminate the opportunity gap for all Black students. The resolution was a historic step that set a precedent for what other academic institutions and governments can do to prioritize the well-being of historically marginalized populations.
A vital aim of both the Agents of Change program and the Reparations Resolution is to close the "access gap" that has historically prevented many students, particularly those from BIPOC, low-income or system-impacted communities, from engaging in the school community by advocating for justice to demanding students voices be heard on the issues that directly impact their lives. The Reparations Resolution achieves this by demanding a "multi-million dollar reparations fund for the remaining 8,314 Black students in OUSD to thrive" and transforming schools to center Black students. Agents of Change pays students competitive stipends to make civil rights advocacy available to all students regardless of financial status, limitations as youth of color, or other difficulties college students from historically underrepresented communities may face. As a result, the first cohort of Agents of Change have overcome challenges that inform their understanding of justice issues; half are first-generation college attendees; and a sizable number have been impacted by the immigration and/or carceral systems. 
One Agents of Change student, Annaleigh Nguyen, is a first-generation daughter of Vietnamese immigrants. "AOC eliminated the difficulty of choosing between getting a job and making a difference in my community," said Nguyen, who is working at CARECEN where she assists refugees and first-generation immigrant students.
An important goal is to link USC classrooms to the Los Angeles community. Students have an opportunity to work alongside Angelinos who are fighting for their own rights. Katherine Owojori, another AOC student, stated "As a Black woman from South Central, I have access to opportunities in the legislative, activist, and legal sectors that would be otherwise nearly impossible to obtain without Agents of Change and the connections it provides. It allows me to be able to get a headstart on being able to serve my community in tangible ways." AOC Program Manager and Adjunct Professor Kath Rogers commented, "learning about the theory of social change in classrooms is important, but it is also crucial that we 'walk the walk' by working alongside community members beyond the university gates."
We college students committed to the fight for justice need valuable civic engagement experiences today. We cannot wait until we graduate to invest in our communities. It is time for universities, school boards, and legislatures to invest in directly impacted young people who are leading the way by creating and funding civil rights clinics and scholarships to provide marginalized college students with access to local grassroots experiential activism initiatives, as well as investing in the surrounding local school communities. 
Irene Franco Rubio