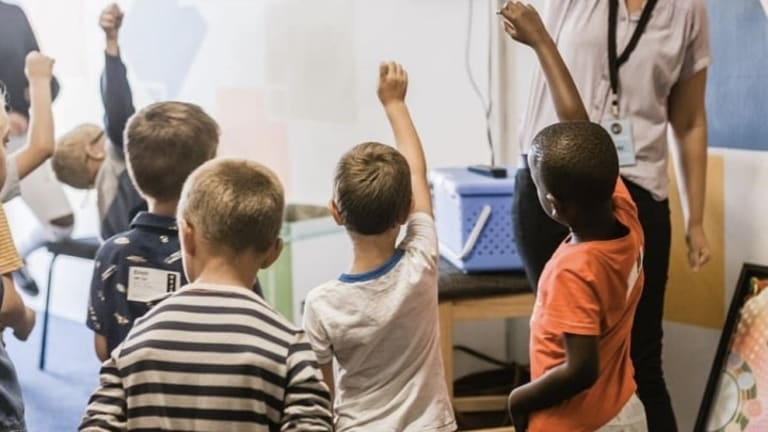 An Invitation to White Teachers
Brian Wright: In the Los Angeles suburbs, where I currently live, we sit high in our towers, or stand with anti-racist signs on our freeway overpasses, while black folks continue to be murdered by police and systematically oppressed.
In these unprecedented times, you're needed now more than ever. I want to take this time to invite you to become the social justice educator you need to be. What I'm going to ask of you is easy, and it applies to the current online teaching format and that old-fashioned, in-person teaching that we used to refer to as "teaching" – it doesn't matter what region, state, city, town, or district you teach in; it doesn't matter that we can't be in the same room as our students; it doesn't matter if you teach Kindergarten or college, or anything in between – if you've had the privilege of having white skin, I'm talking to you.
Black Lives Matter
For those of you who have never followed current events, or who live under a rock weighed down by cement, I won't try to explain to you what Black Lives Matter means. Google it, or take black people's word for it. I will use my powers of affinity with you and say this definitively and without hesitation: BLACK LIVES MATTER. It's simple. In fact, until Black Lives Matter, all lives don't matter. This fact shouldn't upset you. If it does, and you feel scared or threatened, or your first reaction is anger or fear, stay tuned, we will get to that soon. But, since I do follow current events and have a continuous news feed provided to me by my cellular telephone, I want to share with you what I read from… gasp… a Twitter response to someone saying: "all lives matter." The response was simple: "On 9/11, did all buildings matter?"
In the Los Angeles suburbs, where I currently live, we sit high in our towers, or stand with anti-racist signs on our freeway overpasses, while black folks continue to be murdered by police and systematically oppressed.
In the Chicago suburbs, where I grew up, in the eighties and nineties, white men and women had a brief glimpse of what it was like to not be racist. When we watched Walter Payton run the football, or Michael Jordan dunk a basketball, or when we listened to a Bob Marley or Lauryn Hill record, we thought we momentarily stopped being racist white supremacists. Unfortunately, we use this fandom as a pacifier to the real work of the white person. Now, in the Los Angeles suburbs, where I currently live, we sit high in our towers, or stand with anti-racist signs on our freeway overpasses, while black folks continue to be murdered by police and systematically oppressed. In Austin, we may join the BLM protestors and talk about Michael Ramos or George Floyd or Breonna Taylor with people of color, but we return to the comfort of our high-rise hotel room. Philadelphia-based writer Tre Johnson recently wrote an article in the Washington Post titled "When black people are in pain, white people just join book clubs." This.
Privilege
And now for a bit of grandstanding… I'm an elementary school teacher at an LA progressive private school by day, and college professor at, and alumni of, Antioch University by night. (I'm also married to a social justice elementary educator at one of Los Angeles Unified School District's Title I schools.) Antioch Universities were birthed in the image of Antioch College in Yellow Springs, Ohio, and its rich history and current work in social justice, and the work of its first president, abolitionist and education reformer Horace Mann, is still very alive. When teaching college or elementary students, I still very much rely on John Dewey's progressive principles and pedagogy while oozing privilege. It's out of privilege, really, that I'm able to do what I do. I never had any racial barriers, and although I certainly had some difficult times in my life, it was never due to the color of my skin. In this way, we are similar. You have, I'm sure, dealt with personal and professional obstacles, but you must know, it wasn't because of your lack of melanin.
In December of 2019, I was lucky enough to go to the People of Color Conference (POCC) with several colleagues of color from Children's Community School in Van Nuys, California. You need to go to this conference, and here's why: I wasn't wanted or needed there. You will not be wanted or needed there. The conference wasn't for me, or you – it says it right in the title of the conference. For three days, I shut up, I listened, and I returned to my work with action pieces. I had my "list of demands" to administration, which I brought up at the next weekly staff meeting. I asked for a full-time DEI person to be added to the staff. I asked for a review, audit, and amendment to our parent and faculty handbook. I asked for an unequivocal openness and acceptance of all individual identity pieces teachers and staff wanted to bring to school. I asked for additional compensation for my colleagues of color who so often carry the burden of educating my white colleagues on issues of racism. With my allyship work, I began the motto: "If I think I'm done, I've only just begun." Now, here's what you need to do: you need to go to the next POCC, shut up, listen, and make your list of action items that you will do going forward, and insist that your white colleagues (who aren't reading this) do the same. It's the least we can do as allies.
Action
Only when all black people and all people of color are treated fairly by the law and every institution and system in our country, including the one space we have complete autonomy in – our classrooms – can we go back to worrying about teaching that fractions unit. Our work has to be rooted in justice first. If you can't see this, or are still feeling attacked, you have to ask yourself why. What about these concepts has you feeling like your rights or freedoms are being impeded? Why does someone else's gains equate to your losses? Why did you decide to become a teacher if not to teach your students to live in an ideal society? If you still feel threatened, I urge you to seek counsel before returning to the classroom. If you aren't threatened, and just feel that lump in your throat because you don't know where to begin, I challenge you to build space in your class schedule everyday – even if for only 10 minutes – to have discussions about race, no matter the age of your students or your fear of saying something "wrong." I don't love the adage about this work that it's "messy," but okay, yes, it is. Don't worry. Like anything, with more willingness and practice, you will become competent.
When you're ready (you are ready), there are several key articles to read about building an anti-racist classroom which include anti-racist book choices and literature, and materials. You can join the Abolitionist Teaching Network and consume all the resources provided on that site. Ta-Nehisi Coates already wrote the seminal article "The Case for Reparations" in The Atlantic (I know, this feels a lot like "just joining book clubs," but it's essential), so I would like to add an education element to his wonderful piece, specifically for you. Our government needs to study reparations and act, but we need to start making some personal choice reparations. We can support black-owned businesses, buy and share black art, lift up black culture, and use our personal freedoms to ensure others' personal freedoms. We can also participate in classroom reparations.
We can start by acknowledging and apologizing for our own history of injustice in the classroom, and begin to teach all of our students content that is just. Start engaging students in these discussions. Stand beside students and colleagues of color (and sometimes in front of, and sometimes behind). Identify yourself to your community as someone to talk to about race and justice issues – BE the ally. Listen, but listen actively. Bring people of color (and all under- or mis-represented groups) to your campus to read to and interact with your students. Always intervene, and always speak up. Keep educating yourself about this work. Be open. This work isn't something you need to add, it's work that you should have always been doing, and who you are, or aren't.
Remember that fraction unit you were so worried about? Your fractions unit needs to tackle issues of equity, diversity, and inclusion. Your early letter sounds unit is a social justice unit, because what are we teaching any student to speak if it's not words of justice and equality? What does learning a foreign language mean if it doesn't lead to cultural competency? What does any lesson or subject or content area matter if we're only teaching students to continue serving a white supremacist system?
Why not use your power in the classroom for a just cause? Look at your curriculum. Does it not beg to be updated and improved upon? The songs of social justice are the teacher's soundtrack. So, turn it up loud, roll up your sleeves, login to Zoom, and do what the great American Frederick Douglass always wanted you to do: Agitate! Agitate! Agitate!
Brian Wright