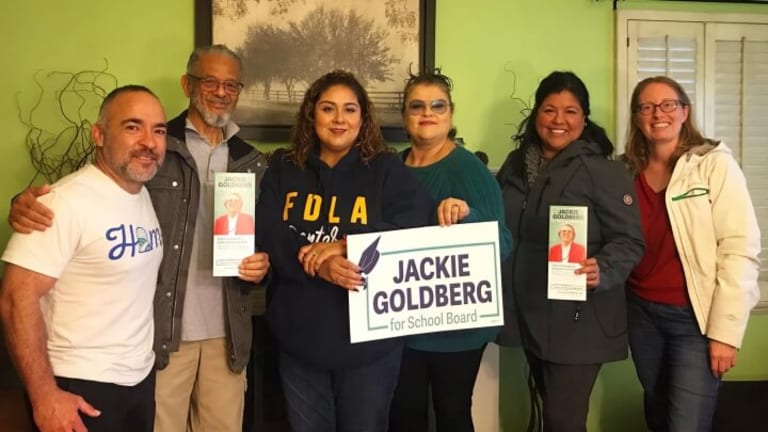 The Money In LAUSD5's Mouth
Sara Roos: Tuesday presents two clear ideological extremes, between the civil rights activist,Jackie Goldberg and the Charter acolyte, Greenwood-Bajracharya.
From Los Feliz to Southgate, voters need to show up on Tuesday to fill LAUSD's swing school board seat with Jackie Goldberg.
The fifth LAUSD Board District is wedged in the middle between educators and privateers; between board members ensconced by financiers interested in charter schools as a lucrative investment (Garcia-Melvoin-Gonez), and a couple old-time school superintendents (Schmerelson-McKenna-(Vladovic)).
Tuesday presents two clear ideological extremes, between the civil rights activist,Jackie Goldberg and the Charter acolyte, Greenwood-Bajracharya.
The last dude from LA Board District 5 was so focused on securing the approbation of his Charter paymasters that he transformed a perfectly legal if ginormous monetary contribution to his own campaign, into a felonious obfuscation of monies and manipulators. The whole quagmire of the last election for this school board seat extracted such a toll on integrity, truth and democratic representation, that this week's choice ought to be plain to bear: stay far away from the dirt, influence peddling and crooks that sullied LAUSD's recent past elections.
Tuesday presents two clear ideological extremes, between the civil rights activist,Jackie Goldberg and the Charter acolyte, Greenwood-Bajracharya. In between where once were more than a dozen candidates, remains now just eight in the wake of several who endorsed Jackie Goldberg, stepping aside in deference to LAUSD's immediate, time-sensitive need for Goldberg, the battle-tested legislator.
Among the top seven fundraisers are two quite similar political functionaries, Repenning and Ortiz. Both – and to a lesser extent the Arts Commissioner Valdez, have all simply gained appointment to a political position as part of a political, self-sustaining, patronage machine. They are cringingly light on knowledge of Education and embarrassingly laden with massive, mechanized, quid-pro-quo gifts. Acceding to this machinery of bully-pulpit kingmaking betrays the vast awakening of public consciousness regarding peril to our public education system through privatization, hard-won just these six weeks past during January's UTLA strike.
Similarly candidate Cubas is a charter-lite version of Greenwood-Bajracharya, another character pretending claim to some corner of another's market. For example no one could mistake the clarion call of Goldberg to teachers and the UTLA endorsement. As our children's rights are teacher's rights, teacher's cries are framed by Goldberg's. And yet Ortiz resorts to campaign posters that mimic Goldberg's UTLA-endorsed images, standing in front of signs that say "UTLA", pretending, pretending…. There is so much pretense in this race. Choosethecandidatewhoisplainlywhatsheseems:
JACKIE GOLDBERG
What's happening among those pretender's campaigns?
As before, City Ethics data shows Repenning the donations-leader but by far less than formerly; Goldberg's rank has shifted by one, moving her into the top-three. She claims never to have lost an election while also never having raised the most funds. Four current candidates plus a write-in, and several candidates no longer running, are omitted from table 1 below. The sum of all contributions (including the omitted) raised in the race for LAUSD5 is a little above $1m total.
Goldberg's grass roots is reflected in the size of her "other" category of donors. More than half (53%) her donors do not come from individuals in politics, the charter school or Developer's industry. Table 2 below shows the column and row percentage by category of each candidate's donations. That is on the left for each candidate, the relative distribution of the types of donations is listed with the highest percentages in each column (candidate's) shaded in green. On the right for each type of donation, the relative size of each candidate's contributions compared with the other candidate's, is shaded more heavily in green along each row:
Repenning's contributions from government functionaries, Commissioners, PR consultants and Community Relations specialists, Contractors, Developers, and Union workers among other such "inside" positions, is 2/3 (68%) her quarter-million take (so far). The next-closest "patronage" percentage is a distant 48% to Graciela Ortiz, an elected official of the City of Huntington Park southeast of LA. which is considerably smaller and lacking the density of ancillary contractors and lobbyists. Cubas and Goldberg's "patronage percent" is 39% and 28% respectively. They both are former staff or elected politicians as well, but reflect nothing of the sort of favor as Repenning's receipts.
Two-thirds (66%) of Greenwood-Bajracharya's contributions are also definitive, but instead of donors associated with charter schools, their administration or funding. The next-closest candidate is Ana Cubas at a distant, if noteworthy 23% of charter-associated donors; the other candidates are far below that.
But one candidate has exceptionally vague Education qualifications, experience or record. Repenning has insisted she is not "for" charters and has returned three charter-associated donations (from Bob Morales (VP of Public Affairs, Learn4Life); Marcia Aaron (Education, KIPP LA Public Schools); Nadia Shaiq (CEO, ISANA)), even while she yet retains 13% of all charter-associated donations ($17,200 from 25 donors including charter illuminati Bill Bloomfield, Dixon Slingerland and Ana Ponce).
Greenwood-Bajracharya is the nominal "Charter candidate" and her influx of distantly-attracted ideological money reflects as much. While most candidates receive a preponderance of donations from California, and southern California at that, the privatization agenda draws nearly one quarter (22%) of its purse from northern CA or out-of-state.
Perhaps the best indication of affinity is the relationship and character of small to large donors. Jackie Goldberg's donor base reads like a Who's-who of civil rights activists, progressive elected officials and educators. The "patronage index" tracking small to large donations reflects a frequency distribution by donation size that looks nothing whatsoever like her opponent's
The campaign's expenditures by type is listed below. It may be necessary to blow this up in a pdf viewer:
More interesting is the vendors themselves (see the full list here:LAUSD5 Vendors ):
Campaigns give to other campaigns, campaigns give to themselves, some vendors earn an eye-popping amount, campaigns give to vested interests which donate back to the campaign.
Some campaigns even spend more than they receive. In the case of Ortiz, by 105%:
The real money has the potential to come from Independent Expenditures. In past campaigns there were millions spent for and particularly, against, candidates who threatened a privatization agenda. In this large primary, on the heels of UTLA's strike where public attention swiveled to charters in an attempt to understand the complicated financial gameboard, the Charter School lobbying group (CCSA) pledged to stay out of the mire. However, it is plain from the numerous, and out-of-state individual and PAC donations from charter acolytes personally, that the message was not widely accepted. Repenning nominally repudiates charter money, yet accepts a lot of it. G-Bajracharya takes in a wave of nearly-exclusive charter-associated money, from donors who give both to campaigns and to IEs as well as PACs which veil their giving. And indeed to more than one candidate. The Armenian National Committee endorsed Jackie Goldberg and fed am SEIU PAC supporting Repenning and opposing Ortiz.
In a particularly irrational twist of self-interest, SEIU adopts the language of privatizers that demonizes public schools, claiming their concern is for the education of their worker's children. And yet in addition to providing select few with a superior education and bankrupting the public system in the process, charter schools are notoriously anti-union; supporting the faction that would privatize schools will unemploy and disenfranchise the entirety of SEIU's own constituency.
It is clear there is much at stake from LAUSD's District 5 election on Tuesday. And it is clear there are known and unknownable knowns. It is unknown why Repenning's statements regarding charter schools do not align with her monies. It is unknowable whether her friendship and association with private-marketeers reflects a personal privatization sensibility or simply kinship with these ideologues. It is unknown why Ortiz spends so much more than she pulls in. It is unknowable how far the political controversies of the southeast Cities extend. It is clear enough why CCSA has called "time-out" on this election, yet it is unknown why their constituency is ignoring the strategy.
The most known known is that Tuesday will bring an election, that District 5 voters MUST all participate in. All of Los Angeles will be better off if they choose the candidate who is not obfuscating, not trying to hide and distract from the nature of her supporters, not learning on the job, not self-dealing to overpaid contractors.
JACKIE GOLDBERG presents a lifetime record aligned congruently, toward social justice, legislative competence and educational understanding. Please don't forget to drag your neighbor with you to the polls on Tuesday, 3/5/19.
Sara Roos
RedQueenInLA