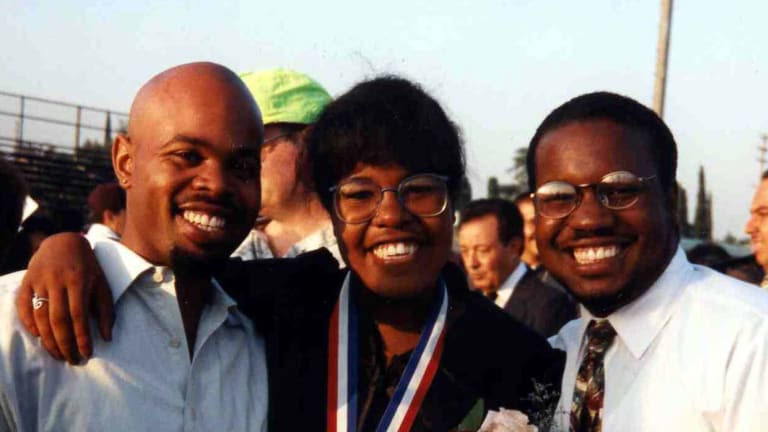 Why Marcy Winograd? A Personal Story
I was a teenaged mother. Many said I was too young. Perhaps they were right. But, like any mother, I worked hard and sacrificed. It all paid off. Except for . . .
I have two children. I was a young mother - a teenaged mother. Many would argue that I was too young to be a mom. Perhaps they were right. All I know is, like any mother, I wanted the best for my children. So I worked hard and sacrificed so that they could have a chance to live decent lives. They attended public school from K-12. Both were in the Los Angeles Unified School District. I learned about the LAUSD Gifted Magnet Program when my daughter was in Kindergarten and my son was in the 3rd grade. I applied, they were tested and both made it into the program. They were early readers because I loved to read and read to them before either could talk. In fact, it was a teacher at their elementary school who noticed them and suggested to me that I enroll them in the Gifted Program.
So, thanks to that teacher and a lot of hard work, both of my children graduated from LAUSD highschools with high honors. Both were accepted into great undergraduate schools. My son went to Loyola Marymount and my daughter went to Vassar College. I was a single mother. But we did it. They both studied abroad in junior year abroad progams - one went to India the other, Germany. They both continued their educations beyond undergrad. My son earned a teaching credential through the California State University system and my daughter earned a Juris Doctor at Georgetown Law.
That's right, I'm proud. And as I type this my eyes well up with tears - tears of gratitude because you cannot begin to imagine how hard this was. And it all paid off!! I now have a son who is a teacher and a daughter who is an attorney. They grew up in Los Angeles, part of the time with a single mother working lots of overtime which meant they were latch key kids. Many things could have gone wrong. This article could have easily been on another topic. Everything worked out except. . .
My son is a teacher and teachers are being heavily impacted by this economy. The picture on the right is of my kids with my step-son at one of their many graduations. After all of those graduations, I thought my job as a mom was over. But now I'm fighting to get the word out that we have people in congress and other positions of power who are not looking out for our best interests.
I called this a personal story because having a congressional representative that you know will truly represent you is as personal as it gets. I know Wade will get that with Marcy Winograd. Why do I feel this way? Because I've been watching her for a couple of years now. The more I learn the more I know she is the absolutely right person for this seat.
How did I get to know Marcy? I met her because she responded to a story I wrote a couple of years ago about the prison industrial complex. The odds were against me being a successful single mom. I didn't know that when I was young but I quickly began to see that bringing up a black son in urban America is no easy job. I liken it to walking through a minefield. There are too many sad stories and just as many statistics to back me up on this. I'll take you to a link where you can read the article I wrote and Marcy's response at the bottom of this piece.
Now I want to introduce you to Wade, my son. Just below this article is a video of Wade who is now a young man living in the 36th Congressional District with his wife Yoko. Together they are hosting an event and we'd love for you to come (there will be free food - I promise).
Please watch the video, and if you can come to the event on Saturday you'll meet Marcy Winograd the teacher from Crenshaw H.S. (who is on leave) and is running for the 36th for congressional district. She is the only candidate in this race who is committed to doing what is in the best interest of the people. You'll also meet me, my husband Dick, Wade and Yoko and lots of other people who care about our economy, our educational system, and all of the other issues we're confronted with today. It's Saturday, May 29th from 4:00-6:00 pm in the Club House of the condo complex located at 300 S. Miraleste Drive, San Pedro, CA
CLICK HERE TO RSVP - I NEED TO KNOW HOW MUCH FOOD TO BRING
Here is a link to the story I wrote that caused me to meet Marcy and take an interest in her. Click here