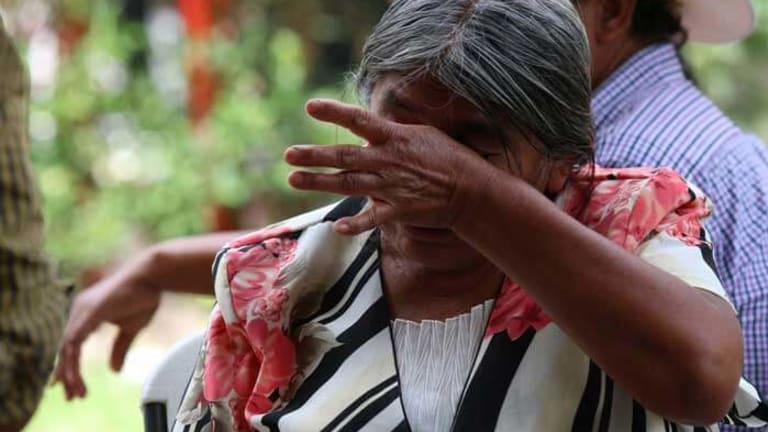 Mexico's Human Rights Record: "This Is Not 1993"
Rudy Acuña: When I learned that California State University Northridge was negotiating a deal with the University of Mexico (UNAM) on numerous occasions, I warned the administration that Mexico had a horrible human rights record and that signing such as agreement without voicing objections could come back to bite them in the ass, which has happened in the case of the 43 disappeared normalistas.
We went through a phase where the word relative was overused and often abused. There was no right or wrong everything was relative to how a person felt. Admittedly, I went through this phase when it became a fad. However, the older I got the more I realized that relativism actually worked against progressive change – that there was right and wrong and that our actions matter. Words mattered and there is a difference between a duty and an obligation, right and privilege.
There is a thin line between committing a crime and being an accessory to it. For example, you are with a person and he murders someone and you do nothing to stop it, you are an accessory to it. I just read in the paper that a man who took a photo of a woman getting raped and did nothing is getting charged with being an accessory. It is not relative.
When I learned that California State University Northridge was negotiating a deal with the University of Mexico (UNAM) on numerous occasions, I warned the administration that Mexico had a horrible human rights record and that signing such as agreement without voicing objections could come back to bite them in the ass, which has happened in the case of the 43 disappeared normalistas. I naively believed that Latinas/os in the administration would alert their superiors; I guess they did not care.
Since then I have been trying to interest people in getting their universities to break official ties with the Mexican government and its institutions. The human rights violations in South Africa did not come to the forefront without the intervention of progressives here who put pressure on the South African government through divestments and the appeal to human rights.
Originally this piece was going to be more pointed because talks with Provost Harry Hellenbrand have not gone well–to the point that I walked out. However, in deference to my colleagues who want to make one last try, I will withhold fire on the state of campus politics. Se vale my colleagues have inverted a lot time.
So I am isolating this piece to current events surround Mexico and Latin America. Admittedly because of pressure on the administration certain changes have occurred. They are small, but we see more items on Latinos appearing on the CSUN Web Page, for instance. A Latino here and there has been employed; however, CSUN still has not said it was wrong or that it was going to do something about it.
Meanwhile, it has taken President Dianne Harrison well over a month to comment on the normalistas. Recently she posted this message on the CSUN Wen Page:
Statement from CSUN President Dianne F. Harrison
The California State University, Northridge community shares the horror felt around the globe at the tragedy of the 43 missing college students from the state of Guerrero, Mexico, who are feared dead. CSUN has a long history of being an international university, and we recognize the connections we have to countries near and far. My sympathies are with the families of these students, who sought to improve their lives and their community through education. I urge the leaders of Mexico to thoroughly investigate and put an end to this senseless violence so that all students have the opportunity to learn in a safe and socially just environment.
With all due respect to the President of the University, this is mendacious. Like they used to say "You can't have your cake and eat it (too)." Logically you cannot be for something and against it. This statement is reminiscent of President Harrison's statement when she suspended the Greeks from recruiting new member largely because of the death of Armando Villa, 19, who was pledging the Zeta Mu Chapter of Pi Kappa Phi. Villa was found dead in a ditch without shoes after a fraternity hazing mishap.
I am not blaming CSUN or Harrison for Villa's death but I know for a fact that they knew that hazing was occurring and that the system was broken. However, fraternities are a key support group generally supporting the President's projects and their alumni are very prominent in raising funds. You draw your own conclusion.
In the case of Mexico, human rights violations and the role of the United States is no secret. Just google it and you'll get enough material to write a book. I have refused to pursue a Fulbright because the United States Agency for International Development (USAID) funds them. In 1991 I almost got killed because I refused to travel to El Salvador with a USAID delegation. However, today CSUN is taking grants from the CIA and there are plans to pursue Homeland Security funding.
My value system will not allow me to rationalize this. Harrison and the presidents before her could have done something about the abuses of the fraternity system but like Pontius Pilate, they washed their hands.
I do not have time to review the UNAM controversy and indeed will delay it for a more opportune time. With this said, I realize that many UNAM faculty are among the most radical in Latin America as are its students. However, UNAM does live in a separate bubble. It is a Mexican institution controlled by the Mexican state just like CSUN is not a separate entity.
You have to separate the professors from the institution. Many professors and students at CSUN would not agree with the treatment of the Chicana/o Studies Department, but they can only control what they know and the administration has obfuscated the facts.
But this does not absolve us from the duty to act as we did during the Vietnam War and we failed to do in all of the intervening wars. Injustice is injustice.
Some people do not know any better. People like Provost Harry Hellenbrand and Harrison should. They have a higher duty than those who are ignorant or lack access to the facts. Others such as Douglas Carranza and Beatriz Cortez have to be singled out because they know better. They know that the Mexico's countryside is full with the graves of Central Americans seeking what they did when they got here– freedom from violence.
However, when I brought up these points Carranza and Cortez accused me of being nationalistic in my opposition to the UNAM Center and my criticism of Mexican President Enrique Peña Nieto. They in turn tried to separate research and scholarship from the political applauding Harrison and the deans who were attempting to privatize CSUN.
Fortunately, they failed to divide the Latino communities because alumni such as Siris Barrios and Mónica Novoa have a historical memory and came to the defense of Chicana/o Studies.
Hopefully our differences with the administration will be resolved; however, in conscience I personally cannot do so until there is a resolution of the total package. As mentioned, I told the administration and anyone who would listen about the violation of human rights in Mexico, the impact of the American funded and sponsored War and Drugs.
However, they refused to listen because we were Mexicans and because of greed. Like the case of Armando Villa this cannot be swept under the rug–the administration did this during ZBT controversy when the fraternity was insistent on singing a fraternity drink song that reveled in the rape of a 13-year-old Mexican girl named Lupe. Resolutions censuring the ZBT were withdraw, and CSUN ended up paying in access of $100,000 for the ZBT's legal expenses.
This is not 1993, we have learned from history, and we should not tolerate imperialism whether in academe or abroad.
Rodolfo F. Acuña