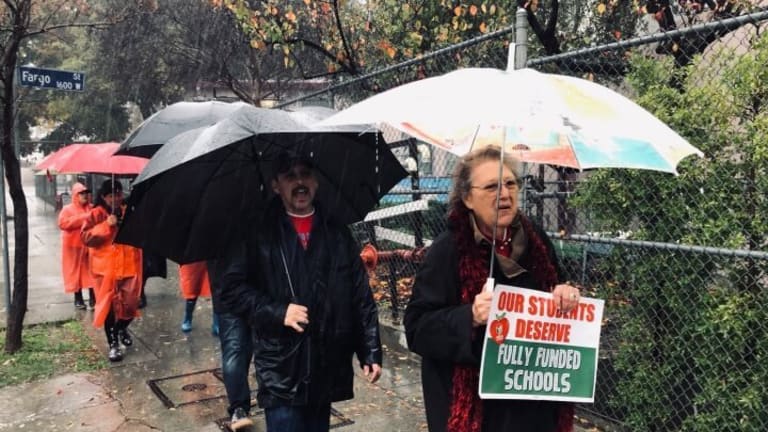 Why Two Moms Support Jackie Goldberg for School Board
Christine Louise Mills and Mia Porter: We were very impressed that Jackie Goldberg literally walked the walk with us, braving the downpour and holding a sign stating "Our Students Deserve Fully Funded Schools."
As parents, we are committed to keeping our neighborhood schools thriving. For us, that means doing everything we can to make Dorris Place and Elysian Heights Elementary, local public schools here in the diverse communities along the L.A. River, into the very best environments we can for sustained learning for all of our kids.
We were very impressed that Jackie Goldberg literally walked the walk with us, braving the downpour and holding a sign stating "Our Students Deserve Fully Funded Schools."
Now, in the March 5 special election for our District 5 seat on the L.A. School Board, we have a chance to elect someone who will support our neighborhood schools as much as we do: Jackie Goldberg.
We give many volunteer hours, help raise needed funds for student projects and classroom materials, and recently stood in the rain with our teachers and fed them at our homes while they were on strike to support the fight for public education. We were very impressed that Jackie Goldberg literally walked the walk with us, braving the downpour and holding a sign stating "Our Students Deserve Fully Funded Schools."
Public schools in our communities in Board District 5 suffered greatly under former board member Ref Rodriguez, who operated under a cloud of suspicion amid evidence of fraud and money laundering from his 2015 campaign for the board. For more than three years in office, this undercut not only his credibility, but also his function on the board, as he often ducked out of meetings and skipped community gatherings where parents sought answers or help navigating school bureaucracy for their kids' sake.
Despite his felony indictments in 2017, Rodriguez in 2018 cast the deciding vote—behind closed doors—to appoint our current superintendent, Austin Beutner, a wealthy banker with no experience in public education or school administration. Beutner, like Rodriguez, enjoys strong support from promoters of charter schools, who seek to expand the costly system of parallel schools that is skimming some of the most privileged students and siphoning needed funds from public schools that serve all households, including homeless students.
This election for school board, to fill the seat that criminal charges and public pressure finally pushed Rodriguez out of, is a chance to turn the page. We can seize that chance by electing an experienced teacher and proven policy-maker to keep, and not break, the promise of public schools for all. That leader is Jackie Goldberg.
In the tenacious efforts of our teachers, families, classified school professionals, and communities during the teachers' strike, we heard a consistent, unified message from Angelenos to the L.A. school board: Serve US and fund our public schools, not private interests.
Jackie Goldberg has the support of UTLA, the teachers' union, as well as grassroots parents like us. We trust Jackie Goldberg's demonstrated passion for and commitment to public education, even when it's raining and requires a fight. We trust her to bring integrity back to our school board, to work to reduce class sizes now, to improve learning conditions for all students, and to keep our neighborhood schools intact.
This special election is an opportunity to put community first. We are sending in our ballots and urging our neighbors to vote March 5 for Jackie Goldberg for Board District 5.
Christine Louise Mills and Mia Porter
Christine Louise Mills was the 2017-18 vice chair of the LAUSD Parent Advisory Committee. A member of East Area Progressive Democrats (EAPD), she volunteers her time as a clean-air advocate and leads the L.A. River Communities for Environmental Equity (LARCEE).
Mia Porter is a local team leader working to end gun violence through the organization Moms Demand Action. She is also operations director of Partners of Dorris, a community support organization for her local elementary school.