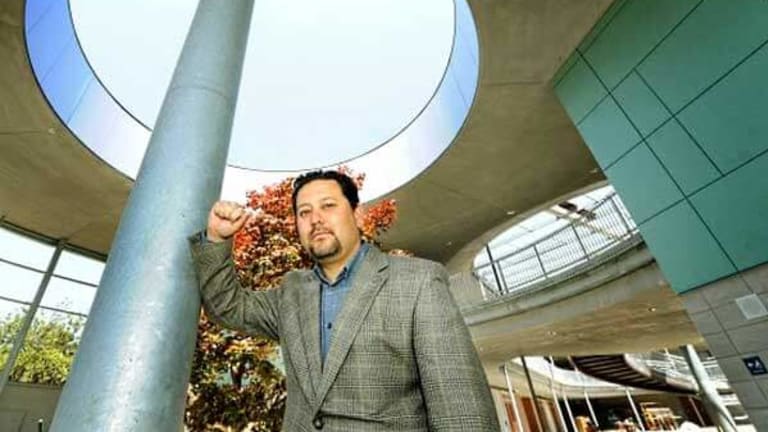 Should PUSD OK a Ramon Miramontes-Led Charter School?
Peter Dreier: School board members and other community residents have witnessed Miramontes' anger management problems and been subject to his abusive and threatening phone calls.
On Thursday, November 6, the Pasadena Unified School District board will vote on a proposal for a new charter school headed by former school board member Ramon Miramontes. Some school board members are understandably wary of approving a school affiliated with Miramontes, whose divisive behavior made the PUSD board a constant battleground, who has alienated many people in the community, and who is known as a bully whose actions hurt the school district and its students, including Latino students whom Miramontes has often claimed to represent.
Conflicts of Interest
In September, Miramontes submitted a petition to PUSD for a charter school called the Altadena Pasadena Olin Academy, which he calls a "K-6 Blended Academy." The "blended" part means that the school will include on-site instruction as well as an online component. In addition to Miramontes, who identifies himself as the new school's president and CEO, one of the new school's board members is Tara Gomez-Hampton, wife of current PUSD board member Tyron Hampton. One would hope that Hampton will recuse himself from voting on the charter school, given its ties to his wife.
Miramontes is currently chair of the board of another charter school, the Los Angeles County Online High School (LACOHS), chartered by the Antelope Valley Unified School District. Gomez-Hampton is also on the board of that school. Over the years, that school has gone by a number of different names, including Insight School in California, an affiliation still used at the online school's board meeting in July. This is a chain of public charter schools that receive public funds, although it appears to have been owned by the Apollo Group, a for-profit company that also owns the University of Phoenix. The school also seems to be affiliated with an Arizona-based organization called Portable Practical Educational Preparation Inc.
LACOHS will apparently play a significant role in operating the Altadena Pasadena Olin Academy. In fact, Jose Salas, LACOHS' principal, will run the new charter school, according to Miramontes' proposal. This connection should raise all kinds of red flags for the PUSD board.
It would make sense for the Pasadana school board to carefully investigate the various personal and financial connections between the proposed charter school and these other organizations. But can the school board rely on John Pappalardo, PUSD's chief financial officer, to provide an objective evaluation of Miramontes' new charter school proposal? After all, at its November 18, 2013 meeting, the LACOHS board, with Miramontes as its president, voted to award Pappalardo a consulting contract.
The PUSD board might also ask whether there are any additional financial ties between Miramontes and Pappalardo, other PUSD staff, and school board members. It should also find out what, if any, financial remuneration Miramontes and other board members of the new school are going to receive.
The Trouble With LACOHS
Equally important, in reviewing Miramontes' proposal for the new charter school, the PUSD board should carefully examine the track record the Los Angeles County Online High School, which appears to be linked with the Altadena Pasadena Olin Academy.
According to California Department of Education records for the 2012-2013 school year (the latest data available), the LA County Online high School ranked among the worst-performing schools in the state.
Fewer than 40% of the students at LA County Online High School are eligible for free and reduced lunch. In contrast, 65% of PUSD students are in this low-income category, but its academic outcomes are much better.
Only about 5% of LA County Online High School students are English Learners, compared with 20% in PUSD.
LA County Online High School has an abysmal cohort drop-out rate of 54%. The rate for PUSD is 9.2%.
The cohort graduation rate for LA County Online High School's Latino students was just 17%. This compares with 82% for Latino students in PUSD.
Only 4% of both African American and Latino students at LA County Online High School are proficient in math.
Several years ago, the California Charter Schools Association (CCSA) recommended that 10 of the 145 charter schools up for renewal be denied their charters because they failed to meet the association's academic performance benchmarks, called their Minimum Criteria for Renewal. One of the schools recommended for closure by the CCSA was the Los Angeles County Online High.
Even if Miramontes had nothing to do with the LA County Online High School, its track record is so troublesome that the PUSD board should be wary of approving another charter school with close ties to LACOHS.
According to the state Department of Education, there are currently six charter schools approved by the PUSD board. At least four PUSD-approved charters – Celerity Exa, Nia Educational Charter, Pasadena Community Prep, and Rhythms of the Village Charter High – have closed for a variety of reasons. In addition, there is one charter school within the PUSD area, Odyssey, approved by the Los Angeles County Office of Education.
Because they receive taxpayer dollars, there is considerable controversy over charter schools throughout the country. Some people believe that charter schools provide parents with choices they can't find within public school districts. Others are concerned that charters drain resources from the public schools.
The report card on charter schools is very mixed in terms of the educational outcomes of their students. Some are great, some are terrible, but overall their performance is no better or worse than public schools.
Because charter schools typically have fewer special needs or English-learner students than public schools, comparing test scores between charters and regular public schools must be done with care and caution. Charter schools' performance is particularly troublesome because there is little scrutiny or regulation of charters by state or local education agencies.
Regardless of how one feels about charter schools in general, the PUSD board should think twice before putting its stamp of approval on a school whose president and CEO, Miramontes, heads another school with such a problematic track record.
Miramontes' Controversies
The PUSD school board members are no doubt aware of other aspects of Miramontes' activities that should raise questions about approving a charter school under his leadership.
Last February, for example, the PUSD school board nullified a $54,000 agreement between Miramontes' consulting firm (Zocalo Strategic Group) and then-Superintendent Jon Gundry. The so-called "contract" – never officially signed by anyone at the district – was hatched soon after Miramontes left his four-year term on the school board. Some school board members at the time questioned why Gundry would want to hire Miramontes to help the district develop a "virtual" English Learner Student (ELS) academy, as well as create program to recruit high school students from China to attend PUSD.
Gundry had not informed the full school board about either initiative. On November 1, 2013, Miramontes' firm sent PUSD an invoice for $8,500 for work it allegedly did in September and October of that year. At a billing rate of $100 an hour, this translated into 85 hours of work, but the invoice did not itemize how many hours Miramontes worked, when he worked, or what he did.
At the suggestion of the district's lawyer, the board agreed to pay Miramontes the $8,500 but to cancel the rest of the deal. In a letter to Miramontes dated February, 2014, Renatta Cooper, then president of the PUSD board, wrote, "There exists no contractual or other obligation between your company and the District. Accordingly, you and your company are not authorized to render services to the District and may not represent to the community that you are representing the district in any fashion."
Miramontes was a disruptive figure on the PUSD board, often harassing administrators, staff, principals and teachers. In 2009, he threatened to withhold his support for Measure CC, the parcel tax designed to increase funding for PUSD, if his school board colleagues voted to give the popular then-Superintendent Edwin Diaz a strong, positive evaluation.
While on the school board, Miramontes served as an advocate for Parent Revolution, an organization funded by corporate foundations to replace public schools with private charter schools.
The Baggett Connection
In 2011, Miramontes recruited and supported Sean Baggett in the latter's campaign for a seat on the PUSD school board. Miramontes continued to support Baggett — including speaking on his behalf at meetings — even after the Pasadena Weekly revealed that Baggett had lied about his educational credentials and employment history and had an arrest record for drunken driving, reckless driving and public urination. Baggett lost his race to incumbent Tom Selinske.
Miramontes continued to do business with Baggett after that. The two of them worked together with a La Puente-based firm, ESL4Asia, to recruit students from China to visit the Celerity Exa charter school, then located in Pasadena, as part of a cultural exchange program. Quickly, however, Miramontes parted ways with both Baggett and ESL4Asian as a result of different disputes. In a June 11, 2013 email to Sally Wu, a co-owner of ESL4A, Miramontes told her that working with Baggett was "very frustrating" and that "I am moving on with my own operation (separate from Sean)." Later, however, he got into a legal wrangle with Wu and her company, too.
By June 27 of last year, he was writing Wu another email, with racist overtones, warning her that "It is about time that you are taught an important American lesson." Wu and her firm hired an attorney, who wrote a letter to Miramontes dated June 28 which noted that "you have initiated a campaign to try and damage and/or interfere with my clients' right to do lawful business here in the United States. My client will not be bullied, threatened nor intimidated by your unlawful actions." Recalling her interactions with Miramontes, Wu recently told me that "He kind of threatened us. We got kind of scared."
School board members and other community residents have witnessed Miramontes' anger management problems and been subject to his abusive and threatening phone calls. In 2011, Miramontes got into a shouting match with mild-mannered Pasadena Mayor Bill Bogaard at a public event, where Bogaard — then 73 years old — warned Miramontes not to push him, according to onlookers.
Following a disagreement with fellow PUSD school board member Elizabeth Pomeroy, Miramontes recruited several people to protest outside Pomeroy's home. Last January, when I was investigating the phony contract between Miramontes and Gundry, I got two angry phone calls from Miramontes.He left messages on my home voice-mail threatening to come to my house and "have it out" with me. The Pasadena Police Department called Miramontes to warn him to stop making the threatening phone calls. This is a far cry from my relationship with Miramontes in 2009, when I endorsed him for the school board and donated $100 to his campaign. For that misstep, I apologize to all those whose have been harmed by Miramontes' activities.
While on the PUSD board, Miramontes taught business courses at LA Southwest College but, according to informed sources, in 2012 he was put on administrative leave after getting into a physical confrontation with another college instructor.
Miramontes' Cole Connection
For a number of years, while teaching at LA Southwest College and also serving on the PUSD board, Miramontes also served as the executive director of the Southeast Cities School Coalition, a nonprofit group started by George Cole. Cole, a former Bell City Council member, was one of several officials convicted last year on multiple felony counts as part of the corruption scandals in that troubled city. Miramontes was the group's executive director from 2009 until sometime last year when the organization dissolved. According to an informed source, Miramontes served as a character witness for Cole at his trial.
In May 2011, Miramontes added to his résumé another job -- executive director of the Bassett Education Foundation -- although it is not clear from its website how many hours a week Miramontes works or what he does for the organization.
These are some of the issues that the PUSD school board should investigate and discuss as they decide whether to approve a charter school headed by Miramontes.
It isn't clear how many votes Miramontes can get for his proposed school. While on the school board, and even afterwards, he was closely aligned with board members Scott Phelps and Kim Kenne. Informed sources say that board member Tom Selinske (whom Miramontes tried to defeat four years ago by backing Sean Baggett), is thinking of running for the Pasadena Community College board and wants Miramontes' support – or at least doesn't want his opposition.
Mikala Rahn, who is close to Phelps, has told some people that she will vote against the Miramontes-led charter school. One assumes that after closely scrutinizing Miramontes' proposal and his troubling track record, board members Elizabeth Pomeroy and Renatta Cooper will oppose giving the school a green light. And one hopes that Tyron Hampton will recuse himself from voting because of his wife's role in the new school. But in the whacky world of PUSD politics, one never knows how board members will vote.
Residents of Pasadena, Altadena and Sierra Madre who wish to weigh in on this issue can contact the elected PUSD board members directly: Kim Kenne (kenne.kimberly@pusd.us); Renatta Cooper (cooper.renatta@pusd.us), Tom Selinske (selinske.thomas@pusd.us), Elizabeth Pomeroy (pomeroy.elizabeth@pusd.us), Tyron Hampton (hampton.tyron@pusd.us), Scott Phelps (phelps.scott@pusd.us), and Mikala Rahn (rahn.mikala@pusd.us).
If the PUSD board does reject Miramontes' school, he may turn to the LA County Board of Education, which also can approve charter schools and which, in the past, has been charter-friendly. If that occurs, one can only hope that its board members – Katie Braude, Thomas Saenz, Douglas Boyd, Jose Calderon, Alex Johnson, Ray Reisler, and Rebecca Turrentine – will raise serious questions about the proposed school's affiliations and track record.
Peter Dreier
Peter Dreier, a Pasadena resident, teaches politics and chairs the Urban & Environmental Policy Department at Occidental College. He serves on the board of the Pasadena Educational Foundation, although these views are his own.