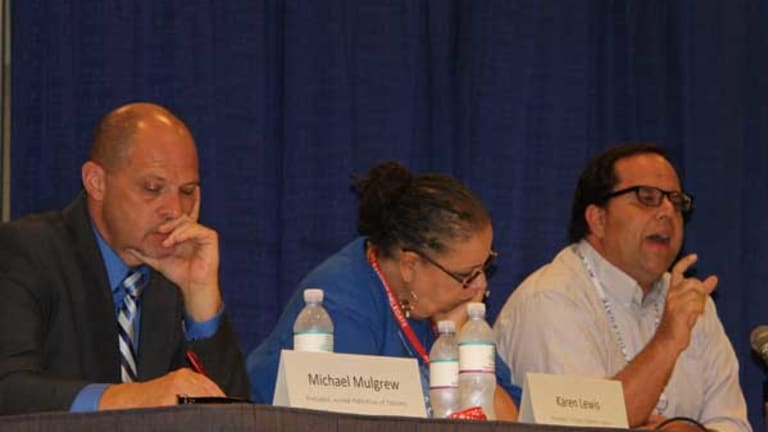 Social Movement Unionism Comes to the Teachers Unions at Last
Lauren Steiner: To see a bureaucratic, top down institution like a teachers union come to the realization that they must work with parents and community organizations as partners and be transparent and inclusive in their negotiating process, was refreshing.
I am an activist and organizer who recently joined the fight against "education reform," which is really code for the attempt by corporations, billionaires and hedge funds and the industry they have spawned, to privatize public education and break the teachers unions. I have been frustrated at the seeming lack of interest on the part of the unions in working with students, parents and community groups in this fight. After all, students are just as adversely impacted by "education reform" as the teachers, and thus their parents and also community organizations who serve children and their parents could be vital allies in this fight against powerful and well funded opponents.
Therefore, I was heartened by a panel I attended at the American Federation of Teachers annual conference in LA this past weekend called "Social Movement Unionism vs. Corporate Reform: Winning Strategies to Turn the Tide." It featured six union officials from LA, New York, Houston, Philadelphia, Chicago and St. Paul sharing their efforts to bring the wider community into their organizing and the various successes they've had. There were 3400 registered attendees at the conference, and 500 of them were in that room, standing and sitting on the floor.
Opening up the discussion was Alex Caputo-Pearl, the newly installed President of UTLA, the United Teachers of Los Angeles. He defined social movement unionism as democratic, engaged with members, parents and community, explicit about fighting racial and social injustice, fighting privatization, taking people on, including Democrats and being willing to strike. He spoke of how at Crenshaw High School, he took on then LA School Superintendant Roy Romer who was head of the Democratic National Committee. He said when Romer got so annoyed and transferred him, the community helped get him transferred back.
He spoke about how when community activist Khalid Ali was beaten up by the police and charged himself with assault, the teachers took days off to support his fight and got him out. They formed the Crenshaw Cougar Coalition which was a coalition of community groups and teachers working for social change. Caputo-Pearl said he wants to take the work he did in South LA and bring it city wide as the new president of UTLA.
He said he wants to make sure every school had a chapter chair and understands that they may have to strike. He said they have to start saving money for that now. He spoke of a resolution to target high need schools and put money into restorative justice.
He has a sweeping plan to reorganize UTLA which has not had certain key positions until now. Now they have a Policy Director, a Director of Research, an Executive Director and a Parent and Community Organizer. They plan to combine a contract and community campaign with a dues restructuring campaign and conduct a blitz of school site visits to talk to people and survey them face to face.
Next up was Karen Lewis, president of the Chicago Teachers Union, CTU, famous for facing off against Chicago mayor and privatization fan Rahm Emmanuel. She said his favorable rating on education is 29%, as his entire platform is teacher bashing.
She talked about defeating his campaign to get teachers to work a longer day based on the false premise that Chicago had the shortest school day, and children were losing a total of four years of school compared to Houston by the time they graduated. He threatened to close schools if teachers didn't work longer days. When she realized that his whole plan was to get teachers to be babysitters, she said "Im from the South Side, so it didn't stop there."
Teachers have direct access to the parents through their children that the astroturf groups don't have, and they need to use it. "Your first conversation with a parent cannot be 'Your child is driving me crazy.'"
She couldn't get support from other labor unions. So she started having conversations, talking with people at every school but mostly listening. She said the key to social movement unionism is that it must come from the ground up. She said they sat around envisioning and asked all members of the community "if you could dream a union, what would it look like."
She said they cannot do great work if the laws are stacked against them. So they ran three members for the Board of Aldermen and won. She noted that they have to build a progressive infrastructure and not depend upon a personality here or there. They have to work with parents. And then she made the point that I had made to the parents I worked with on the Venice High School charter school co-location threat last year. Teachers have direct access to the parents through their children that the astroturf groups don't have, and they need to use it. "Your first conversation with a parent cannot be 'Your child is driving me crazy.'"
The next speaker was Zeph Capo, Vice President of the Houston Federation of Teachers, HFT. His first piece of advice echoed Karen's. "If you do it to the community rather than with the community, they won't come." This seems axiomatic to a community organizer like me. However to large unions which have become bureaucratic and top down, this must sound revolutionary.
In Texas, they don't have the luxury of a collective bargaining agreement; so they have to organize all the time. Capo remarked that they have to compete with multiple teachers organizations, most of them set up by right wing front groups. So they are enlisting the help of other community organizations and unions like the NAACP, the Service Employees Union, SEIU and the Texas Organizing Project, the reconstituted ACORN. He gave an example of how Valero, one of the richest energy companies, tried to get a tax rebate. And they hit the media hard with counter messaging. He said none of the other energy companies wanted to touch it; and eventually Valero backed off.
Next was Jerry Jordan, President of the Philadelphia Federation of Teachers, PFT. He told us they were dealing with legislation passed in 1999 to take over the schools in Philadelphia. He said the legislature and the Governor are Republicans, and the Democrats were not necessarily their friends either. He said the Boston Consulting Group recommended closing 60 schools on one year and then six a year for the next four years. There was not one teacher or principal consulted.
So they called on a number of community organizations to form the Philadelphia Coalition for Public Schools. They started attending every school board meeting and educating parents. They reduced the number of schools closed to 24; and three went charter. $700,000 out of the budget went to charter schools. It is the only line item that is actually growing.
Their biggest challenge was a lawsuit about their collective bargaining agreement which they just won. And the court said they can't eliminate counselors and school nurses. This was a result of a case where two children died, because no nurse was on duty. He said because of their work with community organizations and clergy, they were able to ward off what the privatizers are trying to do, which is destroy the union.
Next up was Michael Mulgrew, President of the United Federation of Teachers. He said two to four years ago, UFT was not discussing social movement unionism at all. But union local leaders know that their strength is in organizing with communities. He told the room that if they didn't believe that powerful well funded interests were trying to kill unions, then they shouldn't be in the room. He said you have to make it really clear to people. Are you with the corporate reform agenda, or are you with the community and teachers?
He said that after "reform" supporter Education Secretary Arne Duncan announced that we need to close the 100 worst performing schools in the country, New York mayor Michael Bloomberg pledged to close 200 in New York City alone. And he was going to use the state legislature to change seniority rights. Mulgrew said "Every time Bloomberg closed a school, we made it like he was going for root canal or to the proctologist." His total approval rating on education went from the mid-70s to 29%.
He said there were four Democrats for Education Reform in the state legislature. DFER is a privatizer front group. Teachers managed to unseat a 33 year incumbent who wasn't paying attention, and now there is not a single DFER in the legislature.
He said they are shifting their resources to community organizing, working on homeless and income inequality issues, because the number of school children living in shelters went from 11,000 to 58,000.
He remarked that for the first time, parents have rights in the teachers contract process, something that would have been seen as out of the question just a few years ago. But he said "Those parents stood by our side. So we have to do something real for them."
Arne Duncan is irrelevant. "If we are going to move our country forward, we have to have a real relationship with our community."
Next up was Mary Catherine Ricker, President of the St. Paul's Teachers Association, SPTA. She said that their union looked for issues related to children and families to organize around. In 2006, they started the Second Chance Coalition in Minneapolis which dealt with such issues as felon re-enfranchisement and voting rights. "A second chance for adults means a second chance for kids."
Because they saw that school nurses offices were being treated like triage centers, they worked with the Children's Defense Fund to secure universal health care for kids. Now 34,000 children have access to health care. And teachers knew that "their union was a place to practice their social justice feelings." They are working on comprehensive immigration reform to reforming the state Constitution which limits the right to marry and vote.
Also, they are scrubbing their own contract of bias and institutional privilege. They have a vibrant immigration community in St. Paul. There are teachers who are not citizens who wanted to take time off to get their citizenship or help family members do so. The union changed it so they wouldn't have to use personal days to do so.
Plus, they opened up their contract negotiations to the public. They explained collective bargaining provisions and asked parents and community members what they wanted teachers to prioritize. They were worried. "What were they going to bring up?" They came back with the same things the teachers wanted: bring back art, music, PE, nurses, social workers and smaller class sizes. She sad that it was the community members from the middle income schools that said you need even smaller class sizes in the lower income schools. That result just blew me away, quite frankly. Finally, she said they working to develop culturally relevant parent teacher conferences.
Although she was not slated to be on the panel, the final speaker was Randy Weingarten, President of the American Federation of Teachers, who said that social movement organizing in one district or two is an outlier. But this is what starts making a movement. She said if this is what our union does going forward, it will "make every child and parent say I need those unions and teachers to be what they are for us."
All in all I found the panel to be very inspiring. To see a bureaucratic, top down institution like a teachers union come to the realization that they must work with parents and community organizations as partners and be transparent and inclusive in their negotiating process, was refreshing. But what was even more heartening was to see the St. Paul teachers union actually working on issues that didn't affect them directly like universal health care for children and felon re-enfranchisement. I would have liked to know if the other cities have acted similarly.
As St. Paul found out, not only does it help teachers "find a place for their social justice feelings," it can help the teachers with their issues as well when the other groups reciprocate. Ultimately all issues are connected. If we join together to fight the 1% who are trying to privatize and gain control of so many things that belong in the public commons, be it public schools, public lands, the internet or even the US Postal Service, we can prevail. There is wisdom to the words we chanted at every Occupy protest: "The people, united, shall never be defeated."
Lauren Steiner
K-12 News Network's "The Wire"
Originally published in K-12 News Network's The Wire