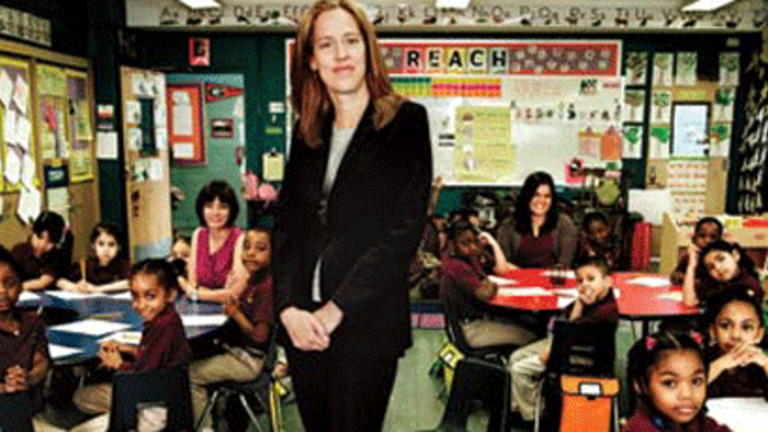 Young People Should Think Twice About Teach for America
Randy Shaw: Instead of becoming a vital training incubator for young teachers committed to improving schools, TFA is just as likely to demoralize young people and turn them away from schools and activism.
A record number of young people have applied to Teach for America this year, confirming the program's continued popularity. TFA offers "your chance to change things" to idealistic young college graduates eager to help low-income students. Typically sent to the most challenging schools, TFA teachers work day and night to help their students succeed.
But enough time has passed since TFA's founding in 1990 to reach a clear conclusion: the program has failed. It has failed to reduce the income-based educational achievement gap, failed to generate public or political support for increased school funding, failed to reduce school class size, and failed to increase high-school graduation rates among its targeted socioeconomic population.
Instead of becoming a vital training incubator for young teachers committed to improving schools, TFA is just as likely to demoralize young people and turn them away from schools and activism.
Teach for America has been controversial from the start. The primary reason was its minimum two-year commitment, and the sense that, as the New York Times put it in 2010, it "has become an elite brand that will help build a résumé, whether or not the person stays in teaching."
But all teaching jobs have high turnover, and an increasing percentage of TFA teachers do stay beyond two years. The VISTA attorney program of the 1960s and 70s placed new lawyers in Legal Aid offices for similarly short tenures, benefiting underserved communities. So TFA's short two-year commitment is among the least of its problems, and its original goal of supplementing the existing teacher cadre with highly motivated young people was a positive step.
But times, and TFA's function in public education, have changed.
A Changed School Environment
Teach for America developed in the 1990's, when funding for public schools was increasing and progressive reforms like "small schools" were on the table. These were the days before the Republican Party began opposing school funding as a vehicle for boosting teachers unions, and before corporate and billionaire-backed groups made high-stakes testing and teacher "accountability" rather than smaller classes or schools the hallmark of "reform." But as the recession hit state governments in 2008, TFA became short-term replacements for career teachers laid off due to budget cuts. Other districts, according to a TFA teacher in Colorado Springs, Colorado "appear to cycle through Corps members every two years, with high turnover among TFA teachers who are in turn replaced by a fresh slate of bushy-tailed, ill-trained corps members."
Using the example above, this would be the equivalent of the VISTA attorney program replacing veteran legal aid attorneys with those right out of law school. Or of Legal Aid offices only filling new positions with short-term recent law grads, most of whom would then leave before gaining much legal experience. Neither action would have benefited the underserved communities that the VISTA program claimed it sought to serve.
Even worse, the current low-income education environment of increased child poverty, homelessness, malnutrition, and shrinking school budgets have increased class sizes and obstacles to educational success. Yet in the face of all these obstacles, TFA still promotes a "waiting for Superman (or Superwoman)" narrative in which all can be overcome by the diligence of dedicated young teachers from elite schools who know how to succeed.
No wonder TFA is so popular with wealthy donors. It helps explain why developers have given the program office space in renovated historic commercial buildings in Baltimore and Philadelphia intended to also house teachers, despite the short-term, two-year commitment for TFA participants.
Demoralizing Young People
Unfortunately, TFA often demoralizes the idealistic young people attracted to the program. And while I have read testimonials from teachers thrilled by the experience, I have spoken to many TFA veterans and am struck by the similarity of their stories.
First, TFA teachers get little to no support at the school site. While many question TFA's putting a recent college grad in a classroom after TFA's basic five-week training period, the lack of post-placement support leaves these young people adrift.
Second, TFA teachers are routinely placed in overcrowded classrooms that would be challenging even for veteran teachers.
Third, TFA teachers are disproportionately placed in failing schools that suffer from weak or dysfunctional leadership.
The TFA teachers I have encountered have not come away from their experience believing, as the program's website describes, that they have been part of a "movement of leaders who will help drive change at every level of our education system toward the goal of closing the achievement gap." To the contrary, they are left believing that the public school system is more troubled than they realized and that closing the achievement gap involves addressing broader poverty issues that teachers are helpless to solve.
By throwing top quality young people into circumstances where they cannot succeed, TFA drives many people away from teaching and educational reform altogether. Young people are willing to put up with adversity where they feel they are making a difference, but TFA leaves far too many despairing over the barriers to change.
TFA's success depends on the enactment of a broader anti-poverty agenda, but it cannot openly acknowledge this without undermining its case with funders. So it continues to recruit and burn out young people, while becoming the leading source of "guest workers" for urban schools.
I understand that young graduates have so few options for paid work combating social and economic injustice that Teach for America jobs will remain highly prized. And for those who want to teach for two years before heading off to law or business school, the program offers a good transition.
But TFA is not about "movement building," and those seeking real ways to make a real difference in the world should look elsewhere.
Randy Shaw
Beyond Chron
Tuesday, 7 May 2013