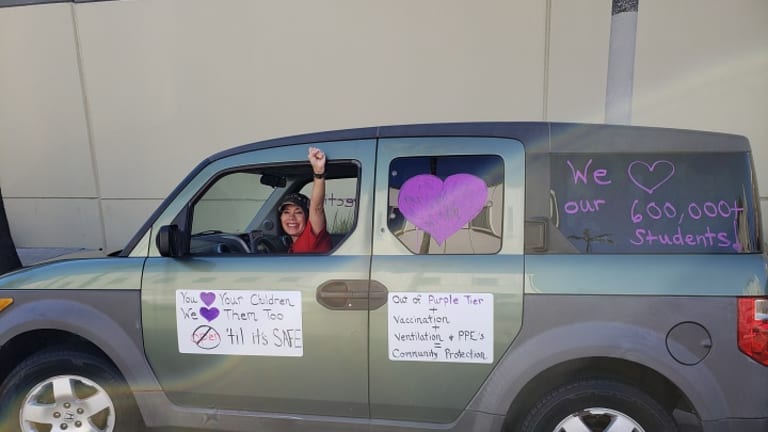 Los Angeles Teachers, Parents Stand Up Against Politicians' Threats
Mark Friedman: Teachers, backed by parents, have actively responded to this attack on their UTLA union for demanding a full complement of safety measures.
Despite pressure from local politicians, businesses, Gov. Gavin Newsom, Mayor Eric Garcetti, and the Los Angeles Times, teachers throughout California—and especially in Los Angeles—have mobilized to demand vaccinations before school reopening.
The teachers, backed by parents, have actively responded to this attack on their United Teachers of Los Angeles (UTLA) union for demanding a full complement of safety measures. They note that this is the same lineup of forces who opposed the teachers strike 18 months ago that transformed UTLA into a much stronger union and won important victories.
On Saturday, February 20, a 100-car caravan stretched through downtown Los Angeles—sponsored by Students Deserve, Alliance of Californians for Community Empowerment, Los Angeles Alliance for New Economy, Eastside Padres Contra Privatization, Reclaim Our Schools, and UTLA.
Cars were adorned with bilingual signs saying Not My Child, Schools Are Not Safe; End Educational Racism; Teachers Lives Matter; AND Don't Save the Economy by Risking a Child's Life.
Teachers, backed by parents, have actively responded to this attack on their UTLA union for demanding a full complement of safety measures.
The February 17 Los Angeles Times editorial denounced the teachers for not returning to work without vaccinations and also attacked LA school superintendent Austin Buettner for not forcing the teachers back.
The editorial also said "the union is jeopardizing its own popularity. If it continues to put the needs of students and families last." Such hypocrisy from a newspaper that attacked the strike by teachers for improved conditions and reduce class size in the schools.
As a 17-year veteran teacher, I agree with other teachers by saying that we shall not lose our popularity by standing up for health and safety of teachers, parents and students.
As teachers, we work closely with students, physically and academically. NOT vaccinating us before re-opening is a recipe for disaster, teacher infection and hundreds getting sick. Would substitute teachers then accept such conditions with a LA youth infection rate of 30%?
In response to the scores, if not hundreds of letters, sent to the Los Angeles Times, Paul Thornton, the letters editor, was forced to respond, noting his shock at the number of teachers affirming their desire to return to work safely. He attempted to half-heartedly distance himself from the vicious editorial.
Luis Mora, a Harbor-area teacher told Random Lengths "We are in this together, and together is how we get thru the pandemic. Schools are the community so protect them. We should be protecting everyone; all workers, servers, grocery workers, nurses, teachers, parents and children."
Beth Clark of the Westminster Avenue elementary school, told the media, "We are out here to protest for my students and my student's families. The we are not out of the purple tear, teachers have not been vaccinated, there is no proper ventilation in many schools, so we need to protect the 600,000 families."
Other teachers who spoke to this reporter included Wade Kyle, a 4th and 5th grade special education teacher. "Reopening schools prematurely is irresponsible. As a teacher it would be my worst nightmare to learn a student contracted Covid 19 from my class. Especially if that student brought the virus home and their parents were hospitalized. We can only open when it is safe for everyone."
"UTLA stands strong with parents and students. Let's be clear, our members have been working hard since the beginning of the pandemic and continue to do so," UTLA organizer Mario Valenzuela told this reporter. "We want to physically return to our classrooms ASAP as well, but only when it's safe for all. The vast communities that we serve are disproportionately impacted and have disproportionately less access to vaccines and healthcare. We want to go back in when the infection rate gets us below the purple tier, when we have access to vaccines, and when we can all be guaranteed PPEs, social distancing, well-working ventilation systems and an effective cleaning & sanitation regimen. We also urgently need reforms to support students' immediate needs for do's stance learning and an end to educational racism"
Parents also participated in the caravan including Jazmin Garcia who told the pre-caravan assembled, "We seek a safe environment in the schools. The virus has impacted the Black and Brown communities the most and a premature opening will negatively affect us. We say vaccinate teachers now. We reject Governor Newsom's plan to reopen without this. Black parent voices are being ignored. The rich and primarily white politicians are pushing for reopening. We are happy that school police are out of the schools, a victory we have won and more nurses in the schools won through the strike."
Jsane Tyler, representing Powerful Parents of the LA, told this reporter, "As Black parents, we would love to send our kids back but campuses must be safe."
Opposition to opening the schools without vaccinating teachers is not unique to Los Angeles.
The California Federation of Teachers released the results of a recent poll of 1,217 of its members who are educators and classified professionals across California. The poll found teachers and school workers are eager to return to in-person instruction and agree by overwhelming margins that vaccines and multi-layered mitigation strategies must be at the center of any effort to reopen schools for in-person instruction.
In the poll, over 89% of educators and classified professionals rated as extremely important or important each of the following items when considering returning to in-person instruction:
Ensuring a COVID-19 vaccine is readily available for all educators and classified professionals. (90% extremely important or important.)
Having an adequate supply of personal protective equipment, or PPE, including masks, gloves, face shields, and cleaning equipment. (90% extremely important or important.)
Having ventilation plans that take weather and air quality into account and maximize fresh air circulation. (90% extremely important or important.)
Okay, where I wanted to know Having regular testing available for all educators and classified professionals. (89% extremely important or important.)
"This poll confirms that, by overwhelming margins, educators and classified professionals agree on the safety measures that are essential to safely resume in-person instruction. We want to be back in the classroom as soon as we can do so safely," said CFT President Jeff Freitas. "Safe, phased-in approaches that include vaccinations for school workers are already underway in districts throughout the state. These districts should serve as a guide for safe resumption of classroom teaching in districts across California."
More vaccines on the way
Gov. Newsom just announced that California will be receiving 1.27 million doses of the vaccines this week. Yet, Newsom has repeatedly argued against guaranteed vaccinations for teachers before in-person education resumes, saying the state does not currently have enough supply to inoculate teachers without making older and vulnerable Californians move further down the priority list. The vaccines exist. Do the math. So, it clearly becomes a political attack on the teachers' union not to vaccinate.
A solution is to postpone over 65 vaccinations for one day and vaccinate all school employees statewide with the 200,000 doses available daily.
And under political pressure, Mayor Garcetti has announced that 10% of the vaccines the County will receive will be dedicated to teachers beginning March 1.
But why not vaccinate all the LA County teachers and school employees in a single day (about 40,000) and then begin the process of reopening after they receive their second dose, as I and other have called for?
Those who are pushing for school reopening's without adequate safety measures cite the proclamations by President Biden and the Centers for Disease Control and Prevention (CDC) recommendations. But we must understand that the CDC is again under political pressure NOT to do what they scientifically know is right. Politicians are playing with our lives. And Biden does what big business advises.
With vaccine shortages, let's mandate Moderna/Pfizer/Johnson & Johnson to share formulas with production facilities worldwide? They exist. Without real international collaboration, thousands will unnecessarily die.
Jonas Salk gave the polio vaccine freely to the world. Why are we hindered by the "Intellectual property" of big pharma; costing thousands of lives?
Mark Friedman