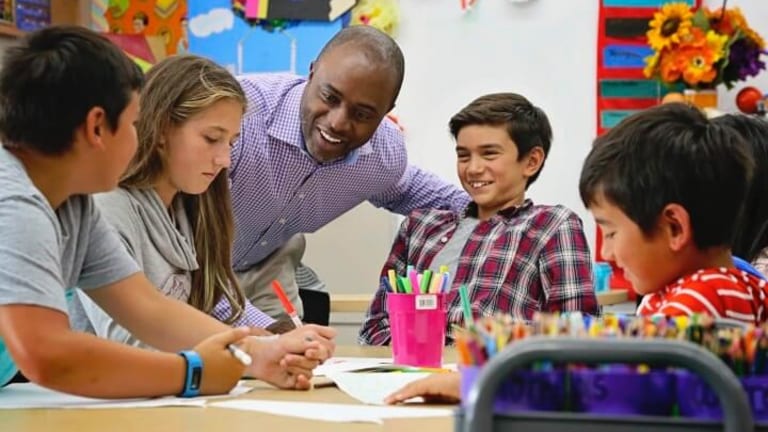 Why I'm Voting for Tony Thurmond for CA Schools Chief
Marcy Winograd: Thurmond has spent his years in the state legislature successfully passing legislation to provide millions of dollars to school districts to keep kids in school and out of the criminal justice system.
This November,, Californians can choose a candidate for State Superintendent of Public Instruction with a track record of supporting our public schools – Oakland Assemblyman Tony Thurmond – or another far less qualified candidate Marshall Tuck—whose allegiance to the school privatization agenda threatens to bankrupt public school districts.
I am a retired public high school English and special education teacher with 25 years experience in the Los Angeles Unified School District. For me, there's only one right answer on this no-brainer.
I'm voting for Tony Thurmond, a 20-year social worker, with 12 years experience working in schools, who served on both the Richmond City Council and the West Contra Costa School Board before his election to the State Assembly in 2014.
Though both Thurmond and Tuck are registered Democrats, only Thurmond won the endorsement of the state Democratic Party – this with 89% of the delegate vote after Thurmond delivered an electrifying speech at the state convention in San Diego.

Thurmond: Champion of Early Childhood Education
Thurmond's plan to close the achievement gap and improve California's public education system is one that advocates for universal preschool, innovative curriculum, school-based health and mental health services, a greater emphasis on science and technology and more money for California's starving public schools (ranked in the bottom 10 in the nation in per pupil spending).
Thurmond has spent his years in the state legislature successfully passing legislation to provide millions of dollars to school districts to keep kids in school and out of the criminal justice system, setting aside funds to give foster youth the opportunity to attend college and increasing funds for career technical education..
Thurmond's legislation AB 435 provides more subsidies to early childcare services for low-income families, while his AB 1014 moves $35 million from the California prison system to local school districts to invest in programs – after school activities, job placement, counseling – to reduce truancy – considered an early warning sign that a student may drop out of school.
As Chair of the Budget Subcommittee #1 on Health and Human Services, Thurmond secured resources in the California State Budget for county welfare offices for Medi-Cal eligibility administration, caregiver resource centers, medical clinics to extend urgent care hours, an HIV prevention outreach program, syringe exchange programs and mental health advocacy for veterans, youth and racial and ethnic minorities.
Tuck: Wall Street & the Billionaire Boys
While Thurmond toiled in the trenches as a social worker, running programs for foster youth and mental health afterschool programs, Tuck worked as an investment banker on Wall Street, rubbing shoulders with billionaires looking for the next hot stock. Later, Tuck—a Harvard business school graduate – became Chief Operating Officer for Los Angeles' Green Dot charter school chain, which operates 29 charter schools throughout California.
Green Dot schools are far from the wild success story that Tuck purports them to be. Green Dot school Animo Charter in Inglewood had the lowest test scores among all charter school chains – scoring zero percent proficient in 2005, 2006, and 2007 in student readiness in English to enter Cal State University.
Tuck's biggest backers – the California Charter School Association and the Waltons of Walmart fortune – are tethered to Education Secretary Betsy DeVos' education privatization agenda that seeks to rob public schools of funding and funnel those dollars into charter schools that operate in the shadows.
Out of the public eye, charter schools may hire administrators without credentials, use textbooks that lack state approval, appoint unaccountable school board members and cherry-pick their students to cast off the highest need students – special education students, English learners – to the neighborhood public school. Tuck's list of supporters and benefactors – Walmart son Jim Walton (net worth 45 billion), real estate magnate Eli Broad (net worth 6.7 billion), venture capitalist Arthur Rock (net worth 1.1 billion) is a who's who in the contemporary world of public education deconstruction, leaving far too many students behind and an education system ripe for Wall Street bankersready to capitalize on a profitable burgeoning education market.
Thurmond: Boosting Achievement & Fighting for Student Health
When elected in 2008 to the West Contra Costa School Board, Thurmond faced a Herculean job – improving a district struggling with low reading scores, dilapidated classrooms and unpaid debt. During his four year tenure, Thurmond led efforts that helped the 40,000 student district improve in all areas -- increasing the number of students taking and passing advanced placement exams by 31%, increasing the graduates completing A-G courses college entrance courses by almost 30 percent and reducing suspensions by 27% in one year. Under Thurmond's leadership, the District paid off a state loan eight years ahead of schedule and created the District's first ever youth commission to engage students in decision-making to improve academics, safety and food quality—an important aspect of the school day for a child.
While Tuck laments that Democratic Sacramento politicians have invested too much in environmental protections and health care at the expense of education, Thurmond understands that funding need not be an either or proposition. As the fifth wealthiest economy in the world, California can afford to ensure its children grow up in a healthy environment, with access to healthcare, and while attending a school that is well-resourced.
One of Thurmond's crowning achievements was the signing into law of his AB1496 to measure and monitor methane gas emissions, one of the biggest contributors to greenhouse gas emissions and air pollution that leaves our asthmatic students reaching for their inhalers. Even more frightening, accumulation of methane gas inside school buildings can lead to dangerous explosions that jeopardize the lives of our students.
"Without a comprehensive, scientific understanding of the role methane has as both a greenhouse gas and an air pollutant, California will never meet its environment goals and our communities will continue to suffer," said Thurmond.
That understanding is one Thurmond will pass on to California's children as legislation he coauthored – SB 720 – will ensure every public school district teaches environmental literacy.
Tuck: Teachers Vote "No Confidence"- Parents Seek Legal Help
In 2008 Tuck stepped down from Green Dot to become CEO of the Partnership for Los Angeles Schools (PLAS), a small group of privately managed LAUSD public schools that included elementary, middle and high schools.
Recalled Tuck in an interview with the San Diego Union Tribune, " …when I left Green Dot, we were opening new schools and building new cultures and then doing some you know, turnarounds, to the Partnership where we were doing you know turnarounds of existing schools."
This "turnaround" resulted in PLAS schools underperforming compared to LAUSD schools with similiar demographics, despite millions raised in additional private funding.
Moreover, in nine out of ten PLAS schools, Tuck received landslide votes of "no confidence" from teachers.
In Watts, at Ritter Elementary school, where 42% of the student body were English learners, Tuck unilaterally abolished a prized dual language immersion program, outraging parents who accused him of disregarding their civil rights and violating the State Education Code, one Tuck routinely rails against for its regulations.
Meanwhile, students at Santee HS in downtown Los Angeles complained vociferously when Tuck slashed their popular ethnic studies classes in which they discussed racial and gender stereotypes, as well as their cultural heritage.
What Tuck lacked in ability to improve educational outcomes he made up for with punitive policies against students of color.In the last year of Tuck's tenure, 2012-2013, Markham Middle School and Samuel Gompers Middle Schools reported suspension rates of 14% and 17% respectively—shameful statistics in light of the overall LAUSD suspension rate of 1.7%. According to arecent report from the UCLA Civil Rights Project suspensions resulted in over 760,000 days of lost instruction in the 2016-2017 school year alone, with students of color in grades 7-8 the most impacted, a particularly distrubing finding because repeated suspensions set up students for failure, for what policy makers term "push-out"—pushing the most challenging students—the ones who need counseling and mentoring the most—onto the street to drop out of school althogether in 9th grade. This is what they call the school-to-prison pipeline.
Both say they oppose "for-profit charters" but …
Tony Thurmond assures parents he is not anti-charter school – he's pro-charter school accountability, which translates into open meetings, elected boards, equitable and fair attendance policies, responsiveness to public records requests and due process rights for students. Both Thurmond and Tuck oppose for-profit charter schools, but what Tuck won't tell you is that there's profit in non-profit; in other words charter school operators and their friends can make out like bandits paying administrators whopping salaries from public taxpayer dollars(Green Dot's President makes almost $300,000), flaunting their exemptions to state conflict-of-interest laws regarding purchasing to throw business to friendly textbook companies and even competing with neighborhood district schools for public bond money to pay off the mortgage on pricey buildings purchased by corporate charter school shell companies.
This Teacher's Call to Action – Vote Thurmond on or before November 6th.
Ultimately, we need a state schools chief who believes in our public schools and public teachers, not one who goes to war against them.
California voters must decide: vote for the teachers' choice, Tony Thurmond, or the billionaires' choice, Marshall Tuck.
We need Tony Thurmond, a candidate with a proud legislative record to fight the DeVos privatization agenda and to harness the abundant resources of California to best serve our diverse and promising students.
Marcy Winograd
Marcy Winograd is a retired public high school teacher with the Los Angeles Unified School District. She serves as an Executive Board member of the Progressive Caucus of the California Democratic Party.