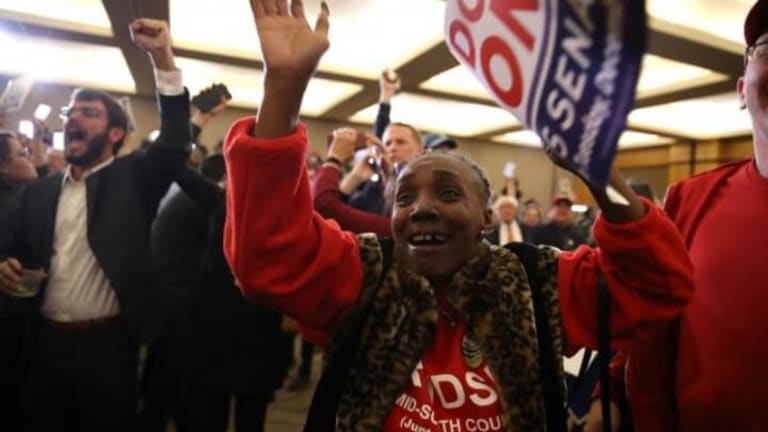 After Alabama: Say 'Thank You' to Black Women, and Mean It
Aimee Allison: For the first time in my 25 years of political advocacy and electoral work, the truth about the central role black women play in ensuring justice in this country is breaking through.
Let's be clear on who deserves gratitude for Tuesday night's Senate victory in Alabama: Black women.
For the first time in my 25 years of political advocacy and electoral work, the truth about the central role black women play in ensuring justice in this country is breaking through. Black women are the most loyal Democrats, with the highest consistent turnout of any race and gender. We win elections, period.
For the first time in my 25 years of political advocacy and electoral work, the truth about the central role black women play in ensuring justice in this country is breaking through.
Senator-elect Doug Jones owes his victory to the exceptionally high black voter turnout, especially to black women. Black women made up an extraordinary 36 percent of Jones' vote (calculated from exiting polling.) This in a state where the black population makes up close to 27 percent of Alabama yet represented 30 percent of the voters in Tuesday's special election. A staggering 58 percent of Jones' votes came from black voters; and the race was decided by a mere 21,000 votes. If black women, and black voters in general, had not turned out to the polls at higher rates than their population, Jones would not have won.
Let's be clear: Jones did not win because his team prioritized black voters, who make up some 73 percent of the state's Democrats. As of November, according to FEC data, the Jones campaign spent $7 million of $9 million on television ads targeted mainly at white voters, the majority of whom voted for accused child predator Roy Moore. Jones won because black women crafted and executed an independent, under-the-radar voter turnout operation in neighborhoods and organizations across the state and got the job done. They are the reason black voters overperformed in this election; even voters from rural areas of the black belt where neither campaign was present showed up.
Jones, and Democrats across the country, should be saying thank you to the 98 percent of black women and 93 percent of black men in that state who turned out in huge numbers to defeat a predatory candidate with racist and homophobic positions. (By the way, 63 percent of white women and 72 percent of white men voted for Moore, according to The Washington Post's exit polling.) These black voters faced down voter suppression hurdles to win the election. But in particular, they should be saying thank you to black women.
Black women were the brains and heart of the black turnout efforts in Alabama. Unsung hero and Alabama native and political consultant and former Obama administration official DeJuana Thompson of Think Rubix and Woke Vote activated a network of churches, historically black colleges and universities, prisons, small businesses, organizations, and neighborhoods.
Adrianne Shropshire of BlackPAC and LaTosha Brown of Black Voters Matter coordinated hundreds of canvassers to speak directly to black voters.
Marvin Randolph, president of the Southern Election Fund, who ran the largest black voter mobilization in history in support of Barack Obama's 2007 presidential primary, coordinated calls to tens of thousands of Black voters the week of the election.
Arisha Hatch, head of the Color of Change political action committee, led the effort to text Black voters throughout the state.
Black women also set in motion the current climate in which powerful men are being publicly held accountable for sexual misconduct. We owe a deep debt to the decade-long work of Tawana Burke who founded the #MeToo campaign. In fact, Alabama is once again at the center of the fight for Civil Rights, a legacy that harkens back, at minimum, to the godmother of the movement, Rosa Parks. While made famous for her protest in refusing to stand for a white public bus passenger in Montgomery, earlier Parks was an NAACP organizer defending a young mother who was gang raped in 1944 in Abbeville, Ala. Parks led a national campaign to end sexual assault against black women, a vile and too common a crime in the Jim Crow era.
Black women are once again leading a broader body politic. We black women, and the black women in Alabama, are the conscience of America. We provide a moral clarity that is indispensable for a just politics in the Trump era. That the Republican National Committee and conservative donors went all in for Moore in the last weeks of the campaign despite reports of Moore being accused of sexual predation and pedophilia, and his glowing comments about the era of slavery, shows how far Republicans are willing to go to win, even if it means abandoning core principles of basic decency.
Giving thanks to black women is only the start. Real gratitude from Democrats prioritizes black women's leadership and strategy, directs money into voter engagement led by the community itself. Real gratitude elevates black women leaders and candidates. From this point forward, campaigns and operations should invest heavily in black voters as well as the people of color and progressive white electorate who comprise the New American Majority that can win the 2018 congressional and gubernatorial contests in the coming months.
Democrats must learn the lessons from Alabama and the recent gubernatorial contest in Virginia. Black women were one of the most impactful political players in last month's election in Virginia in which Democrats claimed statewide and local victories, where black women showed up at 91 percent for Democratic candidate Ralph Northam, compared to 51 percent of white women who voted for Trump-style nationalist gubernatorial candidate Ed Gillespie.
In Alabama, black voters, especially black women, were crucial in the victory of the newly-inaugurated Mayor of Birmingham, Randall Woodfin, who at age 36, energized a younger black electorate to beat longtime incumbent William Bell by 18 points. One third of the votes Jones needed to win came from Birmingham alone. Woodfin's race, and the pivotal role of Black women in Birmingham, shows what's possible for Democrats in a off-year election with an energized and deeply-connected electorate. If we can win under these conditions — in the holiday season and in the deep red South — we can win everywhere.
Democrats, this is what thanks to black women should look like: It looks like Doug Jones putting black women on his transition team and staff. It looks like advocating for expanded health care and maternal health. It looks like fighting for education and small business funding. It looks like ending voter suppression. It looks like standing tall against the racist, sexist, homophobic policies of the Republicans. It looks like strong support for black women candidates in 2018, like Georgia Minority Leader Stacey Abrams who is running for governor who would become the first black woman governor in U.S. history and turn the state blue.
Doug Jones and the Democrats need to acknowledge who showed up on Tuesday in Alabama, who was on the front line, and who they are in office to serve. It was black women.
We will no longer be hidden figures. Support us. Trust us. We — black women — are leading a powerful multiracial coalition and making this country more just and equitable. You cannot afford to take us for granted anymore. Say thank you, and mean it.
Aimee Allison
The Hill
Republished with the author's permission.