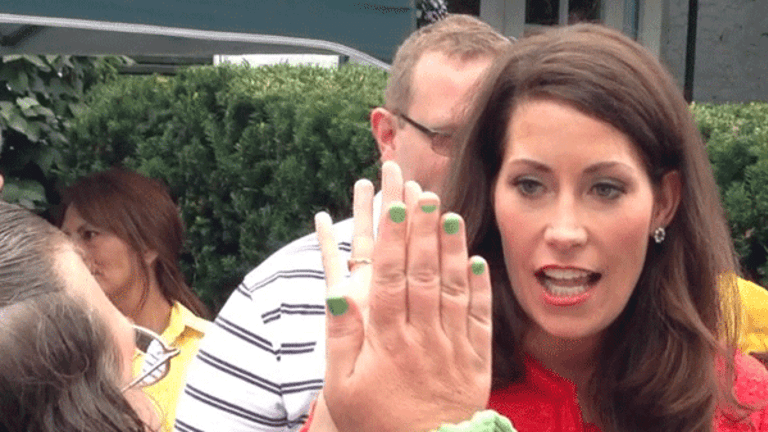 The 'Southern Steel Magnolia' from the Bluegrass State
Berry Craig: Team Mitch keeps serving up fat pitches that Alison Lundergan Grimes keeps knocking out of the ballpark.
Team Mitch keeps serving up fat pitches that Alison Lundergan Grimes keeps knocking out of the ballpark.
Grimes, Kentucky's secretary of state, is Republican Sen. Mitch McConnell's all but certain Democratic foe in next year's senate race.
Anyway, The Hill, the Washington insider newspaper, recently reported that a junior-level employee at the National Republican Senatorial Committee posted a tweet that showed Grimes' face stuck on the model nicknamed "Obama Girl" back in 2008.
"Is Alison Grimes The New 'Obama Girl'?" the tweet tittered. Iris Wilbur, a McConnell campaign bigwig, re-tweeted the tweet, according to The Hill.
Grimes smacked Wilbur's sexist hanging curve ball into the cheap seats. (Yes, women can be as sexist as men.)
"The NRSC should stand for Notoriously Repeating Sexist Comments – they cannot relate or connect with the women of Kentucky or our country," The Hill quoted Grimes. "The incredibly inappropriate comments from Sen. McConnell's team mark a developing pattern and demonstrate just how out of touch McConnell is with the women of Kentucky."
Grimes likes to point out that 53 percent of registered voters in the Bluegrass State are women.
"Obama Girl" wasn't the first sexist slam to come Grimes' way. In a Hill interview a few weeks ago, Brad Dayspring, NRSC communications director, dissed Grimes as an "empty dress."
In a TV ad, McConnell piled on, calling Grimes "Obama's cheerleader in Kentucky." Okay, guys can be cheerleaders, too. I heard Grimes josh that she had the hair to be a cheerleader, but lacked the coordination.
Yet it seems to be her grit, more than her wit, that's got Democrats fired up in Kentucky and beyond. Even we liberals like her, though she's not one of us.
Grimes is a moderate who sometimes distances herself from President Obama, who lost Kentucky big-time both times he ran. I'm not cool with any Democrat holding the president at arm's length. I voted for Obama in '08 and '12 and even chipped in a few dollars to his campaigns.
But this union-card carrying Hubert Humphrey Democrat understands political realities in the Bluegrass State, where I have lived all 63 years of my life. (Obama does, too.)
So I'm on the Grimes bandwagon as is the president, as well as most other Kentuckians of my political persuasion. (We're on the endangered species list.)
Grimes' left-leaning out-of-state supporters include the folks who run the Politcus USA website. They admiringly call her an "all Southern steel magnolia with her gorgeous smile and her sugar coated daggers."
Here's more from the website: "Obama Girl? Yes, of course they would call this very powerful woman whose popularity and strength they can't fight an 'Obama girl'…. They can try to reduce Alison Grimes to a sex object Obama girl, but it's not as if Ms. Grimes hasn't dealt with this sort of immaturity before. It starts in about the 6th grade."
Team Mitch and its captain apparently think Grimes is a grade school little leaguer unready for grownup, big league politics. They say she's only 36 and is in the only elective office she's sought. They're proud to tell you that their guy is Kentucky's longest-serving senator.
Grimes is just as quick to point out that she beat incumbent Elaine Walker in the 2011 Democratic primary. Walker was appointed secretary of state by Steve Beshear, Kentucky's popular governor, who won a second term in a landslide at the top of the ticket that included Grimes, who drubbed her GOP opponent, too.
More recently, Grimes proved she can do better than hold her own against McConnell. They crossed paths on the campaign trail for the first time at Kentucky's famous Fancy Farm political picnic, where the August weather, pit barbecue and politics are spicy hot.
With McConnell looking on, Grimes kept her cool and cut loose with a quip that has become the signature line of her campaign: "If the doctors told Sen. McConnell he had a kidney stone, he would refuse to pass it."
Though McConnell managed to force a weak smile, he looked like he really did have a kidney stone. With humor and panache Grimes had bested the old master of meaner-than-a-junkyard politics.
Fancy Farm was a close encounter of the worst kind for the senate majority leader who hastily decamped after Grimes sat down and before Matt Bevin, his tea party tilting challenger, got up to speak.
Meanwhile, the polls – albeit from Democratic-friendly groups -- show Grimes with a slight lead or tied with McConnell. You can bet if Team McConnell had any GOP polls to counter the surveys, they'd be trotting them out.
McConnell has seen the election shift from in-the-bag for him to a tossup. To get to Grimes, McConnell has to get past Bevin. Grimes has all but a free ride in the Democratic primary against weak opposition.
In any event, back when Dayspring let his mouth overload his you-know-what, as we say in Kentucky (We really say something other than "you-know-what."), the Huffington Post quoted Jess McIntosh, communications director at EMILY'S List, the group that supports for office pro-choice Democratic women like Grimes:
"Republicans think a substance-free insult is the right way to deal with a qualified, popular woman challenger – at least their rhetoric is consistent with their anti-woman policies.
"The only surprising part of all this is the GOP's continued unwillingness to understand that other women –- including Kentucky women -– can hear them when they say this stuff. It's why women turned out in historic numbers for Democratic candidates last election, and it's why we'll see a repeat next November."
If McConnell loses, it just might be because he waged what the Democratic Senatorial Campaign Committee calls "the most misogynistic campaign ever." That may be a tad heavy on the hyperbole, but Team Mitch is proving to have the same tin ear on women's issues that losing Team Romney had last November and losing Team Cuccinelli had this November.
And as along as the McConnellites keep it up, Grimes, batting cleanup for Team Switch, will keep on swinging for the fences and connecting on the potential political equivalent of Reggie Jackson's immortal howitzer shots in the '78 World Series.
Berry Craig
Saturday, 23 November 2013