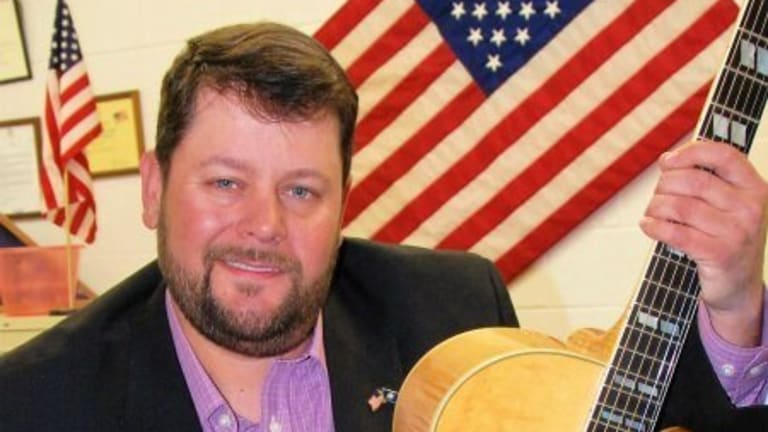 Can Alonzo Pennington Thumbpick His Way into Congress?
Berry Craig: Pennington, 38, is a guitarist-singer-songwriter whose new gig is running for Congress on the Democratic ticket in his native western Kentucky.
Alonzo Pennington grabbed his guitar, grinned and started thumbpicking his version of "Eastbound and Down," the movie song from Smokey and the Bandit:
Washington bound, all dressed up and stumpin'
We gonna do what they say can't be done…
Pennington, 38, is a guitarist-singer-songwriter whose new gig is running for Congress on the Democratic ticket in his native western Kentucky.
"To beat the money machine, we've got to go way round and sneak in the back door," said the lifelong resident of Princeton, the Caldwell County seat. He's hitting the campaign trail with a Gibson guitar and an expanding repertoire of satirical songs about the incumbent, Republican James Comer of Tompkinsville.
The tea party-tilting Comer is well-financed. His deep pocket donors include conservative, pro-business groups that are less than labor friendly.
Before the populist Pennington can take on Comer, he's got to beat a May 22 primary opponent, Dr. Paul Walker, a Murray State University English professor.
"Paul and I are on the same team," Pennington said. "If he wins, I'll support him."
Even so, Pennington is confident that he'll be the on the ballot against Comer come Nov. 6.
Pennington tossed his hat in the ring on Jan. 26, smack in the middle of quail hunting season. "That's over now, and I can really get my campaign going," said Pennington, a guide at the Winghaven Lodge in Providence.
Pennington is also finding more time to pen more parodies about Comer, an ally of President Donald Trump. He and Comer carried every county in the First District, which sprawls 300 miles eastward from the Mississippi River.
"I've written five songs so far," Pennington said. "They're supposed to be funny. Laughing never hurt anybody, and the Republicans need to laugh some."
For 20 years, the GOP has been laughing off Democratic candidates in the district, once dubbed "the Democratic Gibraltar" for its fealty to the party. The territory has reddened like the rest of the Bluegrass State that lies beyond "liberal Louisville" and Lexington.
Republican Ed Whitfield of Hopkinsville grabbed the First District seat in 1994. He blew away Democrats at the polls 10 more times before he resigned in 2016, when Comer demolished underfunded and largely unknown Sam Gaskins.
Comer collected almost 73 percent of the vote to a little over 27 percent for Gaskins, who is also from Hopkinsville. An Army and Marine veteran, Gaskins filed this year but bowed out, citing health reasons.
Democratic activist Daniel Hurt of Grand Rivers, near Princeton, hopes the Republicans do belittle Pennington and Walker. One of the youngest members of the state party central executive committee, Hurt wants the opposition "to let their guard down because we have two impressive candidates."
Added Hurt, 25, a senior at Murray State University: "Paul Walker is a college professor who is good on education, and Alonzo Pennington knows the issues of rural America.
"Both can speak to the issues of working families better than Comer can. Comer has not met the needs of the district, and the people are ready for a change. They had more than 20 years of Whitfield and with Comer they are finally beginning to realize that the same old Republican recipe has never worked."
Because he is a state party official, Hurt can't take sides in primary elections.
Similarly, the Kentucky State AFL-CIO's Committee on Political Education voted "no recommendation" for the Paul-Pennington race, thus leaving it up to individual unions and union members to support either candidate or stay neutral.
Meanwhile, the candidate kept crooning and plunking away on the spinoff movie song he titled "Washington Bound:"
We've got a long way to go, with your help we're gonna get there
So look out Comer, and watch Ol' Lonzo run.
Pennington had never run for anything except for treasurer of the Future Farmers of America chapter at Caldwell County High School and for dorm representative at Murray State University. He won both times.
Pennington graduated from high school in 1998 and attended Murray for two years.
Music has been a big part of his life since he was 7. His dad, Eddie Pennington, is a legendary guitarist who helped popularize a unique playing style called "Kentucky Thumbpicking."
Thumbpickers use their thumbs to keep up a steady rolling rhythm while picking the lead melody with their fingers, Alonzo explained. (He gives away plastic, faux mother-of-pearl "Pick Pennington for Congress" picks at campaign appearances.)
Thumbpicking started in Muhlenberg County, two counties east of Caldwell. "Merle Travis popularized it, and Chet Atkins developed it further," Pennington said. "But they learned it from Mose Rager, and so did my dad."
Travis and Atkins went on the road full-time and ended up in the Country Music Hall of Fame in Nashville. Eddie Pennington mostly stayed home in Princeton and became an undertaker and county coroner.
Nonetheless, Pennington did his share of touring, performing at the Grand Ole Opry in Nashville and earning grant money and accolades from the National Endowment for the Arts.
Alonzo was 13 when he debuted on stage with his father. The candidate was still a teen when he teamed up with his dad for shows at the Library of Congress and the Kennedy Center in Washington.
The duo met a pair of Bluegrass State GOP luminaries in the capital city: Sen. Mitch McConnell of Louisville and Whitfield.
"McConnell kind of knew who dad was, but Ed Whitfield didn't have a clue," said Pennington, adding that Princeton is less than 30 miles from Hopkinsville.
He and Whitfield crossed paths again, back in western Kentucky.
"I introduced myself to him again, told him who my dad was, and he said, 'Oh yeah, I know your dad. He's been a great contributor to my campaign.'"
Pennington good-naturedly corrected the congressman. "I said, Nope, my dad has never contributed to a Republican campaign.' The look on his face was 'Oh.'"
Pennington said until this year, the highest political office he aspired to was "maybe mayor of Princeton or something."
Pennington the entertainer has cut a wide swath in his music genre. Twice, he was dubbed "International Thumbpicker" of the year. His full-length recording, Thumbin', was the 2011 Thumbpicker's Hall of Fame "Album of the Year."
He teaches thumbpicking across the country and authored The Kentucky Thumbpicking Handbook.
Pennington often travels with his campaign manager-sideman, Marine veteran Eric Allen of Paducah. He accompanies the candidate on the saxophone.
Allen, who repairs musical instruments, co-composed "The Ballad of Jamie Comer," with Pennington. He sings it to the tune of "The Ballad of Davy Crockett," the theme song of the old TV show.
The chorus goes:
Jamie, Jamie Comer,
You don't represent us here.
Jamie, Jamie Comer,
Likes to tweet when he's had too much beer.
The words are an allusion to an obscene Twitter message Comer sent to the chief clerk of the state House of Representatives last year when rumors were rife that Speaker Jeff Hoover, a friend of the congressman, had sexually harassed a staffer. Hoover resigned the speakership over the scandal that involved a secret settlement.
Like the anti-labor Hoover, Comer spurns union halls. Pennington has taken his campaign to several union meetings in the district, pledging his opposition to "right to work" and support for the prevailing wage on government construction projects.
Comer is one of the most anti-labor lawmakers in Washington. When he ran for governor in 2015, he said his first priority would be passage of an anti-labor "right to work law," which unions call "the right to work for less."
Matt Bevin beat Comer in the primary and won the election. Last year, he cheered the GOP-majority legislature when it passed a RTW law and a measure repealing the prevailing wage. Bevin eagerly signed the legislation.
"RTW cuts everything from safety standards to the wages that these hard-working men and women deserve," Pennington told the Kentucky State AFL-CIO.
"Our union halls are one of the best tools for keeping these big corporations treating workers fairly and with dignity. Without the PW, labor costs may go down, but the quality of the work will also. If I'm hiring a carpenter to build me a new house, I don't just go with the least expensive bid.
"I want someone building it that knows what they're doing and will do a good job. I'd rather spend a little more for quality work than for something that isn't finished, finished correctly, or just won't last. I want people to be paid a fair wage for a job well done, and I will fight for those people."
He also advised the Bluegrass State's largest union organization that his coal miner grandfather "retired in 1976 still carrying his union card and proudly supporting the UMWA [United Mine Workers of America]."
In 1941, Norman Pennington went to work in a non-union Hopkins County coal mine. He knew he was endangering his life. Two months before, his big brother, Dick Pennington, died in the mine. "A foreman sent him into a shaft that wasn't safe, and it collapsed on him," Pennington said.
Norman Pennington wound up under the same foreman. "One day the foreman ordered my grandfather down into a shaft that was unsafe," Pennington said. "My grandfather knew it and refused to go in."
The foreman wouldn't budge and threatened to sack Norman if he didn't do as he was ordered.
"My grandfather picked up a crowbar and tapped the entrance to the hole. It completely caved in and would've killed anyone who was in there."
The foreman refused to thank his employee for proving that the shaft was a death trap. "He fired my grandfather on the spot."
Norman went to work in another mine. "A few months later when the union came through and helped the workers organize, they asked my grandfather to be their steward."
Norman's grandson plans to keep adding songs to his repertoire, including one about his grandfather.
Though Pennington is a devout Democrat, he's emulating a famous Kentucky-born Republican, President Abraham Lincoln. The Great Emancipator often used humor to make serious points.
"Humor is missing from politics these days," Pennington said. "The light-hearted side gets people interested and keeps them interested when you are talking about important issues. If you provide a little entertainment, people will pay attention and stay motivated about what you're trying to do."
He said he's heard that people vote for change in presidential elections and vote because they're mad in mid-terms. "But this time, I think people are more fired up than angry. I think it's great that so many women are running.
"I'm not sure if the system is opening it up, or if they're pushing open the door themselves. Either way, it's really cool."
Pennington doesn't know if Comer has heard any of his satirical songs. He's posted some on his Facebook page with a promise of more to come.
"Jamie's probably never heard of me," he said, eyes twinkling and grin broadening. "—Yet."
Click here to learn more about Pennington on his campaign Facebook page. 
Berry Craig