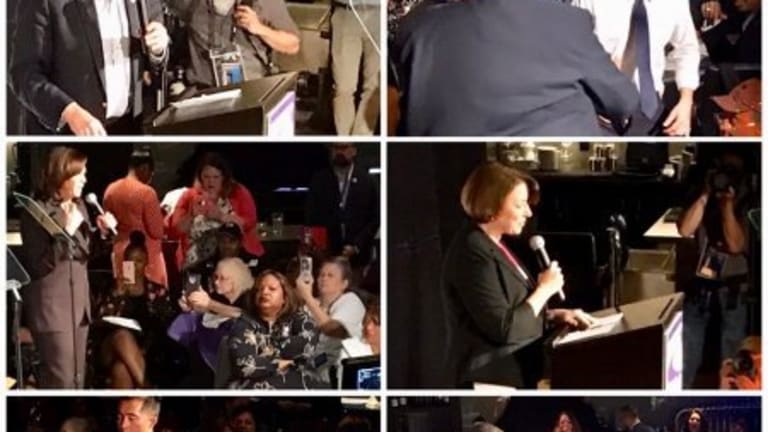 Americans Dying for Change: At San Francisco Convention, Dem Presidential Candidates Bemoan Gun Violence
Christina Leimer: What do the U.S. President and Congress—the people with the power to legislate—do after each mass murder? You know the answer.
When a friend heard I was going to the California Democratic Party Convention in San Francisco, she asked if we had to walk through metal detectors. The mass murder in Virginia Beach that killed 12 people had just happened the night before, so I'd like to believe her concern was heightened by that recent trauma. But, I know it's not.
Mass shootings in public places—in our schools, churches, theaters, newsrooms—now happen so often that the wariness is always alive. There's a subtle queasiness. The sense of threat takes root as we're taught run-hide-fight from a gunman and practice drills at work and school. Proximity in time no longer matters. Besides, there will be another in a few days.
I've been thinking about freedom, and those who loudly proclaim it, guns in hand. What do they mean by freedom? What are they defending in their anger? What are they afraid of losing? They say it's their guns. Firearms are their protection. The National Rifle Association's magazine is even called America's 1st Freedom.
At the convention, U.S. Presidential candidate and South Bend, Indiana Mayor Pete Buttigieg said in his speech that we need to break the "Republican monopoly on the language of freedom." He equated freedom with a woman's right to choose instead of reproductive health being "dictated by male politicians." There's freedom through education—"which is why we need a Secretary of Education who believes in public education." And there's freedom through organizing—which is why we need organized labor. "Freedom isn't conservative," he said, "it's American."
We need to break the Republican monopoly on defining security, too, Buttigieg said. That means including cyber and election security and climate change disruptions. "It means naming and confronting a rising tide of violent white nationalism" and "insisting that we can respect the Second Amendment without allowing it to be a death sentence for thousands of Americans every year."
But freedom and security aren't separate. We can't be free if we're not safe and secure.
We're normalizing mass murder, New Jersey Senator and U.S. Presidential candidate Cory Booker said in his convention speech. Booker contrasted our nation's response to horrendous unjust human pain in the past with our nation's response now.
"There was a time in our country when people died and it rose the national conscience of our country to do things about the horrors. When four children died in a bombing in Birmingham, all Americans—black white from all backgrounds—changed civil rights legislation. When women were throwing themselves out windows trying to escape a fire in their Shirtwaist Factory, we responded as a nation and changed working conditions and workers' rights."
Today, we're seeing the normalization of mass murder in our country and we do nothing. "It's time we come together and stand together and take a fight to the NRA and the corporate gun lobby."
What do the U.S. President and Congress—the people with the power to legislate—do after each mass murder? You know the answer.
I appreciate Senator Booker calling this slaughter what it is—mass murder. But, the majority of Americans are standing together on this issue already. Nonprofit anti-violence and gun control organizations have proliferated. So have victim support groups. There are student protests. Polls consistently show most of us want gun control. According to a Reuters/Ipsos poll in February, "69 percent of Americans, including 85 percent of Democrats and 57 percent of Republicans, want strong or moderate restrictions placed on firearms."
What do the U.S. President and Congress—the people with the power to legislate—do after each mass murder? You know the answer. And what they do is what's normalizing it. Many of us can name the problem. Only 535 people in this nation can vote on legislation to fix it.
In February, the House passed HR 8 and HR 1112, which some called sweeping and significant. But all the bills did was broaden background checks to buy guns. That's something that, according to a January Quinnipac poll, 92% of Americans support—with little difference between Republicans, Democrats and Independents. Yet almost all Republican House members and the NRA opposed it. The bills haven't made it to the Senate for a vote. Senate Majority Leader Mitch McConnell is blocking them.
Congress and the presidency are broken. Several of the Democratic presidential candidates agree. And they point to money in politics as the culprit. "Show me a supposedly unsolvable problem and I'll point you to the corruption and greed that's standing in the way," Kirsten Gillibrand said. Senators Elizabeth Warren and Amy Klobuchar are equally adamant about money's corrupting influence. So is author and presidential candidate Marianne Williamson who didn't speak at the convention but has earned a spot in the June national debate. She calls it "legalized bribery."
In March, the House passed HR1 (For the People Act of 2019). It addresses a wide range of anti-corruption measures—campaign finance reform, ethics, voting rights and election security. It too is being held from a Senate vote by McConnell. In a democracy, no single individual, of any party, should so control the agenda that he, in effect, disenfranchises nearly half of our elected representatives. That means disenfranchising us.
In the convention speeches, we heard proposed solutions to gun violence and corruption, and vows to take on the NRA. I want to believe they'll try. But, democracy is broken. As Senator Warren asserted, "we need big, structural changes." With such major issues at stake—violence and corruption being just two that affect our security and freedom—the Democratic Party can't be a party "that nibbles around the edges." Some other candidates called for big, bold, disruptive changes too. They drew loud applause and some standing ovations.
Americans are dying for change. Literally.
Christina Leimer, Ph.D.
U.S. Social Conscience
CA DEM 10th Assembly District Delegate (2017-2019)
Marin County Human Rights Commissioner (2015-2017)