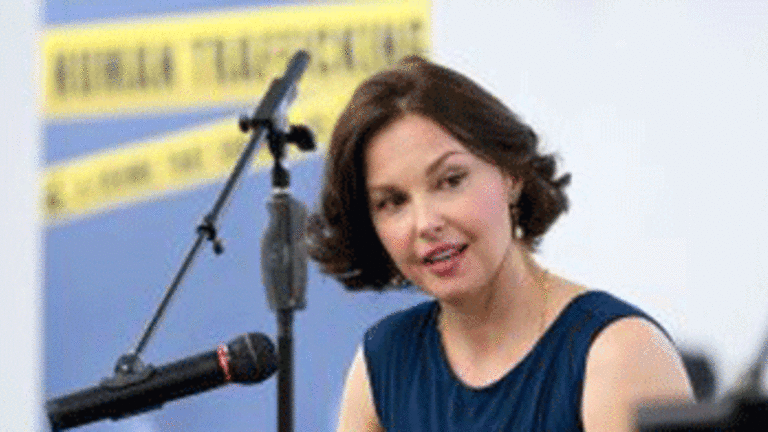 'There Is No Alternative to Ashley Judd Right Now'
Berry Craig: It's hard to tell who is more worried that Ashley Judd will run against Mitch McConnell next year – Kentucky 's senior senator himself or some Democratic Party bigwigs.
It's hard to tell who is more worried that Ashley Judd will run against Mitch McConnell next year – Kentucky 's senior senator himself or some Democratic Party bigwigs.
Media reports say Judd, the famous actress who grew up in the Bluegrass State and graduated from the University of Kentucky, will toss her hat in the ring this spring.
Judd is a liberal by anybody's definition. So am I, but most of my fellow Kentuckians are not.
Hence, our state's moderate-to-conservative Democratic establishment is scared Judd can't beat McConnell, the senate minority leader and a four-term incumbent with a campaign war chest that would make Midas blush.
Worse, they fret the "Hollywood liberal" Judd will drag down the whole Democratic ticket.
Hence, the worry-warts are looking, hoping, praying for somebody – anybody – else to grab the party banner and "Ditch Mitch." For many party pros, Secretary of State Alison Lundergan Grimes is the ideal anti-Judd.
Grimes, the argument goes, has a much better shot at retiring McConnell. She is moderately conservative; she's a woman, and she has ties to Bill Clinton, the last Democrat to carry Kentucky in a presidential election.
Even so, Grimes, a rising party star, seems to have her sights set on 2015 and what has long been considered the biggest prize in Kentucky politics: the governorship.
No matter, McConnell is taking no chances. He is running double-barreled TV attack ads against Judd and Grimes.
Some polls suggest McConnell has good reason to launch pre-emptive strikes. A December survey released by Public Policy Polling revealed that a mere 37 percent of Kentuckians like the job McConnell is doing. Fifty-five percent don't, the poll also showed.
Other polls have McConnell, who first got elected in 1984, beating Judd, but only by four percentage points in one poll and nine in another.
Even so, a lot of establishment Democrats seem to view Judd as a close encounter of the worst kind. There is no denying that Kentucky is one of the reddest of the Republican Red States. Obama lost here twice, big time.
Anyway, I like what I've seen and heard of Judd. Like the president, she's my kind of Democrat.
But beyond Louisville and parts of Lexington, Democrats like me are largely an endangered species.
U.S. Rep. John Yarmuth is keeping the liberal faith in Louisville. My favorite Kentucky Democrat, Yarmuth isn't shaking in his shoes over a possible Judd run. He has called out those Democratic cheeses who are.
"…Some of the Democrats who are trying to sabotage an Ashley Judd campaign are making a very big mistake," he told Phillip M. Bailey, political editor at WFPL, the Falls City's National Public Radio affiliate. "There is no alternative to Ashley Judd right now. She is widely popular in Kentucky . She has generated an unprecedented excitement in the media both locally and across the country."
So would Judd necessarily be toast in a Democratic primary against Grimes or some other right-of-center candidate the party establishment gets behind?
Some recent senate primary election history might be instructive. In 2010, Trey Grayson, the secretary of state before Grimes, was the Republican wunderkind. McConnell, Mister Republican in the Bluegrass State, endorsed him over the tea party-tilting outsider Rand Paul. The GOP movers and shakers were in Grayson's corner, too.
Paul drubbed Grayson and won the senate seat in the fall. After the primary, McConnell ended up going cap-in-hand to Paul and getting behind him. McConnell has been genuflecting to the tea party since.
Yarmuth, according to WFPL, thinks the Judd-fearing Democratic big shots "are going to be very embarrassed and have to eat a lot of crow when they have to support her—and they will aggressively support her—in the general election."
Okay, then, would an establishment candidate like Grimes fare better than Judd would in a match up with McConnell?
McConnell has knocked off a quintet of establishment Democrats. He unseated Sen. Walter D. Huddleston in 1984. Six years later, he beat Louisville Mayor Harvey Sloane. In 1996, he turned back a challenge from Beshear, our current governor who had been attorney general and lieutenant governor when he took on McConnell. In 2002, McConnell bested Lois Combs Weinberg, daughter of former Gov. Bert T. Combs. He defeated millionaire Bruce Lunsford, a longtime Democratic Party insider, in 2008.
Don't get Yarmuth wrong. He isn't anti-Grimes. He thinks she would give McConnell a tough fight. So do I, and if Grimes is the nominee, she's my candidate.
But, according to Bailey, Yarmuth said he hadn't heard that Grimes was interested in running against McConnell. He warned his fellow Democrats: "It's one thing to discuss some of the possible liabilities of an Ashley Judd candidacy, but to go out of your way to trash somebody who is most likely going to be the standard bearer of the party and you're going to end up supporting them seems to me to be counterproductive."
Berry Craig
Thursday, 14 March 2013