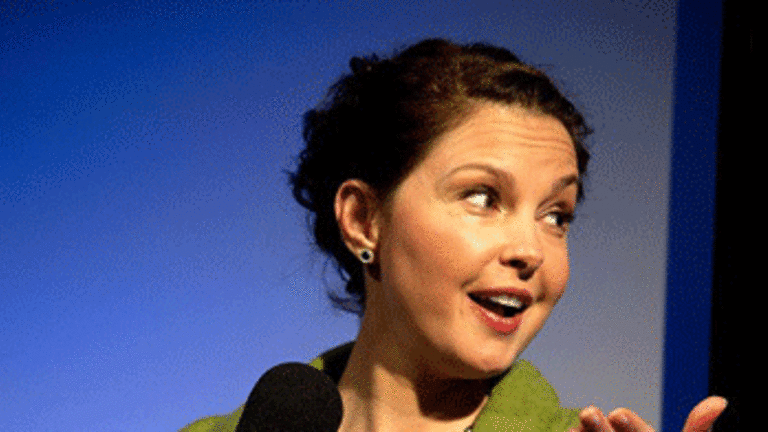 Ashley Judd: Kentucky's Joan of Arc?
Berry Craig: If movie star Ashley Judd runs for the senate in Kentucky she'll likely find friends among Bluegrass State voters who pack union cards.
If movie star Ashley Judd runs for the senate in Kentucky she'll likely find friends among Bluegrass State voters who pack union cards.
Bo Johnson of Dixon compares her to Joan of Arc. "She's our lady knight in shiny Kentucky blue armor," said Johnson, a staff representative for American Federation of State, County and Municipal Employees Council 62.
He meant University of Kentucky blue. Few fans of the Wildcat basketball team are more loyal than Judd, a UK graduate who often goes to games at Rupp Arena, the Big Blue's home court.
According to media reports, Judd, who grew up in Kentucky, will decide this spring whether she will challenge Senate Minority Leader Mitch McConnell of Louisville in the 2014 election.
"What is there not to like about Ashley Judd?" asked Steve Earle of Madisonville, United Mine Workers of America District 12 international vice president. "She is a Kentucky woman who worked very hard and became a successful movie star – truly an American story."
Even so, some Bluegrass State Democrats think Judd is too liberal to win in Kentucky. They prefer another Kentucky woman, Secretary of State Alison Lundergan Grimes of Lexington.
But Grimes seems more interested in running for governor in 2015. Historically, the governorship has been considered the top political prize in Kentucky.
"I keep hearing that Grimes isn't interested, but any non-Mitch is fine with me," said Barbara Ashley of Louisville, executive director of American Federation of Teachers Local 1360. She hopes Judd will run for the senate.
Either Grimes or Judd would be a viable candidate, according to Wanda Mitchell-Smith of Louisville, political action representative for AFSCME Council 62. "McConnell is fearful of these two women. I think either one can take him."
So does Jeff Wiggins of Reidland, president of the Paducah-based Western Kentucky AFL-CIO Area Council. "Anybody is better than what we've got," added Wiggins, who is also president of United Steelworkers of America Local 9447 in Calvert City. "But I think she [Judd] has better than an average chance to beat McConnell because he is so unpopular and nothing but an obstructionist. All he cares about is making the Republican Party number one."
Diana Yancey of Paducah, a former AFSCME Council 62 staff representative, is another Judd fan.
Said Yancey: "Ashley is intelligent, articulate, and clearly not afraid of Mitch. He has continued to block efforts to pass legislation that would stimulate our economy and create jobs. We are in desperate need of leadership and I believe Ashley Judd will provide the leadership."
Earle conceded that the Republicans will try to pin the "Hollywood Liberal" label on Judd. " Kentucky is not Hollywood. It's hills and 'hollers' of hard working men and women.
"Thousands of those men and women depend on the coal industry for a job and food on the table. Her views on mountaintop removal will certainly cause her problems in eastern Kentucky."
Cautioned Earle: "There's another serious issue that she's going to have to address early on in the campaign and it is an emotional issue – the Second Amendment, the right to bear arms. Thousands of Kentuckians are gun owners and they don't like anyone infringing on their rights.
"But a lot of Kentuckians are talking about wanting change in the U.S. Senate. The recent polling numbers tell me this is going to be an interesting race."
A December survey released by Public Policy Polling revealed that only 37 percent of Kentuckians like the job McConnell is doing. Fifty-five percent don't, the poll also showed.
Other polls have McConnell, who first got elected in 1984, beating Judd, but only by four percentage points in one survey and nine in another.
"Mitch is worried because we have a candidate that is loved by the people," added Johnson, who is also vice president of the Western Kentucky Area Council.
McConnell has already launched double-barreled TV attack ads against Judd and Grimes. "There's no doubt McConnell is scared of both of them," Wiggins said.
Added Johnson: "For too long the citizens of our Big Blue nation have been misled, abused, misinformed and poorly represented by Mitch McConnell, a politician whose only goal is to undermine any and all efforts by Democrats -- and some Republicans -- to improve the way of life for all Kentuckians."
Bill Londrigan, Kentucky State AFL-CIO president, agreed with Johnson's assessment of Kentucky's senior senator.
Said Londrigan: "The voters of Kentucky are sick and tired of millionaire Mitch's cynical shilling for his rich corporate supporters while he ignores the needs of the hard working men and women of Kentucky.
"Kentucky voters are looking for an alternative candidate for U.S. Senate that has compassion for the people that make our country work. Ashley Judd has demonstrated her compassion with her engagement and support for numerous causes for those in need, and with her name recognition and fund raising ability Ashley Judd may be just what Kentucky needs to rid us of McConnell's brand of divisive politics."
Berry Craig

Friday, 22 March 2013