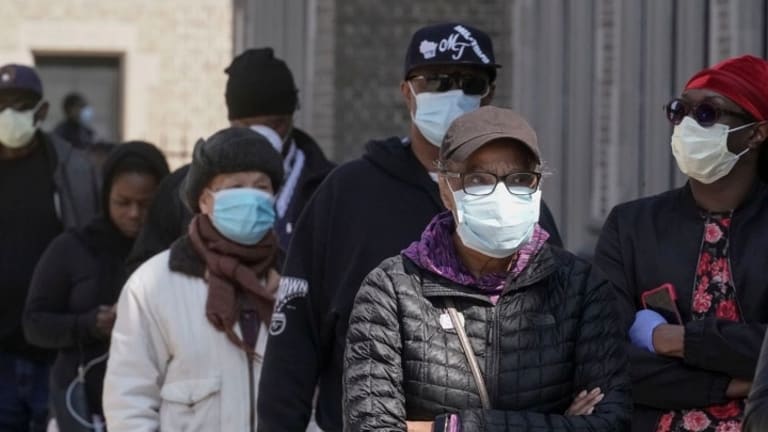 Time Is Running Out for At-Home Voting in June 2 Primary States
Steven Rosenfeld: Whether the remaining 2020 presidential primaries and upcoming statewide elections will prompt states to act before the fall remains to be seen.
In Pennsylvania, a presidential swing state that will hold primary elections on June 2, some election officials and voters are already expressing concern that time is running out to handle a historic jump to voting from home in the pandemic—possibly disenfranchising many voters.
Tuesday, May 26—one week before the primary—was the last day for voters to request a mail-in ballot. But "thousands of Pennsylvania voters might not get their ballots in time to actually vote," the Philadelphia Inquirer reported. Local election officials had been working "16 hours a day to try to keep up" with processing ballot applications, the Inquirer reported, even as the mayor redeployed city workers to help.
Whether the remaining 2020 presidential primaries and upcoming statewide elections will prompt states to act before the fall remains to be seen.
In suburban Montgomery County northwest of Philadelphia, a contractor sent 2,000 voters primary ballots from an opposing political party—prompting a scramble to print and resend ballots on May 26, the Inquirer reported. But top postal service officials said that voters should expect a "two-week round-trip" between the time that they apply to vote from home and the time that their completed ballot is returned to election officials.
Those reports and remarks suggest that the clock may run out on many voters. Pennsylvania's at-home ballots must arrive by 8 p.m. on June 2 to count, whether mailed in or delivered in-person at a few designated county drop-off sites. The Inquirer noted that "Voters who request mail ballots can still vote in person using provisional ballots, which are counted only after county election officials determine no mail ballots from them were received."
But that option is more easily said than done. Many counties will have half or fewer of longstanding polling places open due to the pandemic, which could lead to big delays at in-person voting sites. Plus, provisional ballots means a voter must fill out additional paperwork before voting. The quicker fix, returning mailed-out ballots to any polling place, is not allowed under state law.
These complexities seen in Pennsylvania are not unique. And they are only half of an evolving national story about how states that previously mostly voted at polling places are switching to voting from home in a pandemic. (In 2018, only 4 percent of Pennsylvanians voted by mail.) The other half of this story is that this transition has greatly strained local election officials. They must process rivers of paper: vetting voters, ballot envelopes and tallying votes. Under state law, the election's books must be closed in eight days.
Pennsylvania's Democratic governor and Republican legislature did modify some deadlines and voting rules in response to the pandemic. But, as the Inquirer noted one week before its primary, early signs have emerged highlighting why those steps are likely to be insufficient. Meanwhile, election officials from outside the state who have run vote-by-mail elections see more trouble ahead.
"They made a slight modification, but they still have this problem where they don't have enough time," said Amber McReynolds, who ran Denver's elections for 14 years—including transitioning to its vote-by-mail system. She now is executive director of the National Vote at Home Institute, the foremost national nonprofit organization trying to assist states to shift from mostly precinct-based voting to mostly voting from home.
"Many states have voting laws that do not put voters first. What I mean by that is they don't contemplate the customer interaction; the process that we [election administrators] go through when we serve voters," she said. "They don't lend enough time and they haven't really adjusted over time."
"Michigan and Pennsylvania are good examples," McReynolds continued. "They allow no-excuse absentee ballots [any voter can apply], but failed to adjust the timelines associated with the election process to accommodate that change. It's an example of what we see a lot in election policy reform. There was little consideration of the voters or election officials in those policy decisions being made—and they missed things."
Part of Bigger Pattern
Voting in Pennsylvania, as with Michigan and Wisconsin, will get extra scrutiny because it is among 2020's top presidential swing states. But Pennsylvania's vote-by-mail application deadline, one week before its 2020 primary, and post-election deadline to finish all of the counting eight days later, is not the tightest timeline among states holding June 2 elections.
In South Dakota and Montana, voters can apply for an absentee ballot up to the close of business on June 1—one day before their primary—not that their ballot would likely arrive by the next day. In New Mexico, its vote-by-mail application deadline was May 28, the Thursday before its June 2 election. Here, too, people making a last-minute decision to vote from home are unlikely to get their ballot on time. Last-minute voters may end up rushing to find an in-person voting option, as mailed-out ballots must be received by Election Day to count in all these states.
Meanwhile, election officials in these and other states with tight timelines face nail-biting pressures surrounding the post-Election Day process. County officials in New Mexico must finish everything and report the winners three days later. South Dakota has six days. Pennsylvania has eight days to certify the official results.
These states face a crunch, in part because they do not mail out ballots to every voter. Instead, their legislatures require that voters first apply for a mail-in ballot. Local officials must process applications before printing and sending a ballot. Then, those officials must vet returned ballot envelopes (to verify the voter's identity) and then can they open it to tally votes. Pennsylvania will not allow any processing of mailed-in ballots before Election Day, compounding the backup.
Such timelines exist due to politics and outdated laws. The politics, as McReynolds noted, includes legislators not thinking first about the impact on voters and administrators when they modify election laws. Or, she said, shorter timelines are "because of things like, 'So-and-so needed to know if they won,' or 'So-and-so needed to be sworn into office by X-date.'" The historical piece is that many post-election deadlines were adopted decades ago, but remain on the books.
When asked what the National Vote at Home Institute will be tracking in the primaries and statewide elections on June 2, McReynolds' answer revealed how many moving pieces are involved and could become choke points.
"We're looking at all of the variables as it relates to the vote-by-mail process," she said. "What I mean by that is, 'Are there postal issues?' 'Are there ballot processing issues?' 'Do counties have enough equipment?' 'Do they need to reconsider their volume assumptions?' I'm looking at those operational considerations, [and] at voter satisfaction with regards to the mail ballot process… and then certainly at some of the in-person voting considerations—like how many people are showing up to vote in person. That's telling about what voters' preferences are when we start to compare those numbers. And for more lessons learned."
As nine statewide elections resume on June 2, the public official who helped pioneer how most of America will be voting in the pandemic—by mail from home—said that there was one change, above all, that states should enact as they shift to voting from home in the general election.
Why don't all "states have 30 days to certify their elections?" asked Oregon's ex-Secretary of State Phil Keisling, who led the first state's transition to entirely mail-based voting and founded the National Vote at Home Institute in 2017. "Have you looked at how many daysstates have before they close their books?"
"This is the most glaringly obvious change to make in an era of COVID-19 of any of them," he continued. "Give us the time to do it right. What on earth objection [could there be] to waiting until December 1 or 3 to do your final certification [of the official winners]?"
More Time Matters
Keisling said governors should insist that the 2020 general election's certification deadline be extended to allow for all ballots to be processed and counted. (Under federal law, if states certify their presidential winner by December 8, Congress must accept that decision under a so-called "safe harbor" clause.)
States would "have to go into a special [legislative] session and do it," Keisling said. "The governor needs to demand it in every state. And the Democratic leadership in red trifecta states [meaning the GOP controls executive and legislative branches] should demand it… It hurts Republicans and Democrats alike."
Keisling said that extending the certification timetable would allow election officials to more systematically review problems with mailed-in ballots—such as a signature on a ballot envelope that did not appear to match a signature in other state files—and give that voter a chance to "cure" that discrepancy.
Studies have found that typically 1 percent of mailed-in ballots are rejected when envelopes are not properly filled out or due to signature- or other data-matching issues, although that rejection rate was 3 percent in Georgia in 2018.
"The time for a cure is based, in part, on how much time there is for the whole certification of the entire election," Keisling said. "It all cascades back from that. Do you give five days or 20 days? You can't have a seven-day cure period if you have to finalize the election in five days."
Having more time to verify votes also would undercut partisan conspiracy theories about unpopular results, he said, because it would enhance "the kinds of logistical things that take the steam out of these hyperventilating arguments that write the potboiler 'House-of-Cards'-like movie [about stolen elections] that people like to write because it's so interesting."
Recent precedents support Keisling's contentions. In Wisconsin's chaotic April 7 primary, there was an unexpected silver lining. Last-minute court rulings allowed 79,054 mail-in ballots that were postmarked by Election Day to arrive up to a week later and still be counted, the Wisconsin Elections Commission reported. After that weeklong extension ended, only 2,659 more mailed-in ballots were delivered—out of 1.18 million mailed back statewide—arriving too late to count. (Most June 2 primary states do not permit such an extension for mailed-in ballots.)
The Wisconsin rulings prevented wide disenfranchisement by expanding the state's April primary electorate by 5 percent. More time to allow ballots to return also helped local officials handle the other paperwork in a historic jump in voting by mail. In its April 2, 2019, primary, 5.4 percent of Wisconsinites' ballots were mailed in, the state reported. In Wisconsin's more recent April 7, 2020, primary, 61.8 percent voted by mail.
Already, there have been reports that Pennsylvania's election officials have been overwhelmed by processing absentee ballot requests. Postal Service officials have said—one week before the primary—that state deadlines are too short for all ballot applications and ballots to be delivered on time.
Yet current state law will only allow voters who received mailed-out ballots to turn them in at a few drop-off locations in each county, not at any polling place. And if voters didn't get their mail-in ballot and show up at a polling place to vote, they would have to cast a provisional ballot.
Curiously, these last-minute barriers facing at-home voters have not been targeted by any of the two-dozen lawsuits filed by the Democratic National Committee so far this year. Nor has the DNC challenged any state certification deadlines.
"Not yet, but we are always looking at all aspects of the voting process to ensure every lawful vote is counted," said Marc Elias, the DNC's top voting rights attorney told Voting Booth.
Nonetheless, legal scholars have begun to highlight the need to expand deadlines in the November general election. These range from the ballot application periods before Election Day to the processes for finalizing official results.
"States and Congress… need to turn their attention to changing certain key dates in their voting calendars," wrote Richard Pildes, New York University Law School professor of constitutional law, in a forthcoming paper. "Those calendars, mostly fixed by statute, were not designed with this anticipated new flood of absentee ballots in mind."
"Changing these dates is important," he continued. "First, to enable voters to have sufficient practical opportunity to vote under these exceptional circumstances. Second, these crushing new administrative burdens mean breakdowns in the process will almost inevitably arise; to give officials and voters time to respond to these problems and correct them, more time needs to be built into the election calendar. Otherwise, if tens of thousands of ballots do not reach voters in time, or similar problems emerge, the legitimacy of a close election might well be thrown into turmoil."
Whether the remaining 2020 presidential primaries and upcoming statewide elections will prompt states to act before the fall remains to be seen. McReynolds said that history has shown that election reforms only tend to arise after chaotic elections.
"If you look at the course of election policy changes, most of it has been about struggle," she said, citing Florida's presidential election in 2000 and the ensuing federal response. "Sometimes it takes massive problems, like Wisconsin or what have you, to encourage people to change. Which is unfortunate, because there are solutions to these problems that we already know how to fix."
[dc]"I[/dc] can tell them exactly what is going to happen," she said, referring to the states now taking insufficient steps to shift from precincts to voting from home. "I have 14 years of running elections for me to be able to do that. We know exactly what is going to happen. The unwillingness to fix it—it could be influenced by a variety of things. More likely, they don't know how, or they don't know it's a problem."
Steven Rosenfeld
Independent Media Institute
Steven Rosenfeld is the editor and chief correspondent of Voting Booth, a project of the Independent Media Institute. He has reported for National Public Radio, Marketplace, and Christian Science Monitor Radio, as well as a wide range of progressive publications including Salon, AlterNet, the American Prospect, and many others.
This article was produced by Voting Booth, a project of the Independent Media Institute.