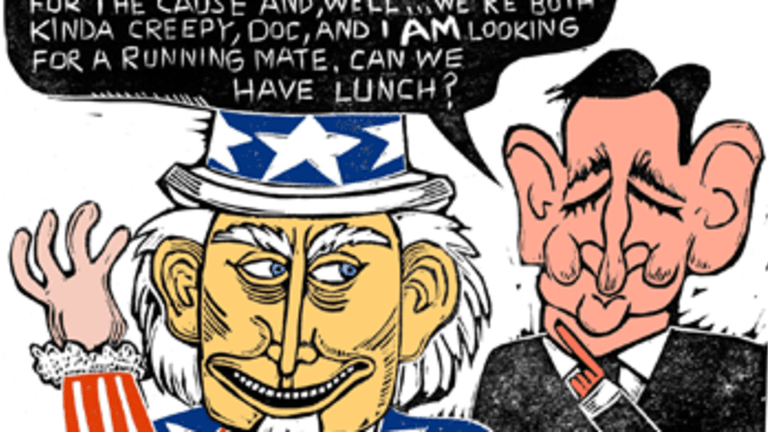 Banana Republicans 2013
Brent Budowsky: There is a cancer on the Republican Party. It metastasizes in ways that hurt the nation and violate core values of the party of Abraham Lincoln, Theodore Roosevelt and Ronald Reagan.
Americans recently witnessed two contrasting images of our political parties that represent why GOP dysfunction in Washington will be a powerful weapon for House and Senate Democrats in 2014.
At the annual meeting of the Clinton Global Initiative, President Obama (44), President Clinton (42) and former Secretary of State Hillary Clinton (45?) joined business leaders and globally respected luminaries to discuss the world economy and healthcare. They offered the nation a portrait of serious leaders, discussing serious matters, addressing serious citizens.
By contrast, voters witnessed a portrait of a Republican fiasco led by Sen. Ted Cruz (R-Texas) that threatens another government shutdown, which is deplored by 80 percent of Americans in a new New York Times/CBS poll.
Republicans lack any credible or coherent national leader. They are dominated by extreme factions pursuing banana republic tactics. They threaten a government shutdown and U.S. default that could trigger a new financial crash.
There is a cancer on the Republican Party. It metastasizes in ways that hurt the nation and violate core values of the party of Abraham Lincoln, Theodore Roosevelt and Ronald Reagan.
I call those who cause this cancer the Banana Republicans. GOP leaders who know better — but who tolerate this cancer — are derelict in their duty to their party and our country.
The Banana Republicans who dominate the GOP do not respect the integrity and credibility of democratic institutions such as Congress. They disrespect the legitimacy of political opponents and disparage large numbers of Americans who oppose their views and fear their tactics. They contemptuously disrespect the legitimacy of Democratic presidents, even those elected by large majorities of voters.
Banana Republicans attack good-faith compromise, honorable negotiation and functional government — THEY are the Washington dysfunction that Americans deplore.
Reagan, the conservative icon who deeply believed in governance and negotiation, would be outraged by Banana Republicans today.
Repeated threats by Banana Republicans to shut down the U.S. government if their extremism does not prevail are reminiscent of tactics by banana republic politicians from other continents in previous centuries, who like Banana Republicans today held in contempt the democratic values of free nations made up of diverse citizens.
Banana Republicanism began in the 1990s with rightist Republican invectives against Bill and Hillary Clinton, culminating in their hyperpartisan efforts to impeach President Clinton, which constituted an attempted banana republic-like coup d'état.
Banana Republicans would destroy the U.S. Senate as an institution of government through filibuster abuse.
Banana Republicans do not merely call for changing ObamaCare; they aggressively try to obstruct and destroy the faithful execution of a law of the land that was duly passed by Congress and signed by the president — a radical extreme opposed by most Americans.
Banana Republicans oppose jobs programs with fervent partisan fanaticism, launch ugly attacks against providing food for hungry children over the objection of spiritual and religious leaders, assault collective bargaining that Republicans have traditionally supported, attack pensions for fire fighters and teachers and police while championing lucrative pensions for themselves, believe corporations are people but citizens should not have a protected right to vote, and argue that wealthy factions should have the power to buy elections.
And now, Banana Republicans are threatening to sink the economy and crash the markets with repeated threats to force a government shutdown and trigger a U.S. default — extremism that alarms even stalwart GOP business leaders, GOP investors and GOP donors.
Democrats can nationalize the 2014 elections against the dysfunction, danger and damage to our economy caused by Banana Republicans. This could well preserve the Democratic Senate majority, give Democrats a fighting chance to regain control of the House and set the stage for a Hillary Clinton landslide victory in 2016.
Brent Budowky
The Hill
Wednesday, 25 September 2013