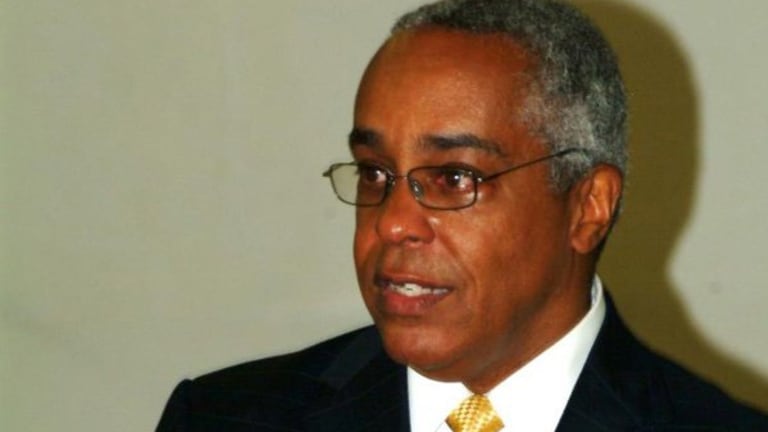 Who Is Basil Kimbrew?
Teka-Lark Fleming: Kimbrew seems to also have a history of targeting women with backbone who aren't stupid enough to give California Friends of the African-American Caucus or his other organization California Women 4 Women money.
Basil Kimbrew is a twice-convicted felon whose crimes include voter fraud, misuse of funds (theft) and violating his probation by engaging in campaign activities which he was explicitly told he could not do owing to his illegal campaign behavior from his first four-felony count conviction.
Kimbrew puts out a pay-to-play voting guide (e-slate) that currently includes, among others, L.A.'s favorite new big oil-loving neo-liberal "Democrat," Autumn Burke. Burke is best known for passing around her ability to pay to create a resume out of thin air that boasts as its best item her mom, former Supervisor Yvonne Brathwaite Burke.
Kimbrew claims to be a Chicago native, an army veteran and CEO of BGK Consulting Firm. He also runs the California Friends of the African-American Caucus e-newsletter and e-slate as well as the California Democratic Voter Guide Web site. While his birthplace and background are unverified, his political activity is easy to find as he has been in legal trouble since at least 1996
The implications that the California Friends of the African American Caucus newsletter and the California Democratic Voter Guide are affiliated with similarly named groups are red flags for those who are unaware of Kimbrew's criminal history. Those red flags are tiny compared to the criminal and ethical trouble for which he is well known.
There is no African-American Caucus; there is a Congressional Black Caucus, so who and what these California friends are friends of I'm not exactly sure.
He first shows up in the Los Angeles area political scene in 1988 as the field director in Compton for Willard Murray's election to the California Assembly. Speaker of the California Assembly Willie Brown needed Murray to win in order retain his position as Speaker. Kimbrew then volunteered for Lois Hill Hale's Inglewood Unified School Board (IUSD) campaign and thereafter for Pat Moore's 1989 Compton City Council campaign. Moore was disgraced after being imprisoned for bribery. According to a May 15, 2002, Associated Press (AP) story, "[Basil Kimbrew] testified in 1996 in federal court that he accepted illegal payments on behalf of [Moore], who was convicted of extortion and tax fraud in that case." The L.A. Times wrote in an October 10, 1996 story that "Basil Kimbrew, who was Moore's campaign manager...laundered payoffs to her."
His brushes with illegal political activity did not stop him from being invited to assist U.S. Senator Dianne Feinstein's campaign.
"Dianne Feinstein was my big break," says Kimbrew. "Percy Pinckney brought me on and it was a great experience as I was still learning the ropes," he said according to a November 28, 2012 edition of L.A. Focus, a magazine that shares an address with the infamous Faithful Central Bible Church. (The church is lorded over by Kenneth C. Ulmer who was accused of covering up a child sex ring carried on by his youth pastors. The harrowing series of events was detailed by one of the youth pastors' wives in the book, Life After the Low Down by Ingrid Mitchell.)
One of Kimbrew's last jobs before launching California Friends of the African-American Caucus newsletter was as a field rep to Congressperson Juanita Millender McDonald in the late 1990s.
According to an article in the Riverside, California-based Press Enterprise, his education consists of being trained as a chef at Le Cordon Bleu College of Culinary Arts in Pasadena. Kimbrew is a resident of either Riverside or nearby Moreno Valley and has been and continues to be accused of illegal campaign activity in the area.
According to a May, 2014 story in the community newspaper Our Town We Love Moreno Valley, Thomas Hines "alleges the some form of illegal act took place between local citizen Basil Kimbrew and Moreno Valley City District Four Councilman Yxstian Gutierrez."
In a May 26, 2005 article titled "Compton official receives suspended sentence for misuse of funds"in the Bakersfield Californian in December 2002, Kimbrew pleaded no contest to using a fake address while he was living in Carson so he could run for the Compton school board. He was forced to resign from the board, but continued to use his school board credit card to pay for a personal party and a $241 hotel room in Carson said prosecutors.
In a January 6, 2008 Compton Bulletin article titled "Kimbrew Released From State Prison" by Allison Jean, Superior Court Judge Janice Croft sentenced Kimbrew to two years in jail. Afterward and during probation, Kimbrew was barred from having any involvement with political campaigns, candidates or political causes. That included making political donations, working on campaigns and mass mailings, providing political consulting services or running phone banks.
He later got to spend time in prison for violating that probation.
Kimbrew was sentenced Jan. 23, 2007 to two years behind bars after admitting he repeatedly violated the terms of his probation. Kimbrew ran several political campaigns during his probation including his attorney Anthony Willoughby's unsuccessful bid for the 48th Assembly District seat in June 2007.
How does breaking the law, again and again and again and a certificate from a cooking school qualify him as a political activist, community leader and spokesperson for Black people?
Why do people quote him? Because he has an e-mail list? Are the L.A. County District Attorney and California District Attorney General too afraid to look into the matter, because they have paid him too? (Kimbrew repeatedly uses the images and names of L.A. County District Attorney and California State Attorney General Kamala Harris in his newsletters to imply he has a working relationship with them.)
He is a naked emperor.
He is a bully who uses his e-mail list to intimidate and to smear the name of good progressives.
His "voter guide" newsletter is pay-to-play. You give him money first and then he endorses you; if you don't give him money, he attacks you like a rabid dog.
When I see non-Black people on the list, I believe they are stupid; when I see Black people on the list I know they are scared.
I don't want stupid or scared people representing me. If a candidate cannot stand up to a two-bit con-man with a certificate from a for-profit degree mill, how exactly will that person represent me?
How did Kimbrew get his massive e-mail list for his newsletter? The January 14, 2014 edition of the Nooner asks: "did he harvest it from voter records?"
He obviously has the connections to do so.
Where does he get his money? Why hasn't he reported any money? Why does he seem to have free reign to openly break the law?
He has a tendency to attack real progressive while embracing blue-dog flavored Democrats.
Betty Yee is progressive and he attacked her. Simona Farrise is a progressive and he attacked her. Cynthia McClain-Hill is a progressive and he attacked her.
He seems to also have a history of targeting women with backbone who aren't stupid enough to give California Friends of the African-American Caucus or his other organization California Women 4 Women money.
He paints himself as the leader of the Black community and sells himself to people who are outside the Black community as a leader to Black people.
He is not a leader in the Black community. He is a twice-convicted felon with an e-mail list that he probably stole. If you're not in the circle jerk world of politics, you would have no idea who Basil Kimbrew is. Ask the typical Black person who Basil Kimbrew is and they may have they would have no idea because he is no one.
Kimbrew is a charlatan who has tricked the machine into thinking he matters outside the world of political consultants, Democratic party heads, journalists and interns.
People pay him to not smear them because he has zero ethics and because in Black L.A., you can get away with doing whatever you want
According to the March 25, 2014 edition of the political website The Nooner, the California Friends of African Caucus committee's last reported financial activity was in April 2013 when it took $17,500 from Wendy Greuel ($15K) and SEIU ($2,500) for the mayoral runoff. Of that, $2,390 went to a campaign reporting firm and Kimbrew collected $15,000 in consulting fees.
Are we really supposed to believe that Kimbrew is putting out his e-newsletter for free to help the community? His e-newsletter and e-slate are pay-to-play. There is not one California-based person in his guide or newsletter who has not paid him money.
Possibly Kimbrew needs to go to prison again so that he can remember that politicians and campaign personnel are supposed to report their earnings.
But in order for that to happen, the people in charge of investigating such actions are going to need to stop giving him money.
Teka-Lark Fleming
The Morningside Park Chronicle