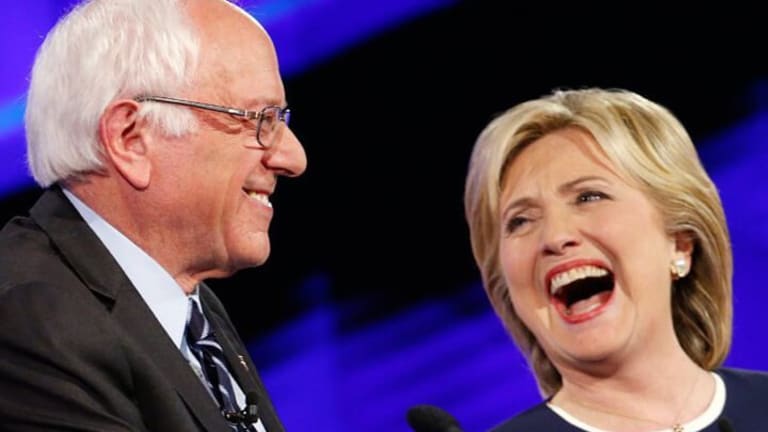 Hillary: Stop Asking Bernie to Suspend His Campaign!
Arica L. Coleman, Ph.D.: We must, therefore, keep our emotions in check and allow the democratic process to take its full course. Clinton should understand this better than anyone.
I've been silent for much of this current presidential election primary season. Honestly, I've had the "somebody wake me when it's over . . . or on second thought. . ." attitude for some time now. With the California primary only two days away, I've decided to break my silence to say why I believe Bernie Sanders should stay in the race.
This democratic primary season feels like the phenomenon back to the future. As many will recall, by March 2008 the Republicans had wrapped up their primary contest with Arizona Senator John McCain as their presumptive nominee. By early April, though it was clear that Obama had the delegate advantage with no clear path for Clinton to win the party nomination, she remained in the race. She ignored numerous calls to suspend her campaign as many believed a prolonged primary contest would permanently damage any potential for a democratic win in November. So, "for the good of the party," many begged her to concede. Clinton refused.
When asked in late May 2008 why she remained in the race, Clinton provided a two-pronged response. Her first statement was that her husband had not wrapped up his 1992 primary campaign until June. But that was only because, despite Bill Clinton's lead, his opponent, California Democratic Party chairman Jerry Brown, chose to fight on to the convention. Hence, this was a faulty comparison as Hillary Clinton in 2008 was Jerry Brown, not Bill Clinton.
We must keep our emotions in check and allow the democratic process to take its full course. Clinton should understand this better than anyone.
But, it was her second reason which drew the ire of the Democratic Party leadership and voters. "We all remember Bobby Kennedy was assassinated in June in California," she stated. Her controversial statement drew rapid criticism from every demographic. Even her surrogates were at a loss for how to spin such an irrational pronouncement.
When asked for clarification, Clinton offered a non-apology apology stating, "The Kennedys have been much on my mind the last days because of Senator Kennedy," (Kennedy had recently been diagnosed with a brain tumor), "And I regret that if my referencing that moment of trauma for our entire nation and in particular the Kennedy family was in any way offensive."
Such a response was grossly insufficient. To invoke the A-word on the campaign trail would be viewed as a serious lapse of judgement for any candidate; but Clinton's use of it as justification to continue her contest against the first viable African American candidate for president was unconscionable.
Obama had been placed under secret service protection early in the campaign due to racialized threats aimed to derail his presidential ambitions. As Illinois Senator Dick Durbin stated, "Unfortunately, some of the information we found was racially motivated. It is a sad reality in this day and age that Mr. Obama's African-American heritage is a cause for very violent and hatred, hated reactions among some people."
The racialized strategy employed by the Clinton campaign against Obama, as I wrote about previously, was disappointing and had cost her the African American vote; but her exploitation of this national tragedy gave further pause. Did her deep desire to break "the final glass ceiling," cause her to wish for the unthinkable? Or was this simply a nasty jab at Ted Kennedy for being one of Obama's earliest and staunchest surrogates. Only Clinton knew the true motivation for making the statement.
Fast forward eight years and now the tables have turned. Clinton is leading the delegate count and she and many others are calling for Sanders to throw in the proverbial towel. Clinton's allies blame the Vermont Senator for her sinking poll numbers in the general election matchup against Trump, who as of last week was trailing the former secretary of state by only 2 points. Earlier polls showed Clinton with an 11 point lead. Clinton's surrogates believe that it is time for Sanders to suspend his campaign and turn his focus to bringing the party together so that Clinton can take her fight to Trump.
Ironically, many of the same arguments now used to criticize Sanders were used against Clinton in 2008. On Tuesday June 3, 2008, Obama officially clinched the democratic nomination, but despite months of urging, Clinton still refused to concede the race. In fact, the speech she delivered that night echoed vice presidential candidate Richard Nixon's famous September 3, 1952, "Checkers speech" in which Nixon, while facing imminent defeat, vowed to fight on. The strategy worked for Nixon, but it backfired on Clinton.
On June 7, 2008, Clinton finally ceded the democratic nomination to Obama. Her speech, however, did not reflect a full-throated endorsement of her former rival. This did not come until August 27, 2008, when she stood on the floor of the Democratic Convention and moved that the delegate count be suspended and that Barack Obama be the party's nominee for president.
My point is this, we have been here before. If recent history is any indication, the Democratic Party will be fine come this November. The political stakes were just as high in 1992 and in 2008 as they are today. For certain, emotions run high during election season; but we are a democracy. More to the point, we are also adults. We must, therefore, keep our emotions in check and allow the democratic process to take its full course. Clinton should understand this better than anyone. As she stated after the final 2008 primary contest, "I want the nearly 18 million Americans who voted for me to be respected." Sanders and his supporters want the same and they deserve no less.
Arica L. Coleman, Ph.D.