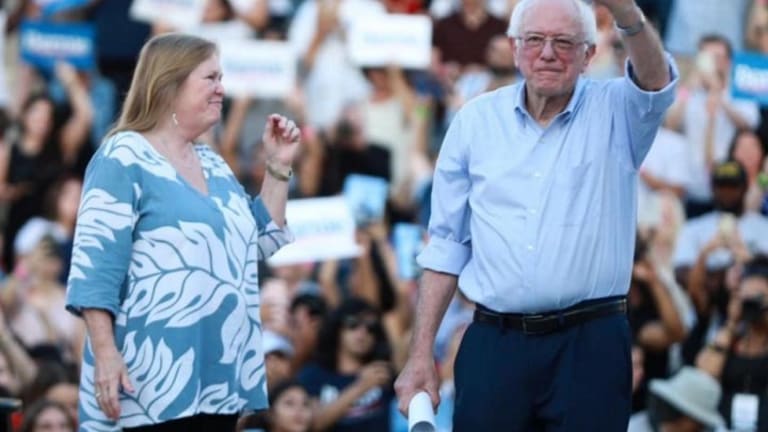 A Night with Bernie
Ted Vaill: This past week, when I met with him, I told him, among other things, that if he is the Democratic nominee, and faces Trump in the 2020 election, "Brooklyn always trumps Queens."
The Malibu Democratic Club is partnering with the Pacific Palisades, Santa Monica, and West LA Democratic Clubs to host Democratic candidates for President. So far, we have hosted Tulsi Gabbard, Amy Klobuchar, Michael Bennet, Jay Inslee, and this past Friday, Bernie Sanders. We hope to have all 20+ Democratic candidates do town halls on the Westside of Los Angeles over the next few months.
This past week, when I met with him, I told him, among other things, that if he is the Democratic nominee, and faces Trump in the 2020 election, "Brooklyn always trumps Queens."
Over a thousand enthusiastic supporters showed up Friday night at Santa Monica High School for Bernie, and I had a chance to meet with him after the event. I have met him before, first when we were both students at the University of Chicago in the early 1960s, and more recently, during the 2016 campaign.
At Chicago, Bernie was already an activist: the school bought a hotel to make it into living quarters for married students, but for some reason black students never seemed to be able to get living quarters there. Bernie organized a sit-in protesting this, and was photographed being carried out by policemen.
He was part of a group of Chicago students from the New York City area, and I knew many of them who were followers, like me, of the great rock climber and Chicago graduate student John Gill, then the best rock climber in the world, who could do a one finger pull-up. Bernie, if you can believe it, was a jock, a star miler on the track team, in addition to his political activism.
During the 2016 election, when I next met him, his comment to me was "I bet you got better grades!" Even then, his political activism was more important than his studies.
However, Bernie graduated, and ended up in Vermont when he inherited a property near Burlington, a cabin with a dirt floor. He also got married, but his wife tired of living in a dirt floor cabin, and they split.
He tried a number of different jobs, and edited some political screeds, and tried for public office, all without success. He had another relationship, which produced a son, and ultimately found the love of his life, his current wife of over 30 years, Jane O'Meara.
Finally, in 1981, he squeezed in by 10 votes as mayor of Burlington, Vermont, a small city on beautiful Lake Champlain. In 1988, he ran for Vermont's sole Congressional seat, as an independent, but lost. Two years later, he ran again, and beat the incumbent. He has now been in Congress for almost 30 years, winning the Senate seat in 2006.
This past week, when I met with him, I told him, among other things, that if he is the Democratic nominee, and faces Trump in the 2020 election, "Brooklyn always trumps Queens" (where the Donald grew up, versus Brooklyn, Bernie's home town).
The 2020 California primary will be held on March 3, 2020, just after the four February primaries in Iowa, New Hampshire, Nevada and South Carolina. March 3 is Super Tuesday, and the citizens will also vote in Texas and a number of other large states that day. The Democratic nominee will most likely be known shortly thereafter. As Bernie noted in his speech at Samohi, California will deliver more delegates than the first four primary states combined.
I have always wanted to see Bernie debate Trump. He is a ferocious debater, almost as tall as Trump, and will not be pushed around by the classic bully that Trump is. If Trump looms up behind Bernie as he did to Hillary during the debates, Bernie will turn around and tell Trump to get back on his chair, in his deep, gravelly, Brooklyn-accented voice. (If he doesn't punch him in the balls). Can you imagine two 70+ year olds mud wrestling?
Go, Bernie, go...
Ted Vaill