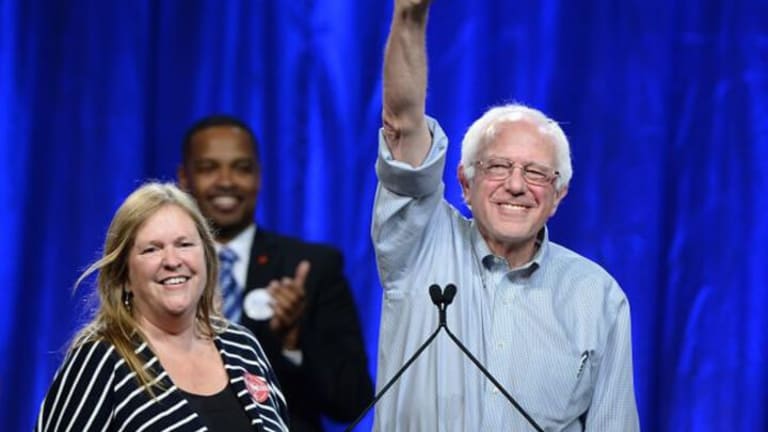 Bernie's Soaring Support
Justin Chapman: More than 27,500 people filled the Los Angeles Memorial Sports Arena and its overflow area to hear the 73-year-old firebrand senator from Vermont lay out his vision for a "grassroots political revolution" to "transform the United States of America."
Democratic presidential hopeful Bernie Sanders brought his populist message to yet another record crowd in Los Angeles on Monday with promises to end institutional racism, get corporate money out of politics and fight for working-class families.
More than 27,500 people filled the Los Angeles Memorial Sports Arena and its overflow area to hear the 73-year-old firebrand senator from Vermont lay out his vision for a "grassroots political revolution" to "transform the United States of America."
"When we stand united, we can create a new America," Sanders said with a voice strained by numerous consecutive rallies, each of which generated record crowds of their own. "The reason we're doing so well in this campaign is we're telling the truth."
Thousands fill LA Memorial Sports Arena to hear presidential candidate Bernie Sanders
Sanders called income and wealth inequality the great moral issue of our time. "We have a message for the billionaire class: You can't have it all," he said to thunderous applause. "You can't have huge tax breaks while children in our country are going hungry."
Sanders spoke for over an hour and laid out specific domestic policies by calling for all public universities to provide education tuition-free; 12 weeks of paid family and medical leave; income equality for women; criminal justice system reform; affordable solar energy for residential homes; a Medicare single-payer health care system for all Americans; legal rights for undocumented immigrants; and the creation of jobs to repair the country's crumbling infrastructure.
Miguel Paredes, who serves on the boards of the ACLU Pasadena/Foothills Chapter and the Coalition for Humane Immigrant Rights of Los Angeles (CHIRLA) Action Fund, said he was impressed by the breadth of issues Sanders addressed.
"Bernie Sanders invited almost 30,000 people to listen to issues rated to immigration, income inequality, climate change, education, student loan debt, sexism, racism and homophobia, and I'm very hopeful that he helped inspire especially young people to take action in their community," said Paredes.
Sanders' opponent in the Democratic primary, former First Lady, New York senator and Secretary of State Hillary Clinton, still leads in Iowa with 52 percent to his 25 percent, according to an Aug. 10 poll by Public Policy Polling. But his support is growing. As former President Jimmy Carter told the Pasadena Weekly two weeks ago, "Bernie Sanders has been a surprising candidate."
And for the first time in the campaign, Sanders is ahead of Clinton in the crucial early primary state of New Hampshire, according to a poll by Franklin Pierce University and the Boston Herald. That poll shows Sanders with 44 percent to Clinton's 37 percent among Democratic primary voters, something many believed was impossible just three months ago when his campaign began.
"Bernie Sanders' growing support has a lot more to do with Bernie Sanders than it does with Hillary Clinton," Dean Debnam, president of Public Policy Polling, said in a statement. "Clinton's as popular as ever but Sanders is proving to have a lot of appeal as he becomes better known."
Over the past few campaign stops prior to his visit to Los Angeles, Sanders was confronted by protesters from the Black Lives Matter (BLM) movement. In Seattle, two BLM protesters interrupted his speech, claiming his campaign hasn't done enough to address racial and criminal justice inequity issues.
Sanders countered in Los Angeles by inviting a BLM member to open his event, along with his new national press secretary Symone Sanders (no relation), a black criminal justice advocate.
"It is very important that we say the words 'black lives matter,'" Symone Sanders said. "But it's also important to have people in political office who are going to turn those words into action. No candidate for president is going to fight harder for criminal justice reform and racial justice issues than Sen. Bernie Sanders."
During his speech in Los Angeles, Bernie Sanders also addressed campaign finance issues by saying the Supreme Court's Citizens United decision has corrupted the country's political process and calling for the case to be overturned.
"Any nominee of mine to the US Supreme Court will in fact have to pass a litmus test," he said, "and that litmus test will be that he or she will state loudly and clearly that they will vote to overturn Citizens United."
He added that the country needs to go even further than that by moving to publicly funded elections. "I want to see people, regardless of their political views — conservative, moderate, progressive, whatever it is — I want to see people able to run for office, to defend their points of view, to engage in debate, without having to beg millionaires and billionaires for contributions."
Alaine Lowell, executive director of the Thomas Paine Society in Pasadena, was also in attendance at the LA event.
"This is a crucial moment in history; we are at the brink ecologically and economically," Lowell said. "[Sanders] is not in the pocket of the corporations like all the other candidates, Republicans and Democrats alike. He may be our last hope to turn this hand basket around."
USC student Sarah Collins, also in attendance Monday, said it was clear that Sanders was speaking with sincerity. "His campaign methods and voting record have proved that, so far, he's a man of his word. If there are rallies like the LA one happening all over the country, I sincerely believe that Hillary has a force to reckon with."
The rabble-rousing candidate was introduced by actress and comedian Sarah Silverman, who noted that Sanders always seems to be on the right side of history.
[dc]"I[/dc]t takes a very brave, empathetic and visionary person to do that," she said. "Not only was Bernie fighting for civil rights in the 60s, he was also fighting for gay marriage in the 80s, he was against the Iraq War, against the deregulation of Wall Street, and most importantly, against the breakup of Destiny's Child … I may have made that last one up."
Justin Chapman
Pasadena Weekly